New Compilation "Black Lives: From Generation to Generation" | Coming March 25th, 2022
by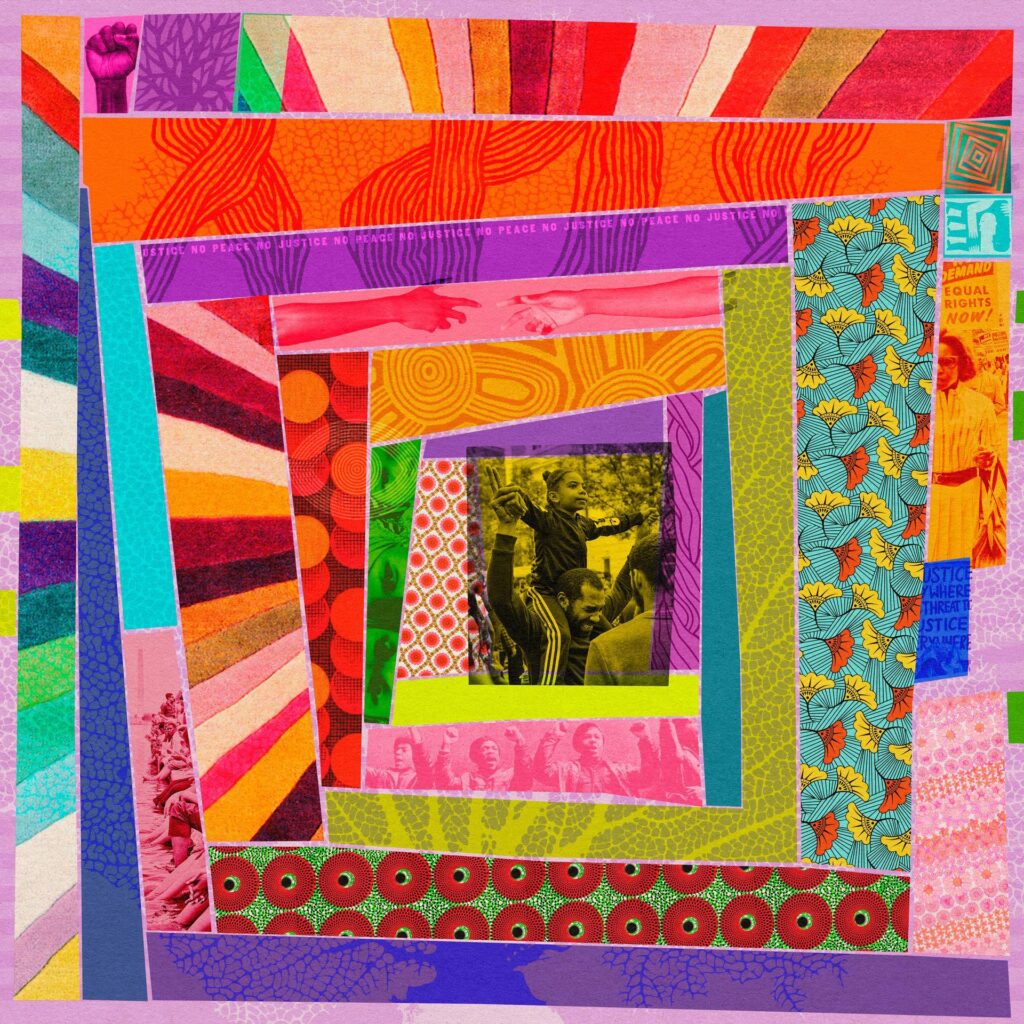 Black Lives: From Generation to Generation,
Presents Black Music as a Source of Moral Truth and Potent Weapon Against Racism
Conceived by producer Stefany Calembert, a multi-national and post-genre collective of artists convenes to fight for equality and social justice through music
Diverse roster includes Cheick Tidiane Seck, Oliver Lake, Alicia Hall Moran, Immanuel Wilkins, Stephanie McKay, Andy Milne, Kokayi, Reggie Washington, Jeremy Pelt, Grégory Privat, Marcus Strickland, Christie Dashiell, E.J. Strickland, Jacques Schwarz-Bart, Marvin Sewell, Jean-Paul Bourelly, among many others
Out March 25th, 2022 on Jammin'-colorS
There are (at least) two ways of approaching the compilation entitled Black Lives: From Generation to Generation, which presents Black music as a source of moral truth and potent weaponry against the scourge of racism. It was made by a collective of artists continuing to fight for equality and social justice through music. One of these perspectives is timely, ultra-literal and likely comprehensible to most; the other forms a less direct long-view, yet with a profound depth and reflection of the world. They present complementing views of contemporary life: a visceral reaction to the horrors of the era we currently populate, while illustrating the essential connections that the African diasporic tradition (often referred to as Great Black Music) makes between individuals, sounds, places and generations.
Black Lives: From Generation to Generation is the work of Stefany Calembert, producer, manager, booker behind the Brussels-based music agency and label Jammin'colorS, with help from her husband, the veteran bassist Reggie Washington. It came together as a response to the epoch that 2020 set in motion. The spark was provided by the simultaneity of the global COVID-19 pandemic, and the worldwide protests against racial inequality that the filmed murder of George Floyd by a Minneapolis police officer initiated.
Having received a loan from the Belgian government to keep her small business afloat, Calembert decided to use the money to launch a project that spoke to the moment's needs. Calembert contacted artists in her and Washington's circles, commissioning new work on the subject of racism and Black realities, work that would also bring these musicians income in the barren financial landscape of 2020, while also creating relevant new stories. The global uprising for racial justice and the re-engagement of colonial-era histories — especially pertinent to Belgium, with its 19th and 20th century involvement in plundering Central Africa — gave Calembert license to engage an international list of musicians, widening the perspective.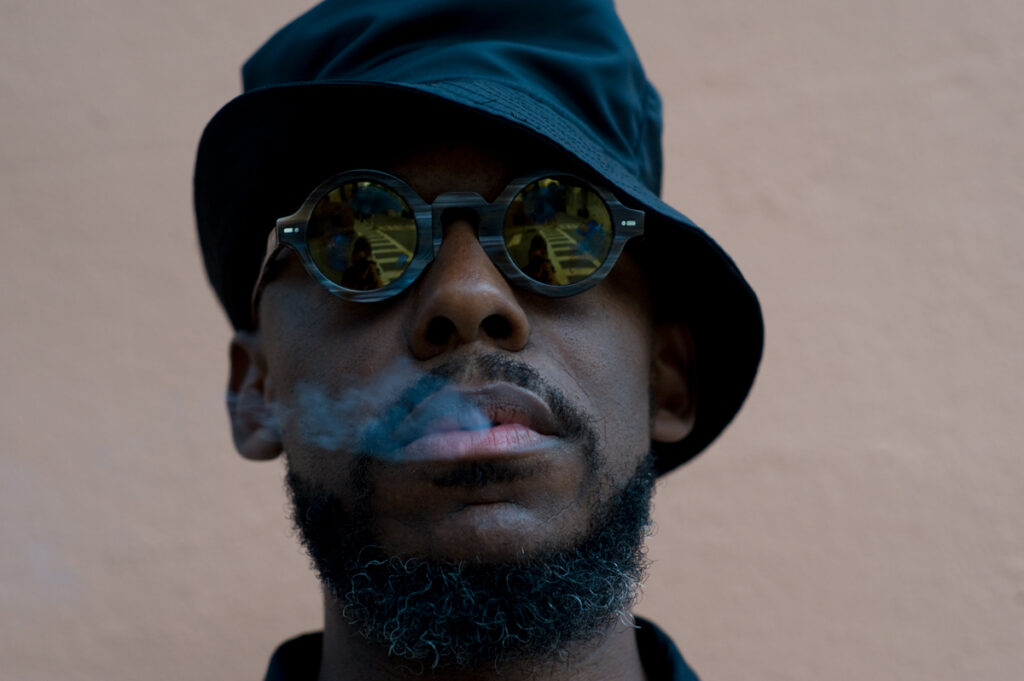 Marcus Strickland. Photo: Petra Richterová
But Calembert's desire to create this project wasn't simply due to the intersectional events of 2020. It was the culmination of being a life-long witness to Black trauma; of standing beside Black friends and colleagues and fighting segregationist views in society and in business across continents. It was the intimate experience of seeing the every-day racism faced directly by her Black husband, Washington and their three multi-racial daughters. These aspects not only personalized the narrative, they added a dimension that couldn't simply be dismissed as identity politics.
Calembert brought together artists, refining the concept into something that feels not only like a great mixtape but an unfolding community tale. The characters, performers and intercontinental styles on the album weave together complementary sounds and anecdotes, resulting in something richer than just a snapshot of a single moment. Which brings us to the other reading. As Calembert tried accentuating the expressionist and spiritual contours, spotlighting how the genealogy of the Great Black Music gathered here reflects the culturally connective power of the African diaspora — detached from news pages and temporal realities, but forever central to the story. It's what Toni Morrison once called "the kind of information you can find between the lines of history, the intersection where the historical becomes people with names." The bond between myths and accounts, the essence and the tangibles. Because it's not just the lineage of Black Music — the roots and routes of how a music some call "jazz," and its foundational source, the blues, originated in West Africa, has influential melodic counterparts in Southern Africa, and crucial Black Atlantic outposts in Afro-Caribbean rhythms, all of which are represented on Black Lives — that drives the relationships of these sounds and stories. It's the actual and metaphorical families, the themes of familial care and knowledge, that fuel the album beyond a nice title.
Of course, there's Calembert and Washington who made the comp; but there's also contributions from the husband and wife team of Guadeloupe-born Gwoka saxophonist Jacques Schwarz-Bart and vocalist Stephanie McKay; involvement by legendary saxophonist, composer and American griot Oliver Lake, as well as his drummer son Gene; tracks from two sets of siblings, saxophonist Marcus Strickland and his drummer twin E.J., plus brothers David and Marque Gilmore; not to mention continuous contributions of multiple musicians, who walk in and out of songs like shared family members. There's also specific songs by McKay (the keyboard-driven "Phenomenon") and Alicia Hall Moran's "Walk" directly address the motherly concerns of hazards facing their sons growing up within white supremacist social norms. The inner workings of family is as central to Black Lives as historical framing.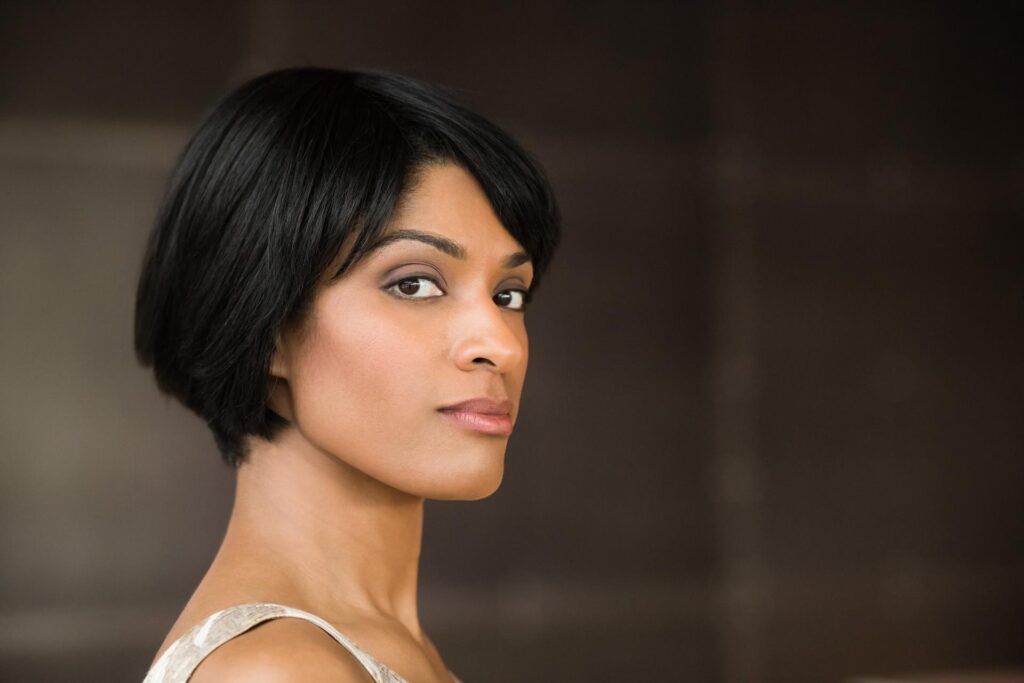 Alicia Hall Moran. Photo: Peter Damik
McKay and Hall Moran's parental perspectives are the most intimate lyrical edges on view, creating one of the compilation's throughlines. But Black Lives features other vocals — sung, spoken, sampled — that give words to the breadth and complexity of Black experience. There are exhortations to celebrate all lives in Manding (the Mali bandleader Cheick Tidiane Seck's opening "Sanga Bô") and English-Yoruba engagement of the spirit world across the Black Atlantic ("Higher," a collaboration between McKay and the Togo/Benin-raised, Marseille-based drummer, Yul). There are words of South African poet Lebogang Mashile about breaking away from the dominant gaze and finding your own people (Tutu Puoane's gentle voice-and-Rhodes duet, "From the Outside In"), plus news-reel samples of Muhammad Ali's exploits (on "Sa Nou Yé / Be Proud," by the Guadeloupe-born drummer Sonny Troupé's fusion guitar trio).
Songs engage the topic of America's recent racist incidents in anthemic fashion (guitarist Adam Falcon's "Colored Man Singin' The Blues!" is a political screed, with echoes of Amadou Diallo and Eric Garner's deaths), and with impressionist detail. But it's poetry and spoken word that carry maximum weight here: D.C. wordsmith Kokayi adds a flowing verse to pianist Andy Milne's "Togged to the Bricks," invoking Billie Holiday's southern trees. Oliver Lake's indignancy is imperial on "Pre-Existing Conditions," which calls to account the Minneapolis coroner's original cause of George Floyd's death. And the Gilmore brothers team-up with Sharrif Simmons for "We Are Here," an American history lesson that moves from "lost bodies and deferred dreams" to "glowing starlight" and "excellence in Black steel."
Yet as has always been the case with Great Black Music, the story is never told with words alone. Though Lydia Harrell's layered voices reverberating that "Black Lives Matter" soar over E.J. Strickland's "Language of the Unheard," it's the performance by altoist Immanuel Wilkins, vibraphonist Joel Ross, pianist Mike King and bassist Ben Williams that makes its title's case clear. And guitarist Marvin Sewell's solo turn, "A Hero's Journey" is a wonderful ride into the electrifying hoo-doo spaces of the Mississippi Delta. I'm a new Text block ready for your content.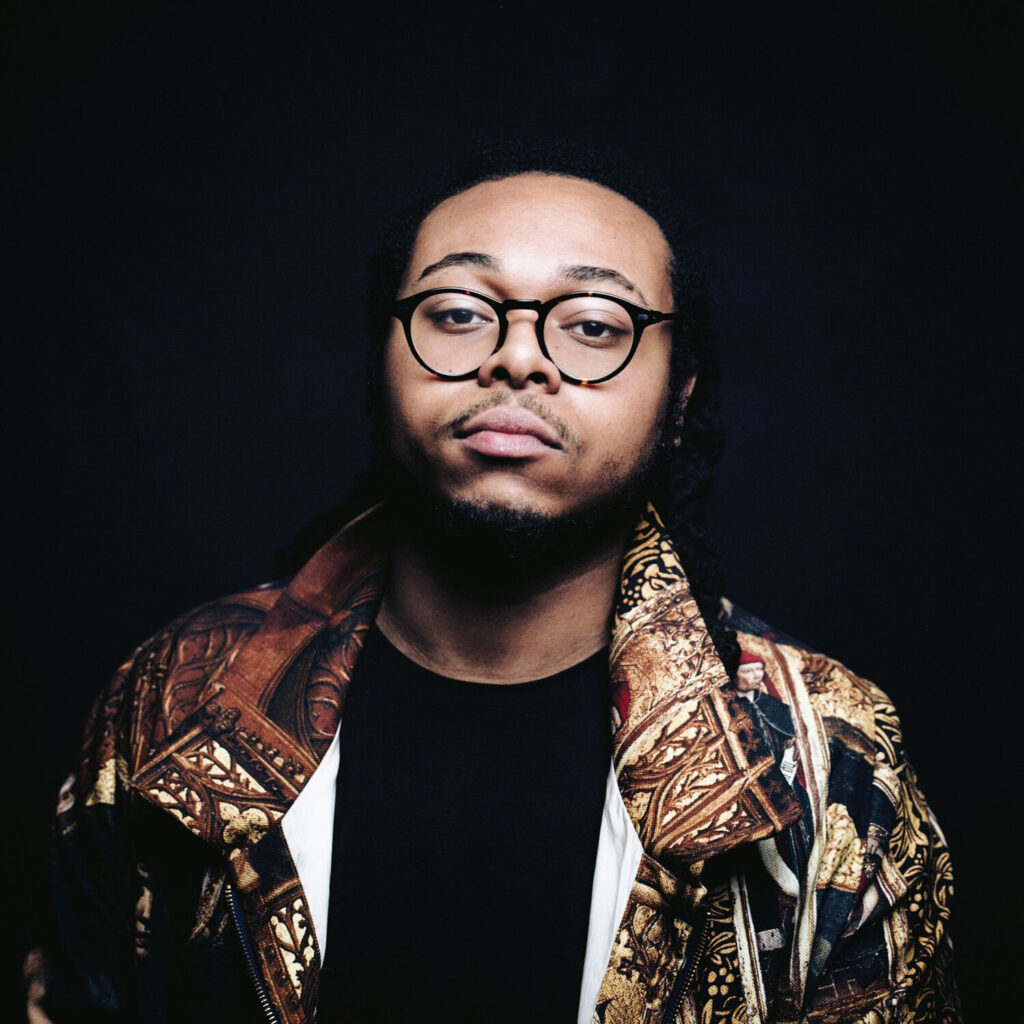 Immanuel Wilkins. Photo: Rog Walter
There's something melodically approaching hope on trumpeter Jeremy Pelt's "Anthem For a Better Tomorrow." It's there too on the upbeat "Friendship" by Martinique-born pianist Grégory Privat, as well as the euphonic, almost ballad-like "Dreaming Of Freedom (For Tony)," credited to Schwarz-Bart adding McKay's angelic wordless exclamations. The collection's final word belongs to an unlikely duo: Like most musicians gathered, electric guitarist Jean-Paul Bourelly and the poet/MC Sub-Z are secret heroes in the hollows of Great Black Music's broad landscape — the former once played with Miles Davis and Muhal Richard Abrams, but is now a Europe-based practitioner of a globalist, post-genre view of this tradition; the latter, once a member of the progressive D.C. rap crew Opus Akoben, who still hears hip-hop as a jazz-poet's practice. Their collaboration is as future-forward as anything here, a vision of Black community under attack.
Taken alongside the other 19 pieces of music that comprise Black Lives: From Generation to Generation, it is a clear indication that there's an infinite number of ways to conceive Black existence in the world. And if that doesn't actually end up in what Adam Falcon called a "utopian racial coalition," may it help us transcend the lack of fellowship that is currently all-too common.
Track Listing
DISC 1
1. Cheick Tidiane Seck – Sanga Bô
2. Immanuel Wilkins – Praying
3. David Gilmore & Marque Gilmore feat. Sharrif Simmons – We Are Here
4. Stephanie McKay – Phenomenon
5. Andy Milne & Unison feat. Kokayi, Georgi Heers & Zekkeraya El Magharbel – Togged To The Bricks
6. Sonny Troupé – Sa Nou Yé / Be Proud
7. Immanuel Wilkins – Dancing
8. Reggie Washington feat. Alicia Hall Moran & DJ Grazzhoppa – Walk
9. Adam Falcon – Colored Man Singin' The Blues!
10. Jeremy Pelt – Anthem For A Better Tomorrow
DISC 2
1. Grégory Privat – Friendship
2. Marcus Strickland feat. Christie Dashiell – Matter
3. E.J. Strickland – Language Of The Unheard
4. Oliver Lake / Reggie Washington / DJ Grazzhoppa – Pre-Existing Conditions
5. Jacques Schwarz-Bart – Dreaming Of Freedom … For Tony
6. Gene Lake – Back & Forth
7. Tutu Puoane – From The Outside In
8. Yul feat. Stephanie Mc Kay – Higher
9. Marvin Sewell – A Hero's Journey
10. Jean-Paul Bourelly feat. Terence "Sub Z" Nicholson – Masters Of Mud
https://www.jammincolors.com/projects/black-lives
https://www.fullyaltered.com/black-lives-from-generation-to-generation
Fully Altered