Drummer Johnathan Blake to Release New Blue Note Debut Album "Homeward Bound" on Oct. 29th, 2021 | LISTEN!
by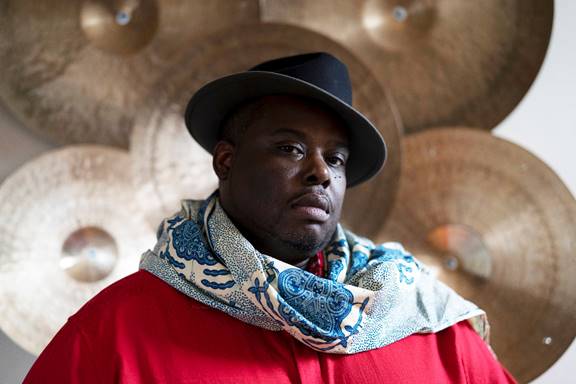 DRUMMER JOHNATHAN BLAKE SET TO MAKE HIS BLUE NOTE DEBUT
WITH OCT. 29 RELEASE OF HOMEWARD BOUND FEATURING
IMMANUEL WILKINS, JOEL ROSS, DAVID VIRELLES & DEZRON DOUGLAS
Homeward Bound—the remarkable Blue Note Records debut by drummer, composer, and bandleader Johnathan Blake—signals shifting tides for a career that's yet to crest. The album, which will be released on October 29, is a celebration of life and legacy featuring Blake's quintet Pentad with alto saxophonist Immanuel Wilkins, vibraphonist Joel Ross, keyboardist David Virelles, and bassist Dezron Douglas.
The poignant title track "Homeward Bound (for Ana Grace)," which was released today, celebrates the short effervescent life of Ana Grace Marquez-Greene, the daughter of saxophonist Jimmy Greene and flutist Nelba Marquez-Greene who perished in the Sandy Hook tragedy nearly a decade ago. For Blake, who recalls the moment of her birth, Ana Grace's time on earth resonates. "When little Ana was born, I remember what a blessing she was," says Blake, who was on the road with Greene at the time in Tom Harrell's band. "She had such a lively presence. So when I heard she'd been taken away, it affected me and I started writing this tune."
Reminiscent of a melody Ana Grace might have hummed as she bounced into the room, "Homeward Bound (for Ana Grace)" prompts joyous and contemplative trades between Ross and Wilkins, a luminescent solo from Virelles and a feature from Blake just as effervescent as the spirit it honors. "She was always singing," says Blake, "any room she went in, she would just sing."
Blake assembled Pentad with the intention of composing for a fuller, more chordal sound than his past projects have featured. The result is a wildly intuitive, tight sound that embraces spontaneity and relies on trust. "The name represents us as five individuals coming together for a common cause: trying to make the most honest music as possible," he says. "I wanted to create a record where people would get inside my head. I want them to see the story I was trying to tell. That's my hope."
Heralded by NPR Music as "the ultimate modernist," the Philadelphia-raised artist has collaborated with Pharoah Sanders, Ravi Coltrane, Tom Harrell, Hans Glawischnig, Avishai Cohen, Donny McCaslin, Linda May Han Oh, Jaleel Shaw, Chris Potter, Maria Schneider, Alex Sipiagin, Kris Davis and countless other distinctive voices. DownBeat once wrote, "It's a testament to Blake's abilities that he makes his presence felt in any context." A frequent presence on Blue Note records over the past several years, Blake has contributed his strong, limber pulse and airy precision to multiple leader releases from Blue Note artists including Dr. Lonnie Smith's Breathe (2021), All in My Mind (2018) and Evolution (2016) and Kenny Barron's Concentric Circles (2018), the latter whose trio Blake has been a vital member for nearly 15 years.
Photo Credit: David Ellis
Follow Johnathan Blake:
Website • Facebook • Instagram
Blue Note Records