Jazz Trio ARTIFACTS to Release New Project "…and then there's this" on Oct. 29th, 2021
by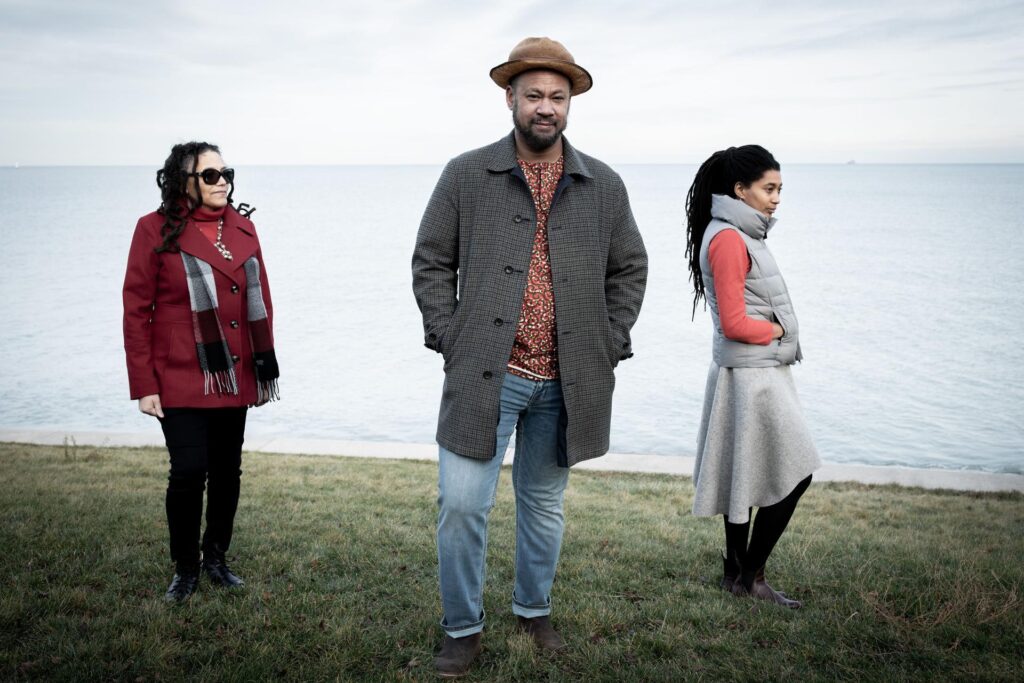 Artifacts Trio – Flutist Nicole Mitchell, Cellist Tomeka Reid & Drummer Mike Reed, All Longtime Members of the Cutting Edge AACM – Presents the Band's Second Album, …and then there's this, via Astral Spirits Records
To be released on October 29, 2021, the album features new-era compositions by ace improvisers Mitchell, Reid and Reed – a forward-minded next step after the trio's lauded debut, Artifacts, which showcased pieces by classic AACM composers
The members of the all-star Artifacts Trio – flutist Nicole Mitchell, cellist Tomeka Reid and drummer Mike Reed – have long been recognized as torchbearers of Chicago's innovative jazz scene, as well as the most prominent performer-educators in the third generation of the Association for the Advancement of Creative Music (AACM), the historically vital, leading-edge Chicago arts organization. The trio served on the organization's executive board from 2009–2011, and their music advances the organization's motto, "Ancient to the Future," celebrating African-American culture while reaching across genres and integrating new, progressive ideas into the legacy of jazz and composition. The first Artifacts Trio release, 2015's Artifacts, showcased classic compositions by such AACM composers as Henry Threadgill, Roscoe Mitchell, Fred Hopkins, Leroy Jenkins, Amina Claudie Meyers, Steve McCall, Anthony Braxton and Muhal Richard Abrams. The album placed in lists of top albums for 2015 on NPR as well as in The New York Times and All About Jazz, among others. New York Times critic Ben Ratliff declared Artifacts to be "exceptional," while The Free Jazz Collective dubbed the band "a next-generation AACM dream team." Now, the second Artifacts Trio album – …and then there's this, to be released digitally and on CD via Astral Spirits Records on October 29, 2021 – furthers the evolution of the band by featuring compositions by each member of the trio, plus interpretations of more pieces by Mitchell and Abrams.
For all its ambitions, "the Artifacts Trio is a fun band – because the three of us have been close friends for many years," Nicole Mitchell says. "I don't think we can separate our friendships from the music. This project has been a way to celebrate our mutual inspiration from the AACM, while also learning more about how to support each other's musical aesthetic – and the free improvisations on the album reflect how we've grown together. The new album is also more focused on groove than our debut, and this is the first record together where we are supporting each other as composers – contributing to each other's arrangements, developing more of a vibe in our grooves, and getting almost telepathically close in our open improvisations. Our initial album, Artifacts, was the first real project where I incorporated electronics through the use of guitar pedals – in this space, that sort of experimental approach is welcome. This is a band that enables each of us to stretch out and try new things."
Along with collaborating with each other in various settings over the years, each of the musicians of the Artifacts Trio leads his or her own bands, having established strong artistic profiles in their own rights. Mitchell – an award-winning composer, bandleader and soloist, as well as the new director of jazz studies at the University of Pittsburgh's Deitrich School – has released many albums by various incarnations of her Black Earth Ensemble, as well as by diverse bands chronicling a series of album-length suites.
Describing Reid's qualities, Mitchell says: "Tomeka is such an amazing, virtuosic player – her sense of rhythm is impeccable, her creativity unstoppable. No matter what I send her way – no matter how challenging it is – I know she will master it. That's a great feeling to know you can try anything and Tomeka is up for it. I have probably played with Tomeka in more diverse contexts than anyone else in my world. Whether I want to bounce, swing, hip hop, make chaos, play intricate line or blurry textures, she's ready." About Mitchell, Reed says: "Nicole really does challenge us to develop as musicians. It could be a specific beat or an improvising concept – whatever it is, her compositions always require me to learn something." As for Reed, the cellist says: "He is always trying to expand his sound in very thoughtful yet subtle ways. It's exciting to see what new sound Mike is going to bring to a set."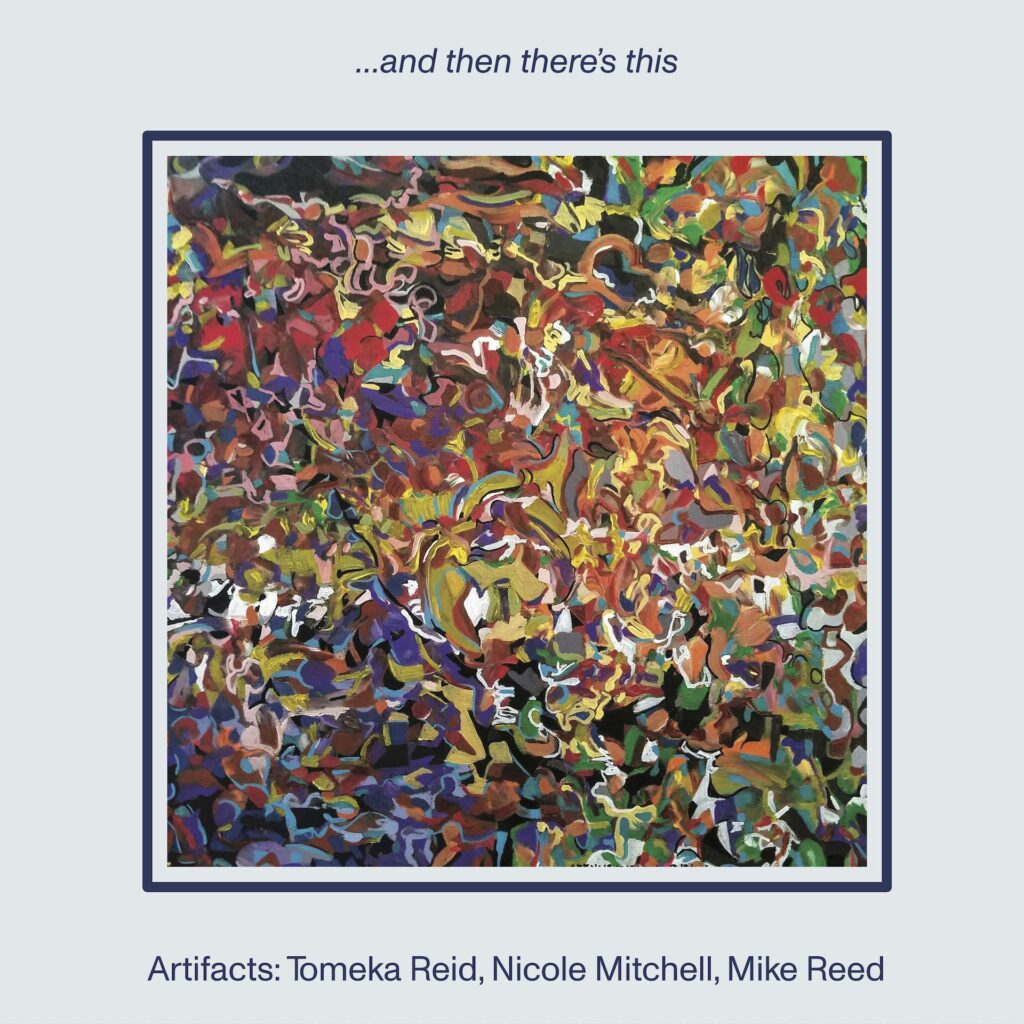 Whether atmospheric ("J.J."), hard-grooving ("In Response To") or explosive ("Pleasure Palace"), the trio aimed for each original piece on …and then there's this to have "its own distinct sonic characteristics and rhythmic identity," Reed explains. "We wanted to avoid thinking in terms of traditional references, like 'swing' or a generic 'Afro-Cuban' style." Regarding the included compositions by Muhal Richard Abrams and Roscoe Mitchell, Reid says: "I loved Muhal's 'Soprano Song' when I first heard it, years ago. It's got a really funky groove that's fun to play, plus a finger-twisty head. I was introduced to 'No Side Effects' while playing in the Art Ensemble of Chicago, but I think we've all played it with Roscoe at some point. Our version is a little reggae-inspired, which was fun!"
Musing on the trio's connection to its AACM forebears and the band's devotion to carrying that legacy forward in new work, Mitchell concludes: "Musically, the spirit of the AACM is so rich – it's about originality, experimentation, Blackness. It's about a legacy emerging from the Black Arts Movement of Chicago. It's about mentorship and intergenerational inspiration. It's about Afrofuturism before it had the name Afrofuturism. It's about making space to assert who you are as an individual of the African Diaspora, when society wants to put you in a Black box. The Artifacts Trio has soaked up the influences of Muhal, Roscoe and all the others. There's more to celebrate – but also so much more we can do to move the legacy forward, to create as a trio with our own compositions. The possibilities are endless."
Image/Left to right: Nicole Mitchell, Mike Reed, Tomeka Reid
Photo Credit: Liina Raud
Fully Altered Media