Special Star-Studded Compilation "Relief: A Benefit for the Jazz Foundation of America's Musicians' Emergency Fund" to be Released on Sept. 24th, 2021 | LISTEN to 3 New Tracks!
by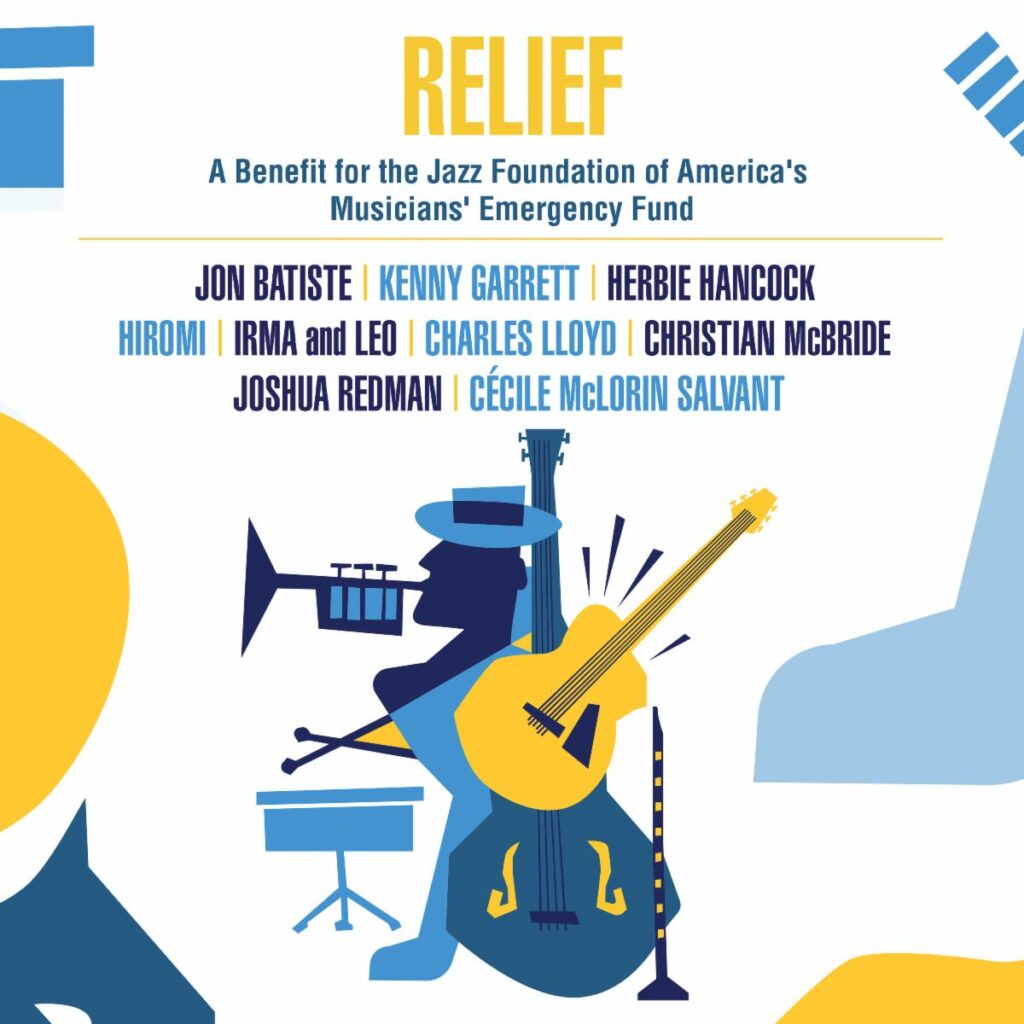 AVAILABLE TODAY, JON BATISTE'S "SWEET LORRAINE,"
THE FIRST SINGLE FROM RELIEF: A BENEFIT FOR THE
JAZZ FOUNDATION OF AMERICA'S
MUSICIANS' EMERGENCY FUND
An Unprecedented, Star-Studded Collection from
America's Top Jazz Labels in Support of Musicians
Affected by the Pandemic, Arrives September 24
2-LP Set, CD and Digital Album Features
Herbie Hancock, Wallace Roney, Buster Williams, Jimmy Heath, Albert "Tootie" Heath, Joshua Redman, Christian McBride,
IRMA and LEO (Esperanza Spalding & Leo Genovese),
Cécile McLorin Salvant, Charles Lloyd, Hiromi,
Kenny Garrett, Jon Batiste, and Other Jazz Greats
UPDATE AUG. 24th, 2021: Joshua Redman's "Facts," the Second Single from Relief: A Benefit for the Jazz Foundation of America's Musicians' Emergency Fund – LISTEN BELOW!
UPDATE SEPT. 8th, 2021: LISTEN to New Track by Cécile McLorin Salvant – "Easy Come, Easy Go Blues"!
A consortium of major jazz labels – Concord Music Group, Mack Avenue Music Group, Nonesuch Records, Universal Music Group's Verve Label Group and Blue Note Records, and Warner Music Group – has taken the unprecedented step of joining hands for Relief, an all-star compilation of previously unreleased music to be issued on LP, CD and digitally September 24, continuing the non-profit Jazz Foundation of America's (JFA) ongoing efforts to aid musicians affected by the international shutdown of venues and other performance opportunities in the wake of the coronavirus pandemic.
All net proceeds from the package – comprising studio and live tracks by top-flight jazz artists – will benefit the JFA's Musicians' Emergency Fund, established in the spring of 2020 after the pandemic ground the music industry to a sudden, catastrophic halt.
JFA executive director Joe Petrucelli says, "The Jazz Foundation of America deeply appreciates the artists, songwriters and label teams who contributed to this project with such compassion and generosity. As pandemic restrictions continue to lift, we recognize that musicians will face a particularly lengthy recovery. They were among the first to be hit by the effects of the crisis and will be among the last to achieve a true sense of normalcy or stability. We and our partners are here for the long haul."
Relief commences with a recording that exemplifies the extreme challenges faced by musicians in the depths of the 2020 health emergency: "back to who," a track by vocalist Esperanza Spalding and pianist Leo Genovese, recording as IRMA and LEO, was created remotely at home studios in Hillsboro, OR and Brooklyn, NY.
The compilation concludes with a live quintet performance captured at the JFA's 2014 "A Great Night in Harlem" benefit show at New York's historic Apollo Theater. It features pianist Herbie Hancock, trumpeter Wallace Roney, who died after contracting the coronavirus, bassist Buster Williams, drummer Albert "Tootie" Heath and tenor saxophonist Jimmy Heath, the composer of the number, who died at the age of 93 in January 2020, in a poignant version of "Gingerbread Boy."
"I'm honored to be part of this meaningful project that supports the important work of the Jazz Foundation, who has always been there for musicians going through tough times. They have been an especially critical resource for the community during the pandemic, helping those in need of medical care, putting food on the table and paying their rent," says Hancock.
Offering a compact overview of jazz's past, present and future, the album also presents fresh tracks from bassist Christian McBride, vocalist Cécile McLorin Salvant, saxophonists Kenny Garrett, Joshua Redman and Charles Lloyd, pianist-vocalist Jon Batiste and pianist Hiromi Uehara.
The set is merely the latest pandemic relief effort mounted under the aegis of the JFA's Musicians' Emergency Fund. 2020 benefit events included the virtual concert #TheNewGig in May, an international "Gershwin Global" online performance led by Israeli pianist Guy Mintus in July, and the Charlie Parker-themed "Bird Calls" streaming fundraiser in December.
Mack Avenue Music Group president Denny Stilwell, who spearheaded the formation of the label consortium with longtime JFA board member and entertainment lawyer Geoffrey Menin last spring, says, "We had met via conference call for about two months before the idea of putting an album together came up. The initial impetus was to raise money for the fund. Sometime around eight weeks in, Blue Note's president, Don Was, said, 'Why don't we make a record? Let's all contribute some tracks.' There was a nanosecond of silence, and then everybody in our core group – including John Burk at Concord, Jamie Krents at Verve – said, 'Yeah, let's do it.'
"We all decided that we were going to look into the vaults and agreed that we wanted to have unreleased tracks…it just came together organically. Once we got all the music together, we traded some ideas and Joe Petrucelli, John Burk and Will Wakefield laid out the final sequence of how the tracks would flow. I think it works great!"
Relief marks the first appearance on record of a performance from one of the JFA's annual benefits at the Apollo. (The 2020 "A Great Night in Harlem" show, which had been set for April 14, was postponed due to the COVID outbreak.)
Stilwell recalls, "Joe Petrucelli was pretty excited about including a live track. The thing that makes that track heartbreaking and relevant is the inclusion of Wallace Roney, who was one of the first of our community to pass from COVID. I think that track, which also features Jimmy Heath, who also left us last year, has some extra weight and meaning for all of us."
In his notes for the album, Rolling Stone senior music editor Hank Shteamer writes, "Even in a pandemic, the jazz ecosystem – not just its practitioners and facilitators but those who value the music as a lifelong sustenance – has managed to summon grace, dignity and unexpected joy. That spirit extends to Relief, a compilation which continues the relief efforts undertaken last year. This album reflects the duality at the heart of jazz: It's a music of cooperation, of intuitive teamwork, that also leaves room for a broad array of personal idiosyncrasy. Differences of generation, heritage, methodology…strengthen the music's vast collective mesh."
Track Listing:
IRMA and LEO | "back to who" feat. Esperanza Spalding and Leo Genovese | 4:41
Christian McBride | "Brother Malcolm" | 4:47
Cécile McLorin Salvant | "Easy Come, Easy Go Blues" | 2:32
Kenny Garrett | "Joe Hen's Waltz" | 8:07
Jon Batiste | "Sweet Lorraine" | 3:52
Hiromi | "Green Tea Farm" [2020 version] | 7:52
Joshua Redman | "Facts" feat. Ron Miles, Scott Colley, Brian Blade | 3:39
Charles Lloyd & Kindred Spirits | "Lift Every Voice and Sing" [live] | 8:26
Herbie Hancock, Wallace Roney, Jimmy Heath, Buster Williams, Albert "Tootie" Heath | "Gingerbread Boy" [live] | 6:54
Relief – A Benefit for the Jazz Foundation of America's Musicians' Emergency Fund
Various Artists · Mack Avenue Records · Release Date: September 24, 2021
For more information on Jazz Foundation of America, please visit:
DL Media