Singer Lena Byrd Miles Releases New Music Video for Single "Watch Me"
by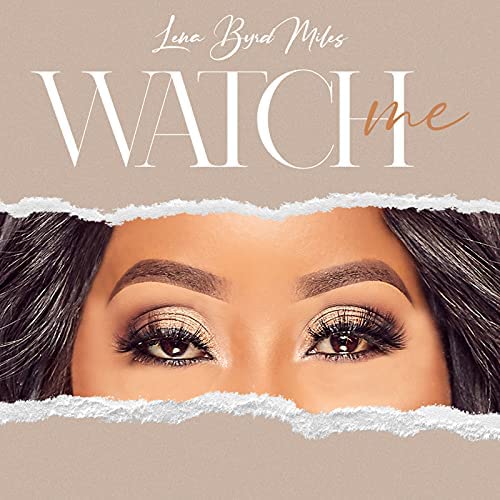 Lena Byrd Miles Drops New Song and Accompanying Music Video "Watch Me" on MY Block Inc.
Contemporary gospel artist Lena Byrd Miles releases her new single and video "Watch Me," via My Block Inc. An effortless yet powerful song that encapsulates conviction, hope, and faith.
Co-written by Miles and multi-award-winning producer Warryn Campbell, produced by Campbell and co-produced by Michael Bereal, "Watch Me" offers a powerful lyrical message that floats over changes of traditional gospel and jazz vibes sprinkled with a hint of R&B.
According to Miles, "the message of the song is watching God with great anticipation of Him making life better for us however He sees fit to do so." She adds, "I found one of my note envelopes/pieces of paper that I used while writing/working on 'Watch Me'. At the top, I wrote the scripture—1 Samuel 12:16 which says, "Now then stand still and see this great thing the Lord is about to do before your eyes."
Miles' signature-controlled acrobatics command attention throughout the song. One of the many reasons why Campbell signed her to My Block Inc. "Artists like Lena Byrd Miles aren't born every day," he says. "She is very special, and gift is absolutely supernatural. 'Watch Me' is impactful on impact. One listen and you'll fall in love with the girl with three names; Lena Byrd Miles." Simply put, 'Watch Me' leaves no room for confusion. The message is clear and repetitive so there is no mistake. "I heard you when you cried out to me / I saw you when you fell to your knees / I still have the power to fix anything / Just watch me / Just watch me."
The momentum of the music video brings the message home. It spotlights Miles' tirelessly delivering the song in an elegant look while handling a vintage mic reminiscent of the 40s. Reinforcement from a choir helps drive the significance that God will lift you out of the pit of despair and can do so much more if you step back and watch Him work.
"Watch Me" heralds Lena Byrd Miles' anxiously awaited debut album, due for release August 2021.
About Lena Byrd Miles
One of the most sought-after vocalists in contemporary gospel, Lena's soulful and extraordinary vocal prowess has caught the attention of musicians and artists alike.
Her gift has opened many doors. She has shared the stage with such luminaries as Tye Tribbett, Lalah Hathaway, Deitrick Haddon, Dorinda, John P. Kee, Doobie Powell, the late Thomas TC Clay, and more. And she was privileged to sing with the legendary Edwin Hawkins as part of the New Edwin Hawkins Singers—where it all began.
More than an artist, Lena is a wife, daughter, sister, friend, and licensed hairstylist with a unique ability to connect with people. Her innate comedic prowess and infectious laugh draw you in, but her compassion for mankind will cause you to appreciate her heart.
By taking the torch of the legendary Hawkins family, Lena is continuing the journey of the rich heritage of Gospel music by representing the new sound of the Bay.