Gospel Ensemble Gregory D and Company to Release New Single "Created" on April 9th, 2021 | WATCH NEW VIDEO!
by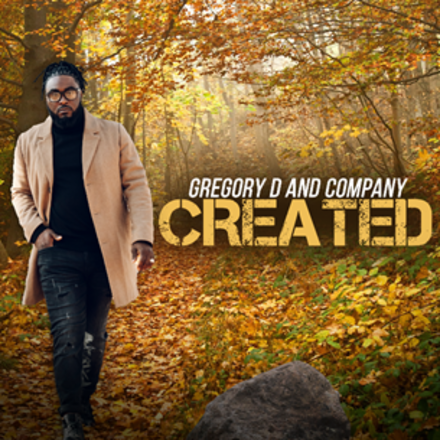 Award-Winning Gospel Ensemble, Gregory D and Company, Release Brand New Track, "Created", on April 9, 2021
Fans Can Pre-Order Single Now on www.GregoryDMusic.com
(Lansing, MI) – March 19, 2021 – Gospel music lovers have been enjoying the sounds of the award-winning Gospel ensemble Gregory D and Company since the group's start in 2012. Known for soul-stirring worship and high energy praise, the Lansing, Michigan-based group has been catching the attention of fans and industry alike. Gospel radio has embraced tracks such as "More Than A Conqueror," "I Am A Praiser" and their most recent Top 40-charting single, "My Time". Now the six-time Rhythm of Gospel nominees are back with a brand new song entitled, "Created", and the track is destined to put a smile on the faces of old and new fans. "Created" is available for pre-order now at https://smarturl.it/w9mb5x and www.GregoryDMusic.com with the single officially releasing on April 9, 2021.
Penned by Gregory D himself, "Created" was written for those who have wondered about their purpose and place in this world. "'Created' is a fun upbeat song filled with surprises which started as just a 10-second voice note back in 2017," shares the writer. "My intention was to make this a big song, one of those wow songs that would make you wanna keep it on repeat. I also wanted to remind people they were created for God. I truly believe that I was created for God's pleasure, and I want Him to know that He has full access to my life from the very moment that the breath of life entered my lungs." The new song, an orchestral and rhythmic masterpiece, is infectious and with its inspiring lyrics confirms that we were fashioned just for the Lord. "This track is a new sound for me," says Gregory. "It's different and I am excited to share it with the world. I let my friends who are very critical about music hear this song and their mouths literally dropped after listening to it; so I assure you, you will love something about this track."
Owner of Gregory D Productions, the producer, songwriter, musician and vocalist has been creating music for years. Growing up in the COGIC tradition, both his parents were musically inclined; his mother was the church's worship leader and pianist while his father was the organist and choir director. Bitten with the musical bug as well, he formed Gregory D and Company to share his talents and give his gift back to God. Since the group's beginnings, they've been blessed to back up Gospel Artist Bryan Poppin and shared the stage with other high-profile artists such as Vanessa Bell Armstrong, Lee Williams, Wess Morgan, Alexis Spight, Clifton Ross, III and Willie Moore, Jr.
Gregory D and Company is known for their riveting live performances and has been seen on several Christian television programs including The Dorinda Show, Atlanta Live, Babbie's House and Nite Line. They've been covered by Soul Tracks, Root Magazine, Gospel Music Fever and the Tamika Hall Show and have seen their share of accolades. In 2019, they were nominated for six Rhythm of Gospel Awards including Contemporary CD of the Year, Special Events CD of the Year and Praise and Worship CD of the Year. They also have been nominated for a Kingdom Image Awards for Best Group Performance and for two Voices of Gospel Music Awards (VOGMA) for VOGMA Artist of the Year and Contemporary Artist of the Year. To connect with Gregory D and Company, log on to Facebook, Twitter and Instagram. For more information about the group, check out their website at www.GregoryDMusic.com.