Music Group Lunar Octet to Release New Album "Convergence" on May 7th, 2021 | LISTEN!
by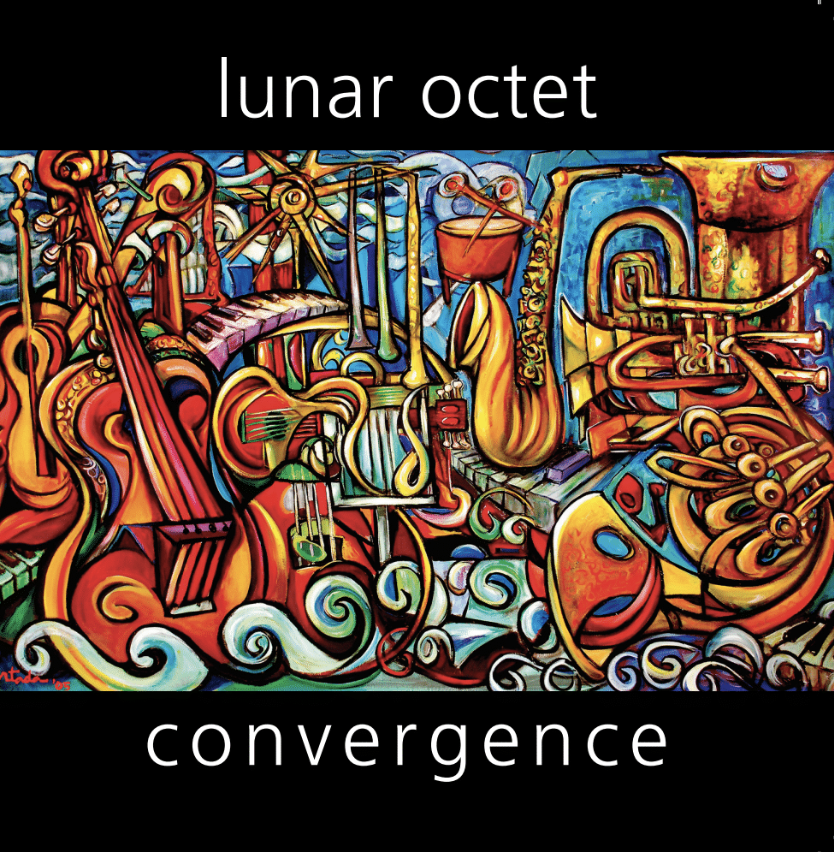 Lunar Octet Re-Emerges with First Album in 26 Years
Ann Arbor Ensemble Blends
Latin Jazz, Afrobeat, Samba and Funk on Convergence
A decades-long institution in Ann Arbor, home of the University of Michigan, and also the nearby Metro Detroit area, the Lunar Octet is back with a potent collection of originals inspired by such wide-ranging influences as mambo, samba, funk, Afrobeat and jazz on Convergence. The title itself suggests a confluence of rhythms and styles, and that is precisely what this band of multi-directional musicians has been doing since meeting 36 years ago in Ann Arbor and subsequently recording their 1994 debut, Highway Fun for Schoolkids Records. Reuniting in the studio 25 years later, the members of the Lunar Octet documented their collective growth while remaining committed to their original mission on Convergence, scheduled for a May 7th release on Summit Records.
From the percolating salsa groove of the infectious opener, "Norm's Nambo," to the swinging big band flavored chart, "Toote Suite," the Brazilian music influenced "Mambossa," the rhythmically charged "Subway Tension", and the entrancing Afrobeat numbers "Dancin' in the Doghouse" and "Heart of Congatar," the Lunar Octet presents a compelling world view of sound. Add the churning "Samba Diabolico," the buoyantly swinging "Crusin'" (think Neal Hefti arrangements for the mid '50s Count Basie band), the alluring tango "Until I Find Words" (an clarinet feature) and the rollicking, Brazilian flavored batucada "Samba Over Easy" (reminiscent of Airto Moreira's "Tombo in 7/4"), and you've got a veritable United Nations of sound that you can also dance to.
"The Lunar Octet is like a diamond," said percussionist and co-founding member Aron Kaufman, called "the soul of the band" by his colleagues. "We're all different facets of the diamond expressing the singularity of our musical mission. And it's not about our technique, in terms of us being monster chops players who want to show off how amazing we are. Really, it's the sum of the parts that brings hope and joy and love to people who come to see us. I believe with all my heart and soul that as artists, if we can lift people's spirits by showing a love and celebration of the different world musical cultures that we bring to life in our particular special way, we're bringing some light to the darkness."
Originally formed in 1984 as the Afrobeat flavored Lunar Glee Club, the group morphed into the Lunar Octet in the '90s and began taking on the influences of samba and jazz through the compositions and arranging of alto saxophonist and principal composer Steve Hiltner. The New York City-born Kaufman absorbed music in the Big Apple (represented by his tune "Subway Tension") before his family moved to Puerto Rico. Through his mentor Norman Shobey (Aron's tune "Norm's Nambo" is dedicated to Norm), Kaufman began studying conga and later widened his repertoire with a year abroad in Israel, where he soaked up Middle Eastern music and began playing the darbuka drum. Other founding members of the band include drummer Jon Krosnick (who also anchors the West Coast-based fusion band Charged Particles), tenor saxophonist Paul VornHagen (who also leads the Cuban jazz combo Tumbao Bravo), trumpeter Brandon Cooper (an in-demand freelancer in the Metro Detroit area) and guitarist Sam Clark. Rounding out the Lunar Octet are young piano sensation Keaton Royer, bassist Jeff Dalton, and percussionist Olman Piedra.
Regarding the group's long hiatus and recent return with Convergence, Krosnick said, "The early '90s was the peak time for the band, when we were on national radio broadcasts and playing at major festivals. But then band members moved away. I took a job teaching at Ohio State, Steve Hiltner moved to North Carolina, others moved elsewhere. So we lost momentum. But we rediscovered ourselves five years ago and said, "Hey, this music's cool, let's keep doing this." That reunion came in 2014 with a performance at the Kerrytown Concert House in Ann Arbor. And regular performances have followed ever since. "It's been fun to come back with live shows," said Krosnick. "And now with the release of Convergence, we're feeling like we can create some buzz about the band and do some touring."
Krosnick explained that the band's initial Afrobeat influence came in large part from original bassist Dan Ladizinsky, who names King Sunny Ade as a primary influence. As Jon recalls, "It was literally a garage band in the beginning. Guys were getting together and just trying to groove. The more intricate compositions only kicked in years later when Steve Hiltner joined the band. He brought in some of the more highly orchestrated stuff that's full of complexities and twists and surprises and unexpected bridges. But it was quite the opposite in the beginning. The original version of the band had no piano player and two bass players and a guitar player, so there was a deep African groove thing happening, like a jam band."
"I sort of ruined it for the faction of the group that really loved straight-ahead grooves and simple melodic stuff," said Hiltner. "I started bringing in pieces that were more than just stock 32 bar tunes that could be in the Real Book. I bring a classical element to the band in the motivic development in my compositions, which you can hear on 'Samba Diabolico,' for instance." Of the seemingly disparate musical elements coming together on Convergence, Hiltner, a trained botanist added: "Nature is just miraculous in the way it breaks everything down into constituent parts and then builds something new. I think of the creative process like that. It's like composting: bringing lots of different elements together so something new comes out of the blend."
After such a long hiatus from recording, Kaufman is thrilled about the release of the Lunar Octet's Convergence. "It shows the longevity of our friendships and music all intertwined," he said. "And music really is an expression of our connections to each other. What we're doing reflects years and years of building trust and relationships." He added, "I'm always open to new possibilities. That's what's great about the Lunar Octet. Over and over again, one of us has come up with an idea that has musical integrity and a quality that is inspiring and that we are excited about. That's what makes our music so interesting and varied. And we always support each other to bring those kinds of tunes out. Openness of sharing is an important part of the band. All of the many different musical qualities that we all bring to the table help form a nice balance."
Lunar Octet | Convergence
Summit Records | Release Date: May 7, 2021
For more information on Summit Records, please visit:
DL Media