Soul Singer Alvin Garrett Releases New Album "The Lightness of Love" on Feb. 5th, 2021 | LISTEN to New Single "In It"!
by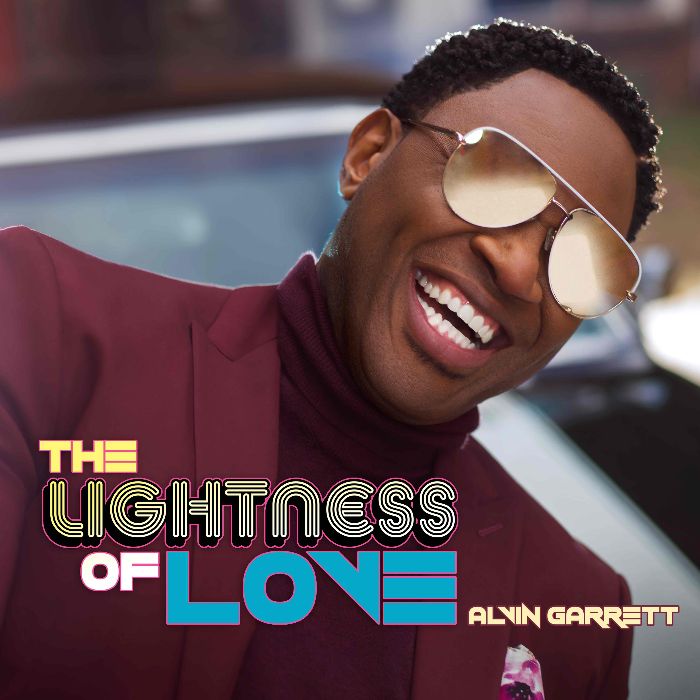 GRAMMY-NOMINATED SONGWRITER ALVIN GARRETT RELEASES SOUL ALBUM THE LIGHTNESS OF LOVE TODAY (2/5)
NASHVILLE, Tenn. (Feb. 5, 2021) – Grammy®-nominated songwriter Alvin Garrett is releasing his Soul-infused and self-penned album The Lightness Of Love today (2/5). The Lightness Of Love (HILL Entertainment) reaffirms the importance of connection, love and togetherness, and delivers with a passion reminiscent of the romantic, soulful love songs served up by Motown in the 1970s. The Lightness Of Love comes on the heels of Alvin's recently released album The Awakening, a reflection of the recent social unrest and the release of his swinging, feel-good lead single "My Gift To You." *The track listing is included below.
Alvin is celebrating the release of The Lightness Of Love tonight, in a special 45 minute livestream broadcast, where he will talk in-depth about his album and give a special performance of his current single "My Gift To You." Fans can tune-in tonight via Facebook.com/alvin.j.garrett at 8 p.m. CST.
"Last year, I released The Awakening to inspire listeners to think, feel and become aware of the heaviness of social injustice and systemic oppression. With this album The Lightness Of Love, it's been important to me to lift others up. I hope that when people listen, in some way, this music helps lighten some of the heaviness that exists. It's been a positive and inspiring experience for me to create this album, and I'm excited for people to hear it," shared Garrett.
As a pioneer of inspirational Soul, the Alabama-born-and-raised preacher's son's first foray into music was through his musical experiences at Church and his love of bass guitar. Traveling a long road throughout his musical career since then, he's worn multiple hats as a business owner, professional bassist, music and event producer, and an award-winning songwriter and recording/performing artist. Along the way, he's gone on to build a storied and impressive 20-year career that's ushered him to the forefront of Soul and R&B as a professional bassist and producer, arranger and songwriter for Joe, Kelly Rowland, Fantasia Barrino, Ruben Studdard, Jordan Knight, Deitrick Haddon and more. Adding to that, he's garnered multiple awards including a Grammy nomination, a Soul Train Award, a Dove Award and a Stellar Award.
With his fourth, full-length studio album The Lightness Of Love, Alvin offers a free and easy infusion of intricate arrangements and melodic vocal lines combined with Smooth Jazz and sultry R&B. With each song, Alvin settles into a pocket so deep you'll want to get comfortable. His intuitive sense of emotion and musicality are on full display and easily translated in songs like "In It," revealing a delicate and impressive range of vocal scales, transporting the listener into a feeling of euphoria. Title track "The Lightness of Love" meets his equally-matched and impressive musicianship, featuring Jazz/Classical Flutist and Billboard No.1 charting recording artist Kim Scott, and his lead single "My Gift To You," is a bold offering of romance and steamy lyrical wordplay with undertones of Gospel, just in time for Valentine's Day. Altogether, the seven-song collection is compelling, and brings together his sophisticated voice, expressive melodies, masterful songwriting, and a musical energy that is uplifting.
Alvin continues to release new music with lyrics to inspire, and recently teamed up with The Dannon Project to develop and empower others with his innovative songwriting program The Write Life. The culmination of all of this has sculpted his own personal journey as an artist. For more information about Alvin Garrett, visit https://www.alvingarrett.com/ or follow him on Facebook: The Alvin Garrett and Instagram: @TheAlvinGarrett.
The Lightness Of Love – Track Listing
1. "Hang with Me"
2. "Go Together"
3. "Soft Spot"
4. "My Gift To You"
5. "In It"
6. "The Lightness of Love feat. Kim Scott"
7. "Beat Beat"
All songs written by Alvin Garrett
All music produced by Mixtape Seoul
All recording, mixing, and mastering by Alvin Garrett at HILL Studios, Birmingham, AL
Pitch Candy PR