Vocalist Andy James to Release New Album "Tu Amor" on Jan. 22nd, 2021 | LISTEN!
by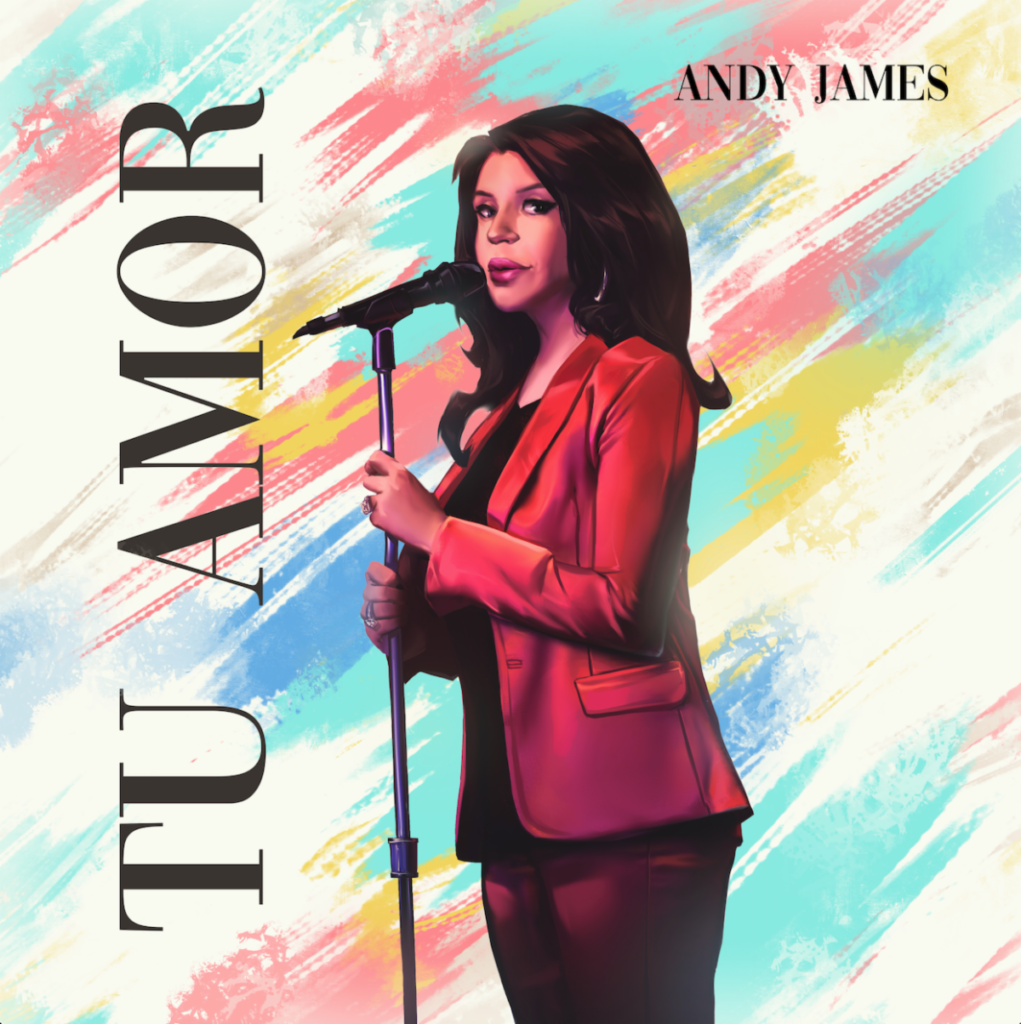 Cosmopolitan Vocalist Andy James Explores an Exhilarating Range of Latin Jazz Influences on Tu Amor set for January 22 on Le Coq Records
Boasting Colorful Arrangements by Pianist Bill Cunliffe,
Tu Amor Features an All-Star Ensemble including
Alex Acuña, John Patitucci, Vinnie Colaiuta,
Marvin "Smitty" Smith, Terell Stafford, John Beasley,
Rick Margitza and Bob Sheppard
Two great passions have shared the heart of Andy James throughout her life: jazz singing and Flamenco dance. On her entrancing new album Tu Amor, those twin fascinations come together brilliantly on a Latin-tinged set featuring jazz classics, unexpected pop hits, and an original piece by James' close collaborator, percussionist Alex Acuña.
Due out January 22, 2021 via Le Coq Records, Tu Amor is graced by a scintillating all-star ensemble that includes Acuña, pianist and arranger Bill Cunliffe, bassists John Patitucci and Chris Colangelo, drummers Vinnie Colaiuta and Marvin "Smitty" Smith, organist John Beasley, and a horn section that includes Terell Stafford, Bob Sheppard, Rick Margitza, Michael Dease and others.
Since launching Le Coq Records with husband, producer and label founder Piero Pata, James has quietly released four captivating records ranging in style from the elegance of the female jazz swing tradition to vintage R&B to the post-bop urgency of the classic mainstream era. But the label has taken its bow on a larger stage with the release earlier in January of Le Coq Records presents The Jazz All Stars, Vol. 1, which featured James on an energetic modern reimagining of Duke Ellington's immortal "Caravan."
Tu Amor is thus the first solo release by an artist on Le Coq since the imprint's emergence as a major new showcase on the jazz scene, and James responded by assembling a repertoire of songs very close to her heart. "Tu Amor is the perfect expression of both my styles of work: jazz and Flamenco," James explains. "It enabled me to touch on all the rhythms of both styles."
James was introduced to the two artistic loves of her life by her parents says the singer, who splits her time between Las Vegas and Los Angeles. Acknowledging her respect and affection for both her parents she continues, "I sang as a child, but I went back and forth between singing and dance. Both my parents were always encouraging."
While both passions were instilled in James at an early age, Flamenco took prominence during what she now refers to as "act one" of her artistic life. She became renowned as a world-class Flamenco dancer, and she and Pata enjoyed a successful career dancing together in Madrid.
"My professional life as a Flamenco artist led me away from jazz in my home country to Europe, where I had wonderful experiences that gave me the opportunity to experience exciting rhythms and beats cursing through my body," she recalls. "But with that art form one learns to live with a bag of ice and a heat pad. As the injuries mounted up over the years of performing I was drawn to my first passion of singing, which l had been doing from time to time in small clubs around Europe throughout my Flamenco career."
For "act two," James relocated to the U.S. and focused on her singing career, renewing collaborations with the great jazz musicians who had crossed her path while they traveled through Europe. Primary among them, and key to the virtuosic musical family that has formed around Le Coq, were percussionist Alex Acuña and pianist/arranger Bill Cunliffe, both of whom worked closely with James to realize her vision for Tu Amor.
"Bill and Alex were able to bring out all the feelings l needed to express," James enthuses. "We all had fun, which is something I always try to instill in my work, especially with my fellow artists. With Bill's wonderful writing and sensitive playing he always knows where to "leave out the notes." And Alex's great sense of rhythm made Tu Amor a joy to record – which I think is something important to achieve!"
"Working with Andy has been a lot of fun," says Cunliffe, echoing James' joyous sentiments. "She'll explain her vision of each song –say, a Sarah Vaughan feeling on one tune, or a bigger ensemble sound on another – and I'll take it and run with it. I try to be faithful to the original concept of each tune, but then I try to put my own spin on it. It's all about the singer and the lyric, and I've really enjoyed the experience."
Of course, the Latin influence that comes to the fore on Tu Amor can't help but connect James with her roots as a dancer. "Dance for me brings a sense of rhythm to jazz that I wouldn't have had without my career in Flamenco," she says. "It enables me to play around with the beat of the music and gives me the ability to move on stage that is not the norm with most jazz singers."
Listeners will have a hard time resisting the urge to join the smoky-voiced singer in moving to the vibrant music James makes with her expert collaborators on Tu Amor – whether swaying to the lilting "In the Still of the Night," graced by the birdsong-like flutes of Dan Higgins and Bob Sheppard; imagining the dance clubs of Spain via Acuña's percussion on Cole Porter's "Night and Day;" engaging in a smoldering tango to the Mexican classic "Perfidia" or a romantic waltz to Henry Mancini's "Charade;" taking a cha cha turn to the Gershwins' "But Not for Me" or an ebullient spin to "Papa Loves Mambo."
This is an album as rewarding to enjoy under headphones as it is on the dance floor, with the mesmerizing balladry of Mancini's "Loss of Love," highlighted by Stafford's graceful trumpet side by side with the explosive album closer, Santana hit "Evil Ways." On the latter, James switches off her microphone and dons her producer's hat, ceding the spotlight to her incredible band for an exhilarating blowing session. At the heart of the album is another instrumental piece, the title track penned by Alex Acuña, which James rightly calls "sublime."
"With my history in Flamenco, I loved having the chance to work with one of the greatest percussionists on Earth in Alex Acuña," James says. "We had such fun and in the end l believe l chose just the right blend of music l wanted to express."
Read a Track By Track with Andy James to learn more about the album.
Andy James ·Tu Amor
Le Coq Records · Release Date: January 22, 2021
DL Media