New Docuseries "A Closer Look" Premieres with Ralph Tresvant on Nov. 5th, 2020, on UMC | WATCH NEW VIDEO!
by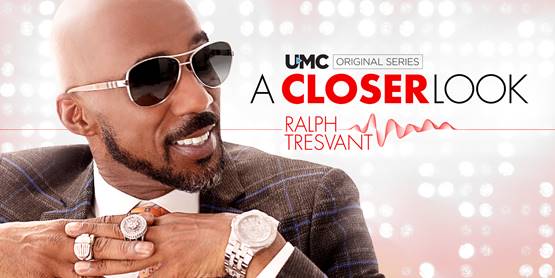 'A CLOSER LOOK': UMC GREENLIGHTS MUSIC ARTIST DOCUSERIES FROM 'UNSUNG' NAACP IMAGE AWARD WINNING PRODUCER ISAAC TAYLOR
First Episode to Take 'A Closer Look' at New Edition's Ralph Tresvant in Eye-Opening Interview Revealing the Truth Behind His Hiatus from the Group
Los Angeles, CA– A new docuseries is coming soon to popular AMC Networks streamer, UMC – the first streaming service ever created for Black TV and film. Created by Isaac Taylor, the 4x NAACP Image Award-winning producer of TV One's "Unsung," "A Closer Look" will feature intimate interviews with popular and legendary artists and the people who know them best. The first installment of the interview series will feature Ralph Tresvant, the lead singer of the legendary R&B group, New Edition.
With nearly 40 years in the business, Tresvant's storied career features classic New Edition hits like "Candy Girl," "Cool It Now," "Mr. Telephone Man," "If This Isn't Love" and "Can You Stand the Rain;" and a discography of solo albums including his self-titled debut album which spawned the number one single "Sensitivity" and top 5 hits "Do What I Gotta Do" and "Stone Cold Gentleman." Earlier this month, Tresvant made his return to music by teaming up with New Edition bandmate Johnny Gill for the new single "All Mine."
"Music is the soundtrack of our lives," says Brett Dismuke, Chief Content Officer of UMC. "When listening to different songs, we find ourselves reflecting on where we were when, and basking in memories that bring us back to special moments we've had. With 'A Closer Look,' Isaac is giving viewers the opportunity to experience these same emotions but from the perspective of their favorite artists as we become flies on the wall to their moments of reflection and expressions of truth. As UMC's content slate continues to evolve, we're excited to add 'A Closer Look' to our rapidly expanding lineup."
"I wanted to create something that not only celebrates someone's legacy – the things they did, the places they went, the goals they accomplished, but something that also focuses on what they're doing today, in the present," says "A Closer Look" creator Isaac Taylor. "I want to take, 'A Closer Look' at the person, not just the artist. That person who's a father, a mother, a husband/wife, an entrepreneur…you know, what are their hobbies outside of the spotlight? What do they like to do when the music stops? As a fan, I felt that was missing."
Currently in production, the first episode of "A Closer Look" will feature Tresvant sharing his side of the New Edition story where he will finally reveal what led to the rift between him and the group after all these years. The interview is slated to premiere in November of this year.
About UMC
Launched in November 2014, UMC is the first streaming service created for Black TV and film. Dedicated to highlighting Black voices across the diaspora, UMC displays fresh original series, feature films, documentaries, stage plays and other popular Black entertainment with new and exclusive content added every week. UMC is available everywhere streaming services are found – iOS, Android, Amazon Prime Video Channels, Apple TV and Apple TV Channels in the U.S., Canada, and the Caribbean; Roku and Roku Channels, Amazon Fire TV, YouTube TV, Cox, DISH, Sling TV, Charter and more. At www.UMC.tv, UMC offers a free 7-day trial and thereafter is just $4.99/month or $49.99/year. Keep up with UMC on Facebook at Facebook.com/WatchUMC and Twitter/Instagram @WatchUMC.
UMC