New Streaming Concert Series "Saturday Night with Marcus Miller & Friends" | Kicks Off Oct. 10th, 2020
by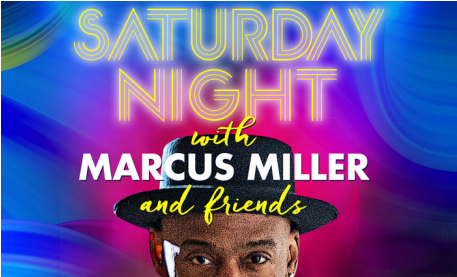 Multi-Grammy Award Winner Marcus Miller
and Entertainment Cruise Productions
Launch New Original Streaming Concert Series
Saturday Night with Marcus Miller & Friends
Series to Premiere on October 10, 2020
at www.SaturdayNightWithMarcusMiller.com
with the Iconic George Benson as a Special Guest
and Guest Bandmembers Patrice Rushen and Joey DeFrancesco
SAN DIEGO, CA (September 25, 2020) – Among the many pastimes lost to the pandemic has been live music, for both the fans and the artists. The fans miss seeing shows at clubs, theaters and festivals, and the artists desperately miss playing together for audiences. Zoom sessions with solo performances from living rooms and kitchens help, but don't fill the void for the musicians or the listeners.
Entertainment Cruise Productions (ECP) is unveiling a new remedy to fill that void with the launch of Saturday Night with Marcus Miller & Friends, a 90-minute Original Streaming Concert Series featuring the very best music, lively conversation and a chance to sit back and enjoy a Saturday night as you might have done many months ago. Multi-Grammy Award winner Marcus Miller hosts the show, assisted by his longtime friend, comedian and Wait Wait… Don't Tell Me! regular Alonzo Bodden as emcee. Miller, together with Music Director Eric Marienthal, will lead the Saturday Night Band along with notable Special Guests during each episode.
In association with SiriusXM Real Jazz and Watercolors channels, the series kicks off in grand fashion at 10 p.m. ET on October 10 with organist Joey DeFrancesco and keyboardist Patrice Rushen joining the band and the iconic 10-time Grammy Award winner George Benson as the Special Guest. The guitarist-singer is sure to play some of his hits, as well as some surprise selections.
A second show, slated for October 17, will feature the Saturday Night crew (Miller, Bodden, Marienthal and the Saturday Night Band with Patrice Rushen and Paul Jackson, Jr.), plus the amazing Gregory Porter as the Special Guest.
Best of all, they're playing together in real time and on one stage. Taped at Pro Systems in Southern California and featuring a 7-camera shoot with world-class sound and lighting, Saturday Night with Marcus Miller & Friends will be streamed in HD on desktop, mobile, tablet or Smart TV at 10 p.m. ET on Saturday nights starting October 10. If fans are unable to watch on Saturday Night, they have 36 hours to enjoy the show after it airs. All details, including the show schedule with lineup and ticket information, are available at www.SaturdayNightWithMarcusMiller.com.
The series was created by Miller in partnership with Entertainment Cruise Productions, producers of The Smooth Jazz Cruise and The Jazz Cruise. The two iconic jazz cruise programs will return to sailing in 2022 with The Smooth Jazz Cruise's 28th, 29th and 30th sailings as well as the 21st edition of The Jazz Cruise.
"Entertainment Cruise Productions continues to look for quality ways to bring our music to our fans," explains Michael Lazaroff, ECP Executive Director – Jazz. "Like with all our ventures, we will try to do these streaming shows better than anyone else. That is our challenge and what made the opportunity attractive."
Lazaroff says that Miller was far and away the best choice to host such a series. "Marcus Miller is special to us at Entertainment Cruise Productions," says Lazaroff. "If he were a baseball player, we would call him a Five-Tool player…lead musician, composer, host, arranger and music director. He has the ability to envision great lineups and special music and to attract superstars to share the stage with him. Our goal is that when you see the names Entertainment Cruise Productions and Marcus Miller together, you know that the event will be first class, exciting and well produced."
For his part, Miller points to his experiences with the jazz cruises, as well as with Night Music, the famous music variety network TV show of the 80s, as inspiration for this new series. "All of these inspirations overlap," Miller says. "The Night Music episodes have endured the test of time and become classics. Great musicians coming together and doing their thing never really goes out of style. We've actually had Night Music based programs on the cruises — sets that start at midnight and pair up musicians who have never played together before. This was one of the cool concepts from Night Music and it's also one of the coolest things about the cruises — having all of these great musicians who for one week are suspended in time and away from their busy tour schedules, coming together to jam nightly. The musicians enjoy these jam sessions as much as the cruisers. So we're trying to bring some of that into these shows."
Miller is excited by the possibilities of bringing together gifted musicians and feels that a high standard has been set by the expectations of the audience for the jazz cruises that ECP produces. "With the cruises, we've got a huge family of music lovers — smooth jazz fans, contemporary jazz fans, traditional jazz fans … it's a large community of folks who are serious about their music and who schedule their plans around the cruises," he explains. "So we want to present artists that they know and love while also introducing them to some artists we feel they NEED to know. For example, the first show will feature George Benson, with Joey DeFrancesco and Patrice Rushen sitting in with the band. That's gonna be killer. Joey is just an amazing musician that the Smooth Jazz crowd may not know about but should. Patrice had a huge solo career back in the 1980s and people will remember her hits, but they may not realize what an outstanding musician she is. I'm talking a MUSICIAN'S musician who everyone respects and loves to play with. So that's going to be fun."
Most importantly, all health and safety protocols will be followed at Pro Systems in order to ensure the wellbeing of the artists and crew. Miller says that safety was a crucial factor and important challenge in the show's creation. "The biggest challenge is putting on the show while making sure we adhere to all the important safety protocols in this COVID environment," says Miller. "That means finding musicians who live close enough to Southern Cal so that traveling isn't an issue. That means making sure we interact safely with each other. But we're approaching it all with determination, love and enthusiasm."
And the results are sure to be special given the talent of the hosts and guests. Miller says that the rewards for him are quite clear: "Providing great music and coming up with a show that's really well-done." He adds, "It's gonna be great for the listening community and it's gonna be great for all of the artists who haven't been able to perform for a very long while now. It's gonna be incredible for everybody."
For more information, including the show schedule with lineup and ticket information, go to www.SaturdayNightWithMarcusMiller.com. For additional information and interview requests, contact Michael Lazaroff at michael@ecpcruises.com.