Chelsey Green and The Green Project to Release New EP "ReEnvisioned" on July 27th, 2020 | LISTEN!
by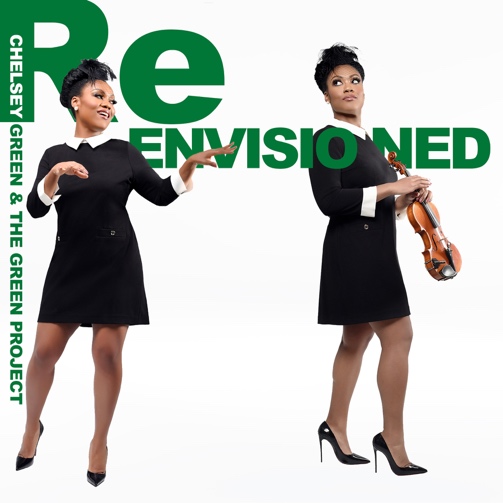 CHELSEY GREEN and THE GREEN PROJECT
ReEnvisioned
Growing up in Houston, Chelsey Green has fond memories of coming home from classical violin lessons and hearing and experimenting with influential jazz, funk and R&B vibes her parents were throwing down on the family stereo – Herbie Hancock, Marvin Gaye, Earth Wind and Fire, et al. With her brilliant array of talents, the classical scholarships and opportunities that came her way, the multi-talented singer/songwriter, violinist and violist could have found a career playing in orchestras.
Yet, God's gift of music led her into bolder, more eclectic directions; resulting in a wondrous diversity that now – years later – inspires her and her longtime ensemble, Chelsey Green and The Green Project. Their fresh new EP, ReEnvisioned, is a dynamic and empowering collection that in only four tracks showcases their passions for contemporary and traditional jazz, R&B and funk with a touch of classical violin. The EP lays a foundation for an upcoming full-length album (the band's first LP since the Billboard charting The Green Room in 2014) that will include elements of her gospel roots as well.
"ReEnvisioned represents my continued effort to break the niche mentality and not restrict myself to one, single genre," says Chelsey, whose discography also includes their 2012 EP,Still Green, and their popular 2018 single, Summertime. "My music is influenced by many styles, and over the years, we've really cultivated a vibe in the live setting that incorporates all of those elements seamlessly. The same way music has been fed to me throughout my life, that's how I want to share my voice and personal artistry. A lot of our songwriting comes together when we are rehearsing for performances; that's where we do a lot of creative diving and arranging. After we recorded these first four tracks, I started thinking about a title that would capture the essence of this new direction."
"Classical music has been good to me. I love what it has taught me about harmony," she adds. "At the same time, I am a Black woman that grew up immersed in and studying gospel, blues, jazz and other Black music genres. This is the music of my culture, borne out of the dichotomy of despair and joy. Jazz; music evolved out of work song, connecting us to our ancestors for whom improvisation was a way to survive."
For jazz and soul fans who haven't experienced Chelsey Green and The Green Project's explosive live performances across the U.S. and internationally, the EP is the perfect primer to connect with the unique melodic, harmonic and grooving chemistry between Chelsey, Ignatius Perry Jr. (piano/keyboards), Kevin Powe, Jr. (bass) and Brian "Spyda" Wheatley (drums). All contribute their writing and arranging skills to ReEnvisioned; three originals ("Soundcheck," "It's Not What It Seems," "Time") and the spirited, jazzy, funky and swinging re-imagining of "Fly Me to the Moon" featuring trumpet great Sean Jones, a friend and educational colleague of Chelsey's.
Whether singing or choosing to use her stringed instruments as lead voice, Chelsey is a masterful storyteller and calls the tunes on ReEnvisioned "the soundtrack of her current life." Literally written during a soundcheck before a show in Idaho, the soulful and eminently driving opening track "Soundcheck" finds Chelsey creating magic out of the experience of checking levels, exploring resonances and manipulating timbres to make the performance electrifying. She adds, "the opening tune represents the repetition it sometimes takes in life to get things right." The moody, thoughtful instrumental ballad "It's Not What It Seems" stops at one point from its infectious soul-jazz vibe for a random classically-influenced breakdown. In addition to serving as a commentary about false perceptions, the song reflects an inner conversation Chelsey is having with herself to re-align her own life focus.
Spinning "Fly Me to the Moon" so far beyond its traditional orbit that we can almost imagine Sinatra snapping his fingers and soaring along, Chelsey's inviting and passionate vocals share the reality that she's not asking for the entire galaxy, just a little love and affection. The final track "Time," features her viola-based string arrangement around her beautiful yet heartbreaking vocals. On one level, it's a mournful tune about the impact of lies in a relationship. In a larger sense, it's about the importance of living one's life authentically; even if we sometimes feel we must lie to ourselves to keep up appearances.
A native of Houston, Texas, Dr. Chelsey Green was born into a family of jazz and funk musicians and started her performance career as a violinist at age 5. Her father, Craig Green, was an influential teacher at a performing arts middle school who taught many, now notable jazz musicians. Chelsey received a scholarship for classical viola studies at The University of Texas at Austin, where she graduated Summa Cum Laude, and later earned her Master's from The Peabody Conservatory of The Johns Hopkins University and a Doctor of Musical Arts degree from the University of Maryland College Park.
In August 2017, Chelsey was appointed Associate Professor in the String Department at the prestigious Berklee College of Music, where she teaches privately, various ensemble classes and also conducts a lab for viola students, teaches introductory and intermediate string improvisation and two ensembles.
Dedicated to educational outreach efforts for young people, she and her bandmates provide a wide range of educational music workshops to city and county schools, after school programs, educational groups and more. Chelsey Green and The Green Project work with students from all backgrounds, exposing them to the possibilities of what music can be.
www.chelseygreen.com
TOM ESTEY PUBLICITY & PROMOTION