Pianist Uri Caine to Release New Album "The Passion of Octavius Catto" on Aug. 30th, 2019 | WATCH NEW VIDEO!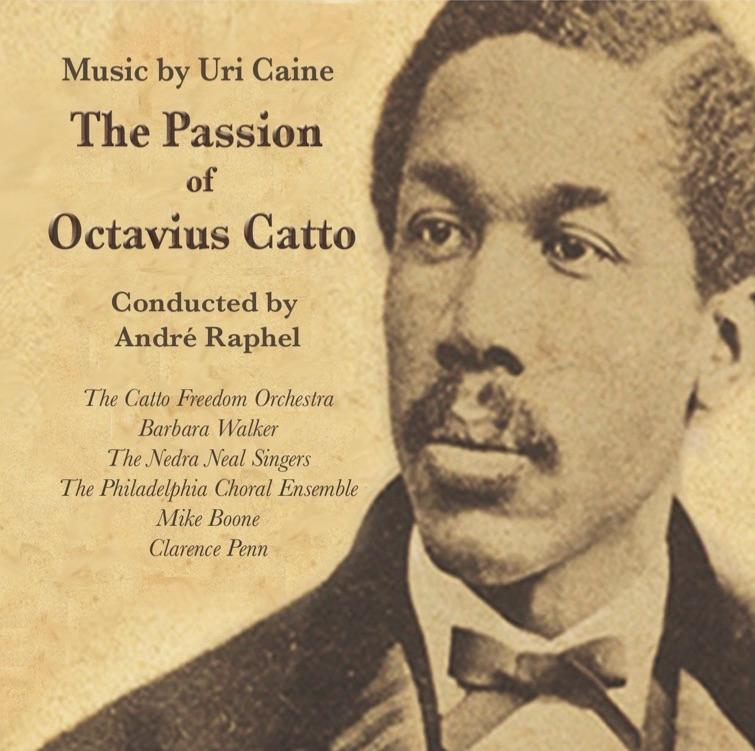 Pianist/Composer Uri Caine Presents
The Passion of Octavius Catto, in Tribute to Philadelphia's
19th Century Freedom Fighter Octavius Catto
Ten-Part Composition for Jazz Trio, Chamber Orchestra
and Gospel Choir Feat. Barbara Walker
Available August 30 on 816 Music
Piece to be Performed by Boston Symphony: March 19-21, 2020
In the fall of 2017 Philadelphia unveiled a statue of Octavius Catto in front of City Hall. Catto was a 19th Century African-American freedom fighter known for his work as an abolitionist, educator, pioneering baseball player, and civil and voting rights advocate. Uri Caine's The Passion of Octavius Catto, written for orchestra, choral ensemble, gospel vocalist and jazz trio was commissioned by the Mann Music Center and the Pew Center for the Arts. His ten part composition documents Catto's life-long activism which was cut short by his murder during the 1871 Election Day violence perpetrated against African-American Philadelphians as they attempted to exercise their right to vote — won two years earlier with the passage of the 15th Amendment to the Constitution.
Caine's upbringing in Philadelphia provided a fertile environment for the pianist and composer who had opportunities to play in the bands of legends like Hank Mobley, Philly Joe Jones and Mickey Roker, local heroes like Bootsie Barnes and future stars like Grover Washington Jr. As a teenager, Caine studied classical piano with Bernard Peiffer and composition with George Rochberg. He continued studying with Rochberg and the composer George Crumb at the University of Pennsylvania. Caine has continued to work on all sides of the street as a soloist and with his own acoustic and electric ensembles. He's worked in groups led by John Zorn, Don Byron, Dave Douglas and Arto Lindsay. Caine has been featured with top chamber ensembles including the Arditti String Quartet and the Los Angeles Chamber Orchestra, and in performances with and commissions by the Cleveland Orchestra, the Philadelphia Orchestra, the Swedish Chamber Orchestra, the BBC Orchestra and the Boston Symphony.
Referencing the Passion as a classical form served as a format to include the orchestra, chorus and Caine's trio but also provided Caine with a way to include the Gospel sacred music tradition as well as Gospel's historical connection to Classical music. African-American performers trained in the Gospel music tradition have embraced the Classical music idiom when those opportunities presented themselves. The choral duties for The Passion of Octavius Catto were undertaken by Dr. Jay Fluellen, a fixture on the greater Philadelphia performing arts scene as a choral and music director, educator, producer, keyboardist and composer. Similarly, Barbara Walker, the soloist on this recording, has worked in multiple genres of music on stage, in theater, film, and television.
For the recording, the highly regarded New York choral director and producer Nedra Neal was brought in to supplement the Philadelphia based singers. The orchestra is enthusiastically led by André Raphel who has served as a guest conductor for major orchestras across America, including the Philadelphia Orchestra at the Mann Center where The Passion of Octavius Catto was commissioned and first performed.
Caine was familiar with the general outlines of Octavius Catto's story having grown up in Philadelphia. His understanding and appreciation of the activist's life deepened after reading the biography Tasting Freedom written by Daniel Biddle and Murray Dubin. Following an opening prologue, Caine selects key events from the mid-19th century around which he creates representative compositions. Pennsylvania Hall, built by the Anti-Slavery Society, opened in May of 1838 for a three-day convention for Abolitionists. Enraged by the convention and those in attendance, an angry mob formed outside the hall and burned it to the ground.
"Prologue, The Burning of Pennsylvania Hall," and succeeding chapters in Octavius Catto's life are selected by Caine and composed for various combinations of lyrics and instrumentation for piano and jazz trio, solo and gospel voices, and orchestra and chorus. Two speeches made by Catto are the inspiration for "No East No West." A third Catto speech advocating for voting equality is the inspiration for "There Must Come A Change." And a fourth, "The Philadelphia Street Car Protest of 1867," is drawn from the protest for equal access to streetcars. Caine reserves one chapter in the "Passion" devoted to Catto's triumphs on the baseball diamond. In The Amendments, the choir and orchestra launch into a stirring performance referencing Catto's fight to get the 13th, 14th, and 15th Amendments passed in the Pennsylvania state legislature. The piece is also a sly nod to Caine's father, Burton Caine, a past president of the Philadelphia chapter of the American Civil Liberties Union. The final three chapters of The Passion of Octavius Catto are titled "Murder," "Caroline Le Count's Lament," and "The Martyr Rests."
"Catto's struggle in the 1860s is the same struggle we face today–to strive to create a country that lives up to its creed that all men and women are equal under the law," says Caine. "His life continues to inspire us to fight against racism and intolerance."
Uri Caine · The Passion of Octavius Catto
Release Date: August 30, 2019
Available via UriCaine.com, CD Baby, iTunes, and Spotify
For more information on Uri Caine, please visit: UriCaine.com
DL Media