Taborah Adams Releases New Single "I Just Can't Do It" | LISTEN!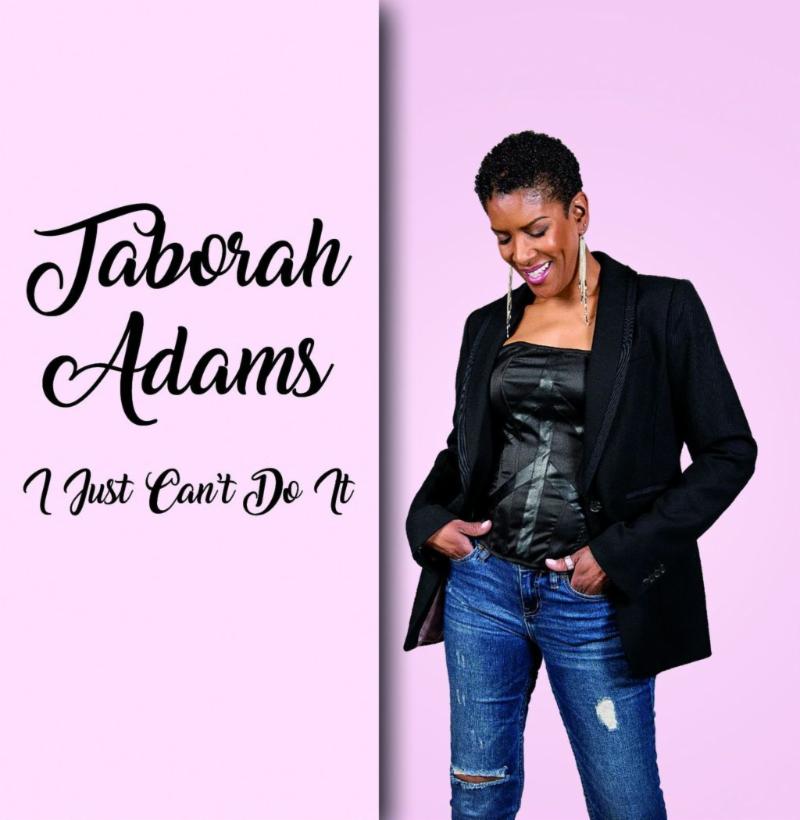 Taborah Adams Releases Gospel Music
Video & Single "I Just Can't Do It"
"I Just Can't Do It," was written during a time of emptiness and confusion. I was experiencing an episode of depression which ignited the melody and lyrics to the song. I begin the song asking God if He can hear me because of the feeling of being alone, trying to figure out what I was doing, who I am, where was I headed. I couldn't see the end to the confusion I was experiencing.
After graduating from Shaw University with her masters degree, she decided to focus on what she is passionate about and enter a new genre of music. She's known as a dance, pop, and R&B singer, and began her career in Italy as the writer, face and vocalist of the Italian Euro pop group, Blackwood. The group consisted of Taborah along with producers Toni Verde, Marascia and Kortezman. She first signed with Italian label ACV Music and released her first 2 albums. Her debut album was "Ride on the Rhythm" in 1992 and featured the single "I Feel You." In 1996 Taborah released her second album with Blackwood on A&D Music and Vision. "Ride on the Rhythm" was re-released, with a new remix, on the album "In The City," which was a mixture of soul and pop music. "Ride on the Rhythm" charted number one on Billboard Hits of the World, for 12 consecutive weeks. Taborah was also noted in the dance community with such articles as Billboard's "Acts Sent from Italy," (1997). Taborah received the FIMI Best Dance Act Award from the single's success. Production for the album included Fabio Parisella and the Van Morrison remake "Moondance."
In 1997, Taborah released her third album with Blackwood, "I Am," which included the single "My Love for You." The single also charted on Billboard Dance charts and the video was on heavy rotation on Euro MTV. Taborah was invited to perform at the Sanremo Festival live with Radio Deejay.
Blackwood's third single "I Am" was released and distributed by BMG Italy Ricordi. Again the single hit the Billboard Dance chart. Taborah's Blackwood singles were licensed in over 55 countries and she performed on such television shows as RAI and the Roxy Bar. In 1997 after giving birth to her daughter she left Blackwood.
In 2004, Taborah released her first U.S. single "I Am (the rising)", a remake of her Italian release "I Am", on Catz Entertainment. Production included Johnny Rocks, with remixes by Friscia and Lamboy, Giuseppe D and Jeff Barringer. The single received club play across the country and landed on Billboard Dance Club Play Chart for 16 weeks, where it reached number 5. "I Am (the rising)" was also the 2005 tip-off song for the WNBA, Women's National Basketball Association, New York Liberty for both home and away games. In 2006 Taborah was awarded Heritage of Pride's "Dance Artist of the Year."
Taborah's follow up single on Catz Entertainment "All I Gave To You," was written by Taborah and released in 2006. Productions include Joe Bermudez & Klubjumpers, John Rizzo & Barry Huffine, Giuseppe D, and Josh Harris. The single received both club and radio rotation. It also landed the Billboard Dance Club Chart.
In 2008, Taborah released the album "A Piece of Me," under her label, "Lah Lah Music." Her single "You Gotta Go 'Cause I'm Through With You," landed her on C89.5 KNHC top 5 for 10 weeks.
In 2009, Taborah recorded, "Ain't No Stoppin' Us," with Darryl D'Bonneau featuring legendary Grammy nominated percussionist Sammy Figueroa and produced by D1 Music, Peter McLean and Keith Kemper. This remake of the McFadden & Whitehead disco classic brought Taborah back to the Billboard Dance chart for another 6 weeks.
In 2010, Taborah recorded, "Say I Love You," featuring legendary Grammy nominated percussionist Sammy Figueroa and produced by D1 Music, Peter McLean and Keith Kemper.
2016 Taborah released, "My Love For You," on iTunes and Amazon. The original track was produced by D1 Music's owner, Peter McLean and producer Keith Kemper. The song includes some of the best remixes by world renown DJ's such as; Kenny Carpenter, Paul Goodyear, Wayne Numan, Semi Trabelsi, and Emiliano Molly.
Taborah Adams Social Media
Push-It! Marketing & Promotions