Sugaray Rayford Wins 'Soul Blues Male Artist of The Year' at 40th Annual Blues Music Awards
by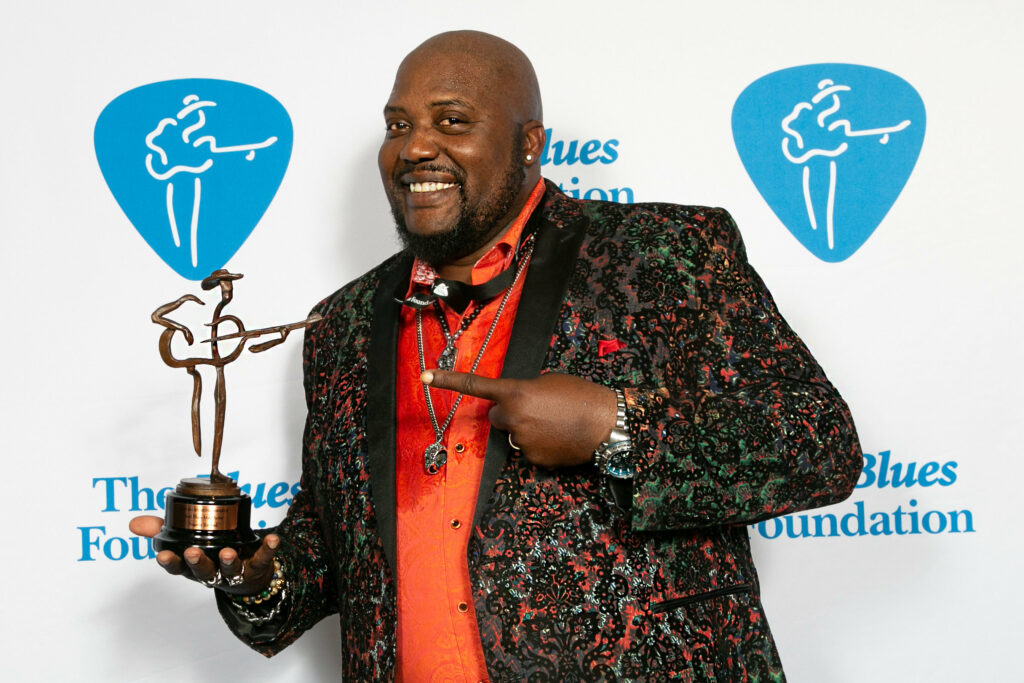 Sugaray Rayford Wins at 40th Annual Blues Music Awards
Takes Away 'Soul Blues Male Artist of The Year' Award
Forty Below Records is proud to announce that Sugaray Rayford is the winner of a Blues Music Award in the Soul Blues Male Artist Category. The announcement took place on Thursday, May 9th at the 40th Annual Blues Music Awards in Memphis. The Blues Music Awards bring together Blues performers, industry representatives, and fans from all over the world to celebrate the best in Blues recordings and performances from the previous year. The BMA's are generally recognized as the highest honor given to blues musicians and are awarded by vote of Blues Foundation members.
Rayford is currently in the midst of an international tour to promote his new album Somebody Save Me on Forty Below Records . Somebody Save Me is an ambitious record that slides gracefully between the new blues of Gary Clarke Jr. and Fantastic Negrito, and the vintage Daptone vibe of the late Charles Bradley and Sharon Jones, bringing a fresh take to classic sounds. The new album currently sits at #1 on the Living Blues Charts, NACC and Roots Music Report while also receiving significant airplay in other radio formats such as AAA, College and Americana, making it truly an album with crossover potential.
With his 7-piece crack band and personal charm, Rayford's live shows are quickly becoming renowned for their high-energy and celebratory nature, with Rayford whipping the crowds into a frenzy, like a Gospel Preacher, in the studio and in person, Sugaray Rayford is developing a reputation as a force to be reckoned with and an artist to watch in the coming years.
Photo Credit: Alex Ginsburg
TOUR DATES
May 14–Asheville, NC–The Grey Eagle
May16–Durham, NC–The Blue Note Grill
May 17–Roanoke, VA–5 Points Music Sanctuary
May 18–Charlotte, NC–Neighborhood Theatre
May 19–Hilton Head island, SC–Tiki Hut
Jun 7–Lofoten, Norway–Codstock
Jun 9–Schoppingen, Germany–Grosch Festival
Jun 15–Arlington, VA–Columbia Pike Blues Festival
Jun 29–Hallein, Austria-Staadtfest Hallein
Jul 1–Zofingen, Switzerland–New Orleans Meets in Zofingen Festival
Jul 5–Gaildorf, Germany–Gaildorf
Jul 7–Portland, OR–Waterfront Blues Festival
Jul 12–Windsor, Canada–Liuna Bluesfest Windsor
Jul 13–Rockland, ME–North Atlantic Blues Festival
Jul 14–Ottawa, Canada–RBC Bluesfest
Jul 19–Sutter Creek, CA–Sutter Creek Theatre
Jul 20–San Francisco, CA–Biscuits & Blues
Aug 2–Burlingame, CA–West Coast Swingtacular Hyatt SF Airport
Aug 3–Mammoth Lakes, CA–Mammoth Festival of Beers & Bluesaplooza
Aug 17–Wausau, WI–Big Bull Falls Blues Festival
Aug 24–Trinidad, CO–Trinidaddio Blues Fest/Central Park
Aug 30 & 31–Basel, Switzerland–Blues Now
Sept 20–Los Angeles, CA–Wilshire Ebell Theatre/KJAZZ Blues Bash
Oct 12–Nancy, France–Nancy Jazz Pulsations
Oct 12–Pont-l'abbe, France–Cultural Center Le Triskell
Oct 15–Saint-brieuc, France–La Passerelle
Oct 17–Beauvais, France–L'ouvre-boite
Oct 18–Ostrow Wielkopolski, Poland–Jimiway Blues Festival
Oct 19–Rive-de-gier, France–Rhino Jazz Festival
Nov 8–Poynton, UK–Blue Funk
Nov 9–Tenby, JK–Tenby Blues Fest
Nov 10–Cornwall, UK–Bude Blues Festival
Nov 11–London, UK–100 Club
Nov 12–Newcastle Upon Tyne, UK–The Cluny
Nov 14–Derby, UK–The Flowerpot
Nov 15–Schaan, Liechtenstein–TAK Theatre
Nov 16–Burghausen, Germany–Jazzclub Burghausen, Germany
Nov 20–Kobenhavn, Denmark–Beta Boulders Copenhagen
Nov 21–Esbjerg, Denmark–Tobakken
Nov 22–Odense, Denmark–Dexter Jazz Club
Jan 19–Fort Lauderdale, FL–Legendary Rhythm & Blues Cruise #34
www.sugarayrayford.com
devious planet