Kirk Whalum to Host "Kafé Kirk" – A New Monthly Concert Series at Crosstown Theater | Kicks Off June 2nd, 2019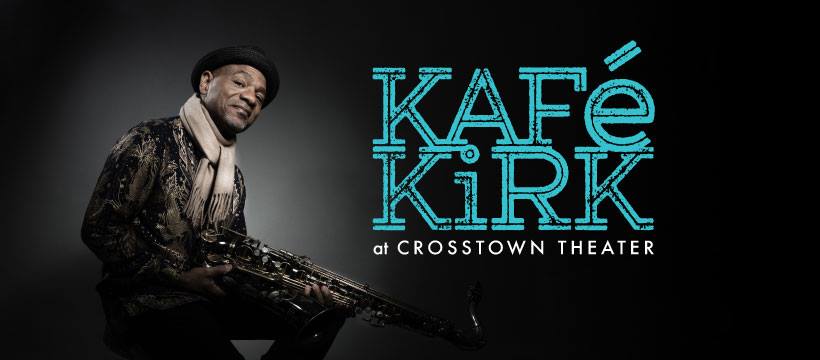 Crosstown Arts Presents Kafé Kirk:
GRAMMY-winning Memphian Kirk Whalum to host new monthly concert series of musical collaborations at Crosstown Theater.
Slate of guests to include Kameron Whalum (Bruno Mars) and Kortland Whalum (of STAX Academy); and GRAMMY nominated artist Jonathan Butler.
Regarded as one of the most prolific and important Memphis musicians of his generation, twelve-time GRAMMY nominee and GRAMMY-winning Memphian Kirk Whalum will host Kafé Kirk, a new monthly series, at Crosstown Theater at Crosstown Concourse on Sunday, June 2 at 6 pm. Kafé Kirk is a concert with musical collaborations between Whalum and his special guests as well as on-stage interviews between the musicians about music, life, and spirituality.
The kick-off event June 2 will feature Whalum alongside his Memphis-born nephews: vocalist, actor, and STAX Music Academy professor Kortland Whalum; and trombonist Kameron Whalum, a member of Bruno Mars' band who is featured on "Uptown Funk" and who has performed on MTV's Video Music Awards, The GRAMMYs, the Super Bowl Halftime Show, and Saturday Night Live. The second iteration will be July 7 with Whalum and two-time GRAMMY-nominated, gold-selling singer-songwriter Jonathan Butler.
Around each event, guests will also do a workshop with a local youth program.
"Kafé Kirk specializes in the soul connection. A liminal space where extraordinary music seasons the atmosphere, and 'ain't nobody scared' to celebrate our mutual connections: horizontal — with each other, across every boundary, and vertical — with The Divine," says Whalum of the new series.
WHO: Kirk Whalum with special guests Kortland Kameron Whalum
WHAT: Crosstown Theater kick-off of Kafé Kirk series
WHEN: Sunday, June 2, 2019, 6 pm
WHERE: Crosstown Theater, 1350 Concourse Ave., Memphis, TN 38104
TICKETS: $45 for regular ticket, $60 VIP packages via Eventbrite or at the door. VIP packages include a meet-and-greet with the performers and a free CD: https://www.eventbrite.com/e/kafe-kirk-kirk-whalum-special-guests-tickets-57747364923
Growing up literally in the shadow of Stax Records before moving to Orange Mound, Whalum was a standout musician even as a student at Melrose High School. Recipient of a brass note on Beale Street, he is a professor of music at Visible Music College in Memphis, TN and an ordained minister with a Masters of Arts in Religion from Memphis Theological Seminary. Whalum's saxophone graces records by Barbara Streisand, Al Jarreau, Luther Vandross, Larry Carlton, and Quincy Jones as well as Whitney Houston's smash hit rendition of the Dolly Parton song "I Will Always Love You." He is a recipient of an NAACP Image Award nomination and has won two Stellar Awards, gospel music's highest honor.
Whalum's most recent album is '#LOVECOVERS,' part of his Gospel According to Jazz series, which reached #2 on the Billboard Jazz chart. He is host of the daily podcast Bible In Your Ear (BIYE).
Crosstown Arts — founding partner, co-developer, and tenant of Crosstown Concourse — is a contemporary arts organization dedicated to further cultivating the creative community in Memphis by providing resources and creating opportunities and experiences to inspire, support, and connect a diverse range of creative people, projects, and audiences. Crosstown Arts recently announced the opening of the Green Room, a multi-genre music venue ideal for listening within the Crosstown Concourse.
For more information on Kirk Whalum, please contact Ajani Sandridge at ajani@kirkwhalum.com.
Nick Loss-Eaton