Saxophonist David Sánchez to Release New Album "Carib" on June 7th, 2019 | LISTEN to New Single "Madriga"!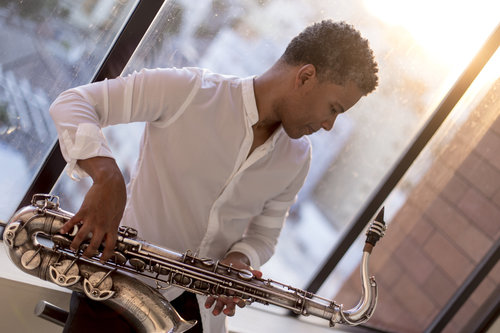 Grammy-Winning Saxophonist David Sánchez to Release New Album Carib
Out June 7th Via Stretch Music / Ropeadope
Listen To New Track "Madriga"
On June 7th, Grammy-Winning Saxophonist David Sánchez will release his new album Carib on Stretch Music / Ropeadope. Featuring original compositions inspired by melodies and rhythms coming from the Afro Puerto Rican and Haitian tradition, Carib both reflects Sánchez's musical heritage as well as his commitment to humanitarian and economic justice efforts in the region. "I believe some of the greatest contributions to contemporary music and culture have come from the African diaspora throughout the Americas," writes Sánchez. "Unfortunately, there seems to be too little awareness of their influence, especially the vital stories told by the music. So, I wanted to approach this album as a means to pay tribute to all Afro descendent communities who have helped define my music and the culture's broad ranging beauty and idiosyncrasies."
Today, Sánchez has shared the vivacious track "Madriga". He will mark the release of the album with three performances at Jazz Standard in New York, June 7th, 8th & 9th.
With Carib, Sánchez also seeks to honor family who played a pivotal role in his life and artistic development. "This album is in memory of my Father, Dimas and especially, my late wife Karla," he writes. "After a great deal of research and listening to Haitian music, Karla encouraged and helped me take a trip to Haiti. It was an incredible and intense experience, seeing the everyday people's struggles"
Sánchez's unique musical sensibility can be traced to his home, Puerto Rico, where he began playing percussion and drums at age 8. He migrated to tenor saxophone a few years later. While a scholar at the prestigious La Escuela Libre de Música in San Juan, he took up the flute, clarinet as well as soprano saxophone with teachers Angel Marrero and Leslie López. The Bomba and Plena rhythms of his homeland, along with Cuban, Caribbean and Brazilian traditions, were among the biggest influence on Sanchez's early taste in music. But soon jazz masters such as Sonny Rollins, Dexter Gordon and John Coltrane would command his ear and his imagination. Charlie Parker, Lester Young, Wayne Shorter and Joe Henderson all have been also major influences.
David Sánchez is also "Maestro Sánchez" to students at the Conservatorio de Música de Puerto Rico. After a decade of teaching, he has proven to be a compelling presence with students and is in demand for workshops and master classes in Puerto Rico and beyond. In 2017 he helped form a new program at the San Francisco Conservatory of Music, The RJAM (Roots, Jazz, and American Music).
In addition to his collaboration with the Conservatory of Puerto Rico and The Conservatory of San Francisco, Sánchez has taught master classes in Brazil, at the Peabody Conservatory, Manhattan School of Music, Indiana University's School of Music, Stanford University, University of Memphis, Emory University Berklee Global Institute and completed a year-long residency at Georgia State University.
Missing Piece Group