Ranky Tanky to Appear on NBC TODAY Show on March 15th – 9:00am to Perform New Single "Freedom" | LISTEN!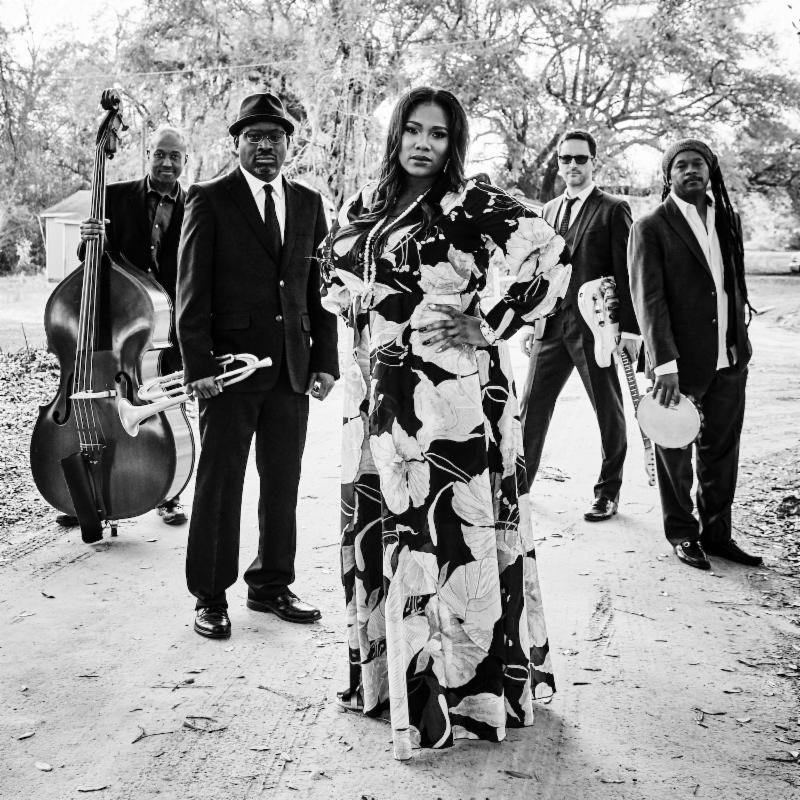 Ranky Tanky to Appear on NBC TODAY Show on
Friday, March 15 During 9:00am Hour
Critically Acclaimed South Carolina Band
to Perform New Single "Freedom"
from Upcoming Sophomore Release
Ranky Tanky is set to make their first national TV appearance after non-stop worldwide touring in support of their eponymous debut album. The critically acclaimed outfit hailing from Charleston, SC — comprised of Quiana Parler (vocals), Charlton Singleton (trumpet, vocals), Clay Ross (guitar, vocals), Kevin Hamilton (bass) and Quentin Baxter (drums, percussion) – will appear tomorrow on NBC's TODAY show performing their new single "Freedom."
"The idea of 'Freedom' is at the heart of the American identity, and particularly for the Gullah people who are descendants of enslaved African-Americans," states the band as a collective. "Freedom is a universal anthem. This song holds a universal truth, yet undoubtedly represents something different to every individual that hears it. We believe everyone in the world deserves the freedom to live in equality and prosperity."
Resilience Music Alliance is proud to announce the band's sophomore album Good Time for release in Fall of 2019 – with the lead single "Freedom" available digitally for pre-order Friday, March 15.
About Ranky Tanky:
Ranky Tanky released their eponymous debut on Oct. 20th, 2017. By December of that year, their album soared to the #1 position on the Billboard, iTunes, and Amazon Jazz Charts.
"Gullah" comes from West African language and means "a people blessed by God." "Ranky Tanky" translates loosely as "Work It," or "Get Funky!" In this spirit this Charleston, SC based quintet performs timeless music of Gullah culture born in the southeastern Sea Island region of the United States. From playful game songs to ecstatic shouts, from heartbreaking spirituals to delicate lullabies, the musical roots of Charleston, SC are "rank" and fertile ground from which these contemporary artists are grateful to have grown.
South Carolina natives Quentin Baxter, Kevin Hamilton, Charlton Singleton, and Clay Ross first came together in 1998, fresh out of University, to form a seminal Charleston jazz quartet. Now, united by years apart and a deeper understanding of home, these accomplished artists have come together again, joined by one of the low-country's most celebrated vocalists Quiana Parler, to revive a "Heartland of American Music" born in their own backyards.
Ranky Tanky Upcoming U.S. Tour Dates
March 23 / Bryn Mar College / Bryn Mawr, PA
March 24 / Weinberg Center for the Arts / Frederick, MD
March 30 / BlueShore Financial Centre for the Performing Arts / North Vancouver, Canada
March 31 / Lincoln Theatre / Mt. Vernon, WA
April 1 / Newmark Theater / Portland, OR
April 2 / The Hult Center / Eugene, OR
April 7 / The Broad Stage / Santa Monica, CA
Aprill 11 / Cal Poly Arts / San Luis Obispo, CA
April 12 / Freight & Salvage / Berkeley, CA
April 14 / High Water Festival / North Charleston, SC
April 24 / Fort Lewis College / Durango, CO
April 26 / Lone Tree Arts Center / Lone Tree, CO
May 1 / University at Buffalo Center for the Arts / Buffalo, NY
May 4 / Quick Center for the Arts / Fairfield, CT
May 5 / City Winery (World Music/CRASHarts) / Boston, MA
May 9 / Coastal Carolina University (Prince Lawn) / Conway, SC
May 15 / Evanston SPACE / Evanston, IL
May 17 / Sharon Lynne Wilson Center for the Arts / Brookfield, WI
May 25 / Zeiders American Dream Theater / Virginia Beach, VA
For more information on Ranky Tanky, please visit: RankyTanky.com
For more information on Resilience Music Alliance, please visit: ResilienceMusic.com
DL Media