Vocalist Catherine Russell to Release New Album "Alone Together" on March 1st, 2019 | Announces New Tour | WATCH NEW VIDEO!
by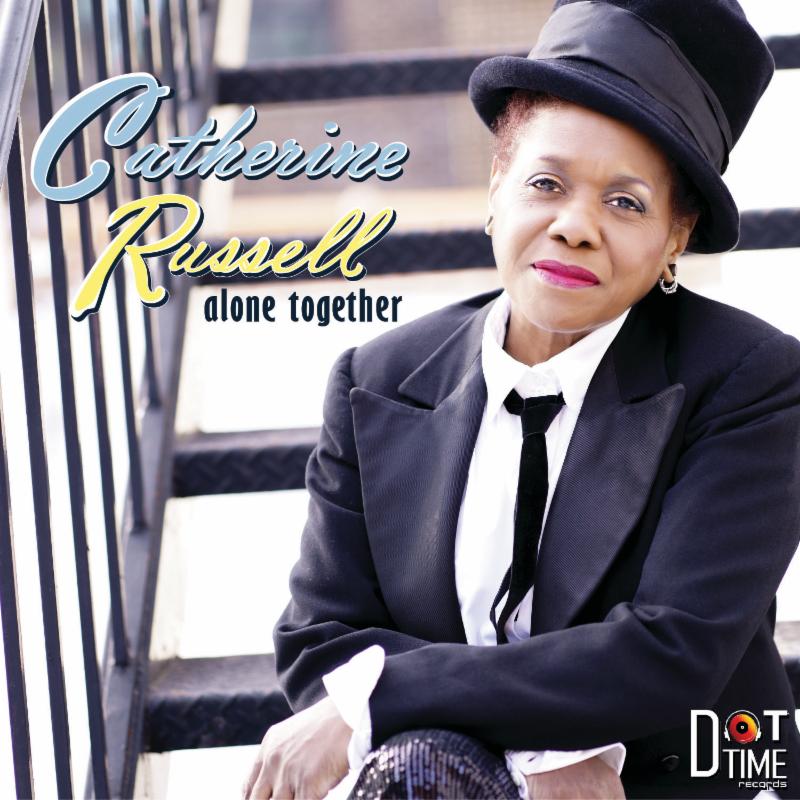 GRAMMY® Award-winning Vocalist Catherine Russell
to Release New Album, Alone Together —
Available March 1, 2019 on Dot Time Records
13 Compositions Asking Timeless Questions
and Searching for Truth
International Tour Runs February 10 – May 26
Alone Together, vocalist Catherine Russell's seventh studio album as a leader, is a search for truth. Drawing on composers and lyricists of The Great American Songbook—Irving Berlin, Eddie de Lange and Jimmy Van Heusen—along with songwriters from the Swing and Rhythm & Blues eras—Nat Cole, Louis Jordan, and Al Dubin and Harry Warren—Russell invigorates their creations. At the center is Russell's voice, and while comparisons to Ella, Billie, Sarah, and Dinah abound—while flattering—she has a sound all her own. "Blues infused jazz tunes are the ones I gravitate towards, because they enable me to freely express myself in the moment," says Russell.
Catherine Russell is a native New Yorker, born into musical royalty. Her father, the late Luis Russell, was a legendary pianist/composer/bandleader and Louis Armstrong's long-time musical director. Her mother, Carline Ray, was a pioneering vocalist/guitarist/bassist who performed with International Sweethearts of Rhythm, Mary Lou Williams, Sy Oliver, and countless others.
The songs on Alone Together ask timeless questions. Russell's curatorial skills shine brightly with thirteen compositions, from the obscure to familiar standards. The title track, written by Arthur Schwartz and Howard Dietz, is full of hope that if everyone sticks together, we can overcome whatever is in front of us.
Alone Together features the core musicians of Russell's touring band, including guitar virtuoso and musical director Matt Munisteri, pianist Mark Shane, bassist Tal Ronen, and drummer Mark McLean. Together, they've visited four continents appearing on major festivals, while also selling out concert halls from SFJAZZ's Miner Auditorium in San Francisco, to Zankel Carnegie Hall in New York City, to Tchaikovsky Hall in Moscow.
Catherine Russell combines a pedigree, where classic jazz & rhythm and blues run through her veins, with the sensibility of a lifetime in popular music. On Alone Together, an intoxicating brew emerges. The connections are real and natural, never forced, always true.
About Catherine Russell:
Co-producers Katherine Miller, Paul Kahn and Catherine Russell—the team behind Russell's previous album, Harlem On My Mind (2016), a GRAMMY® Award-nominee for Best Jazz Vocal Album—are reunited for their fifth album together on Alone Together.
Russell is also a featured vocalist with today's leading big bands and symphony orchestras. She has toured with Jazz at Lincoln Center Orchestra with Wynton Marsalis, and appeared with the Count Basie Orchestra, Andy Farber and His After Midnight Orchestra, Knoxville Jazz Orchestra, Jazz Philharmonic Orchestra of St. Petersburg, Russia; Miami's New World Symphony, and The Pasadena Pops Orchestra conducted by Michael Feinstein. In addition, Russell has joined forces with the great guitarist, vocalist and raconteur, John Pizzarelli, performing a salute to Billie Holiday and Frank Sinatra, titled "Billie & Blue Eyes," which has become a smash hit on the performing arts circuit.
Russell's professional life began early. After graduating with honors from the American Academy of Dramatic Arts, she was fortunate to work with David Bowie, Steely Dan, Cyndi Lauper, Paul Simon, Jackson Browne, Michael Feinstein, Levon Helm, Wynton Marsalis, Rosanne Cash, and jazz-blues vocalist Carrie Smith, among others. Performing as a backup singer, multi-instrumentalist, and lead singer, before launching her solo recording career, Russell has appeared on over 200 albums. In 2012, she received a GRAMMY® Award as a featured artist on the soundtrack of the HBO TV series Boardwalk Empire. She performed the award-winning song, "Crazy Blues," on PBS's Great Performances special, GRAMMY® Salute To Music Legends 2017.
Upcoming Catherine Russell Tour Dates
February 10 / Publick Playhouse / Cheverly, MD
February 12-16 / Birdland / New York, NY
February 24 / San Jose Winter Jazz Fest, Hammer Theater / San Jose, CA
March 2 / Bethany Church / Newark, NJ
March 14-17 / Jazz Alley / Seattle, WA
March 23 / Segerstrom PAC / Costa Mesa, CA
March 24 / Venetian Room / San Francisco, CA
March 26 / 24th Street Theatre at Sierra 2 Center for the Arts and Community / Sacramento, CA
March 28 / Thomasville Center For The Arts / Thomasville, GA
March 29-30 / Kravis Center For The Arts / West Palm Beach, FL
April 2-3 / Savannah Music Festival / Savannah, GA
April 14-16 / Kimmel Center (Philly Pops) / Philadelphia, PA
April 28 / Jazz Philharmonics / St. Petersburg, Russia
April 30 / Music Hall / St. Petersburg, Russia
May 22-26 / Jazz St. Louis / St. Louis, MO
Catherine Russell · Alone Together
Dot Time Records · Release Date: March 1, 2019
For more information on Catherine Russell, please visit:
DL Media