Singer Norm Lewis Releases Holiday Project "The NORM LEWIS Christmas Album" | LISTEN!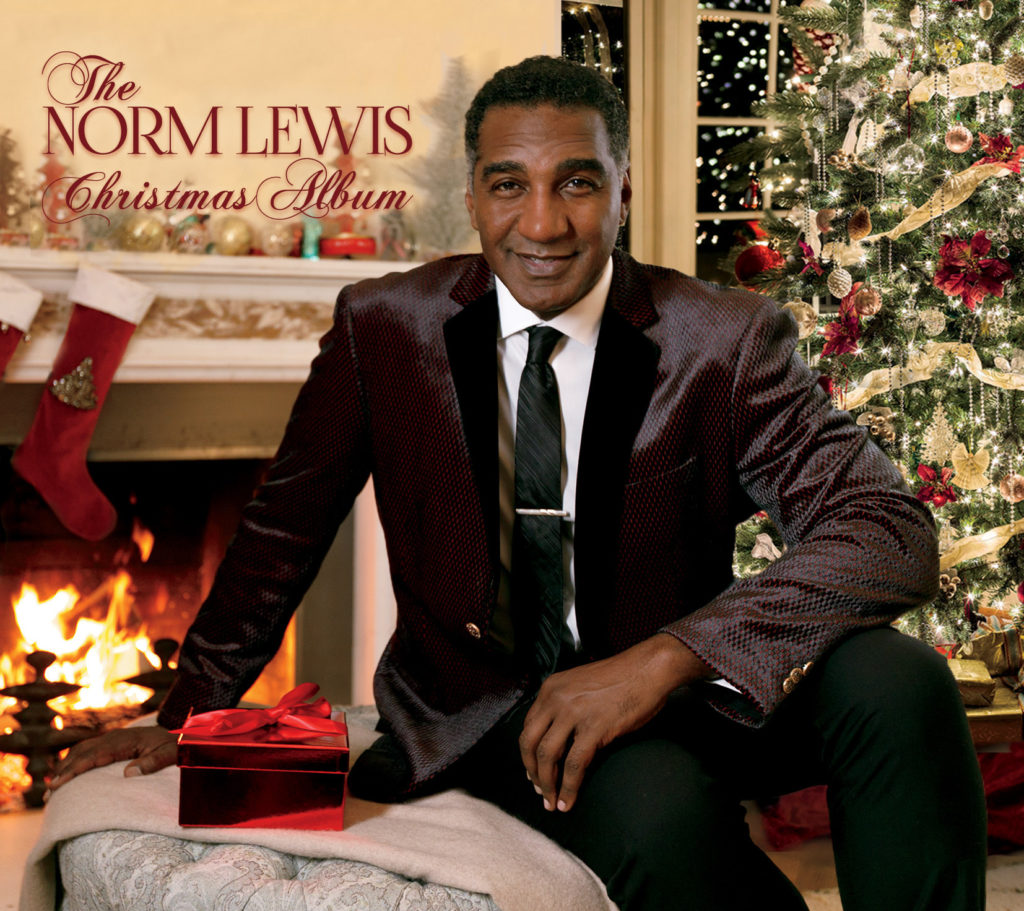 A Dream Come True for Broadway, Film, and Television Star, NORM LEWIS
The NORM LEWIS Christmas Album Released TODAY
NEW YORK, Nov. 26, 2018 /PRNewswire/ — One of Broadway's most sought after actors is Tony Nominated star, Norm Lewis. He also happens to possess one of the most powerful baritone voices ever to tread the boards, starring in many musicals and plays, most recently, as Caiaphas in the record breaking, Emmy Award winning Jesus Christ Super Star Live In Concert on NBC.
In late July/early August Lewis headed into Flux Studios on the Lower East Side to record his second album, this time, a Christmas recording. The album is produced by long-time producer / director friend, Richard Jay-Alexander and Lewis, himself. Jeremy Katz serves as Executive Producer. With his musical director, Joseph Joubert and his swinging band George Farmer on electric and upright bass and Perry Cavari on percussion and drums, over the course of three days, they recorded an astonishing 18 songs, LIVE, with little or no retakes.
"Norm's work on stage and screen has brought joy to millions. Now he spreads that joy with this, his first Christmas album. Norm makes the most wonderful time of the year even more wonderful with this heartfelt collection of holiday favorites. So hang a shining star upon the highest bough, and have yourself a merry Lewis Christmas now!"
—Johnny Mathis
The Song list is:
MY FAVORITE THINGS (from The Sound of Music)
FEVER
THE GIFT OF LOVE
THE CHRISTMAS SONG (Chestnuts Roasting On an Open Fire)
MARY, DID YOU KNOW?
THE LITTLE DRUMMER BOY
WHERE IS LOVE? (from Oliver!)
LET IT SNOW! LET IT SNOW! LET IT SNOW!
RUDOLPH, THE RED-NOSED REINDEER
SANTA BABY
WHAT ARE YOU DOING NEW YEAR'S EVE?
BRING HIM HOME (from Les Misérables)
AVE MARIA/O, HOLY NIGHT
HOME (from The Wiz)
WHAT'S GOING ON
PEACE ON EARTH
THANK YOU FOR YOUR LOVE
WHY COULDN'T IT BE CHRISTMAS EVERY DAY?
Norm leaned on his cousin, Pastor Bobby Lewis, from New Light Baptist Church in Harlem for a killer duet on Rudolph The Red-Nosed Reindeer and his Broadway pals Darius de Haas, Mykal Kilgore & Destan Owens on a special radio-ready cut of WHY COULDN'T IT BE CHRISTMAS EVERY DAY? gifted to the singer by Authors Walter Afanasieff & Jay Landers.
The Album is an amalgam of selections chosen from song lists that Norm has performed over the last three years at Feinsteins/54 Below in what has now become an annual holiday tradition in midtown, where he has a six night residency at the famed music hot spot.
Mr. Lewis throws the swingin'est Christmas party in town and this year will be no exception, naming it "Nutcracker Cool." The dates this season are: Monday, December 17th through Saturday, December 22nd. All shows are at 7:00 PM. Tickets can be secured at 54below.com/events/norm-lewis-nutcracker-cool
Lewis is over the moon about this album. He says, "It's amazing when you imagine something and then it actually happens. It was always my dream to do a Christmas album. In my house growing up, the holidays were filled with music from people like Johnny Mathis, The Supremes, Nat King Cole and many others. But now that I've finished this recording, and I hold it in my hand, it just makes me smile. For the cover, I actually imagined myself in front of a fire place, and that's what we did! I even had a dog in some of the photos, but that didn't really work out so great. However, we have the outtakes, if anybody's interested! Doing the album was fun and we decorated the studio with Christmas lights, and dressed in costumes, and laughed a lot. I actually feel like much of that joy spilled over into this recording, and I'm very proud of it."
The CD and downloads are available today on iTunes, Spotify, Amazon, Google Play, CD Baby & more.
NORM LEWIS was recently seen in the NBC television special, "Jesus Christ Superstar Live in Concert!," alongside John Legend, Sara Bareilles, and Alice Cooper. He recently appeared in the Broadway revival of Once on This Island and as Sweeney Todd in the Off-Broadway production of Sweeney Todd: The Demon Barber of Fleet Street at the Barrow Street Theatre, receiving the AUDELCO Award for his performance. In May of 2014, he made history as The Phantom of the Opera's first African American Phantom on Broadway.
He has been seen on PBS in the Live From Lincoln Center productions of Showboat with Vanessa Williams, Norm Lewis: Who Am I?, and New Year's Eve: A Gershwin Celebration with Diane Reeves, as well as American Voices with Renée Fleming and the PBS Special First You Dream – The Music of Kander & Ebb. He can be seen recurring in the VH1 series, Daytime Divas, also alongside Vanessa Williams. His additional television credits include Chicago Med, Gotham, The Blacklist, and Blue Bloods, as well as in his recurring role as Senator Edison Davis on the hit drama Scandal.
Mr. Lewis received Tony, Drama Desk, Drama League, and Outer Critics Circle award nominations for his performance as Porgy in the Broadway production of The Gershwins' Porgy & Bess. Other Broadway credits include Sondheim on Sondheim, The Little Mermaid, Les Misérables, Chicago, Amour, The Wild Party, Side Show, Miss Saigon, and The Who's Tommy. In London's West End he has appeared as Javert in Les Misérables and Les Misérables: The 25th Anniversary Concert, which aired on PBS.
Off-Broadway Mr. Lewis has performed in Dessa Rose (Drama Desk nomination, AUDELCO Award), Shakespeare in the Park's The Tempest, The Two Gentlemen of Verona (Drama League nomination), Captains Courageous, and A New Brain. His regional credits include Porgy in The Gershwins' Porgy and Bess (A.R.T.), Ragtime, Dreamgirls (with Jennifer Holliday), First You Dream, Sweeney Todd, and The Fantasticks.
Norm Lewis's first album, This is the Life was released in 2008 and is available on AMAZON & CD Baby.
Photo credit: Peter Hurley
SOURCE Norm Lewis