Pianist Harold Mabern to Release 2-CD Album "The Iron Man: Live at Smoke" on Nov. 23rd, 2018
by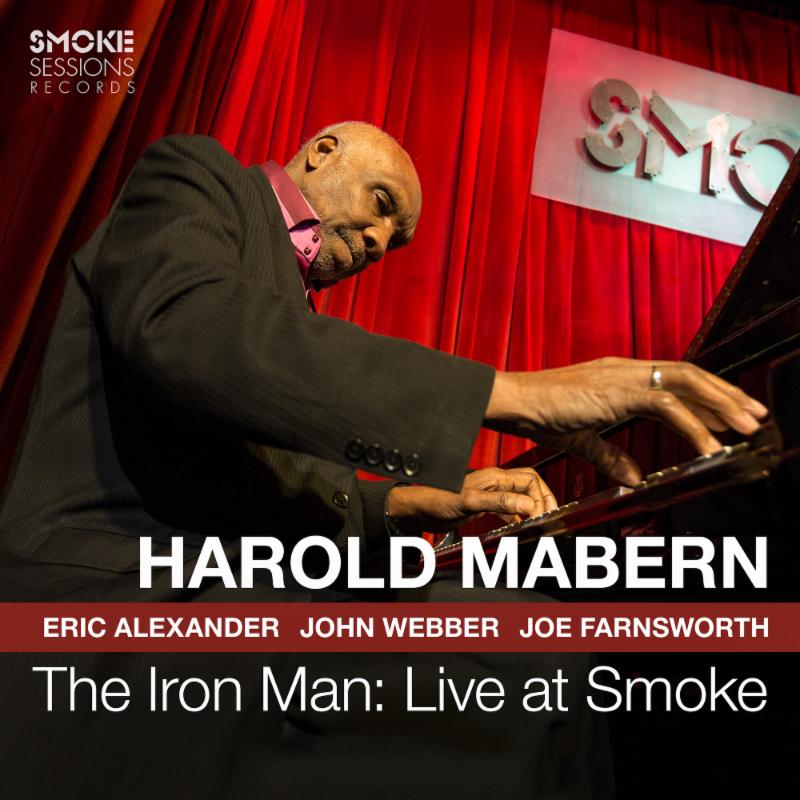 Jazz Master Harold Mabern Swings Through an Extraordinary Life in Music During
One Memorable Night On Stage at Smoke
The Iron Man: Live at Smoke Flashes Back to Favorite Songs From the Pianist's Renowned Career
Double Disc Set Available November 23 on Smoke Sessions Records
Release Performances December 17 – January 6 at New York City's Smoke Jazz & Supper Club
While it was captured over the course a single night, there's a rich lifetime's worth of music packed into The Iron Man: Live at Smoke. If it's a slight overstatement to say that the album represents an autobiography in song, that's only because 82-year-old jazz master Harold Mabern tells his story in every note that he plays. That's as true of the melodies he's been interpreting for more then half a century – as many of the tunes on The Iron Man are – as it is of the always inspired music that flows spontaneously from the great pianist's fingers.
The Iron Man, due out November 23 via Smoke Sessions Records, was recorded on the final night of a remarkable three-week residency, an annual holiday tradition at the renowned New York City club. Most of that 2017/18 run was dedicated to the music of John Coltrane and featured a host of invited guests to the bandstand. For this magical final performance, however, Mabern and his gifted, longstanding quartet – tenor saxophonist Eric Alexander, bassist John Webber, and drummer Joe Farnsworth – went it alone, vigorously swinging through well-loved tunes from throughout Mabern's storied career.
Many of those Memphians would reconvene in Chicago in the mid-'50s, which is where Mabern honed his hard bop grooves accompanying such powerhouse tenor titans as Johnny Griffin, Gene Ammons and Clifford Jordan. By the end of the decade he had found his way to New York City, where he would soon be an in-demand sideman for many of the most notable leaders of that generation – including Lionel Hampton, Donald Byrd, Sonny Rollins, Freddie Hubbard, Joe Williams, and Hank Mobley.
Mabern forged a more lasting bond with Lee Morgan, recording the classic album The Gigolo for Blue Note in 1965 and continuing to play with the trumpet innovator until the night of his tragic death at Slug's Saloon in 1972. In the meantime, Mabern started recording under his own name, releasing four well-regarded albums for Prestige between 1968-70 whose line-ups included such brilliant improvisers as Morgan, Blue Mitchell, George Coleman, Bill Lee, Hubert Laws, and Idris Muhammad.
While he and Alexander have shifted from teacher and student to a partnership that is one of the most meaningful between any saxophonist and pianist in jazz, that's just one testament to Mabern's profound influence as an educator, a contribution to jazz on par with that made through his music. The list of Mabern students who have gone on to make their mark include Farnsworth, trumpeter Freddie Hendrix, drummer/composer Tyshawn Sorey, drummers Bill Stewart, Mark Guiliana and Johnathan Blake, and saxophonist Roxy Coss.
Whether you listen to these two sets as representing a single special evening or 82 memorable years, there's ample evidence that Harold Mabern deserves to be known as The Iron Man – a powerhouse player, a formative mentor, a revered survivor.
"The Iron Man: Live at Smoke" was produced by Paul Stache and Damon Smith,
recorded live at Smoke Jazz Club, NYC on January 7, 2018
and mastered to ½" analog tape using a Studer mastering deck.
Harold Mabern · The Iron Man: Live at Smoke
Smoke Sessions Records · Release Date: November 23, 2018
For more information on Harold Mabern, please visit: HaroldMabern.JazzGiants.net
DL Media