Haitian-American Singer Malou Beauvoir to Release New Album "Spiritwalker" on Nov. 2nd, 2018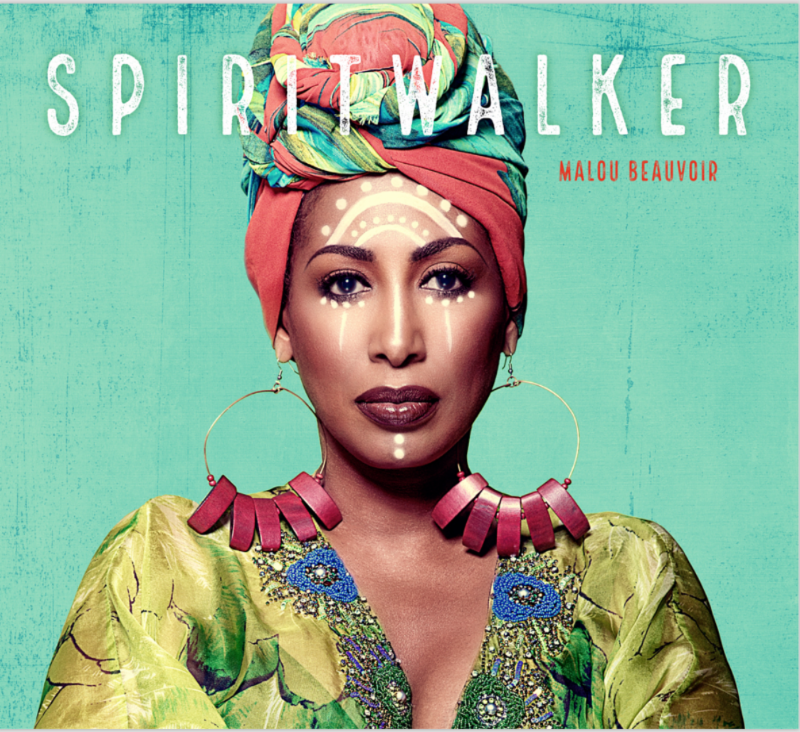 Haitian-American Singer-Songwriter Malou Beauvoir
Invokes the Spirits of Vaudou to Communicate a Message
of Spiritual Awakening and World Peace
Spiritwalker – Available November 2
on Panthera Music International
Album Brings Together Haitian Folk with Soul, Hip Hop
and Jazz to Create a Uniquely Compelling Blend
of the Traditional and Contemporary
On her new release, Spiritwalker, Haitian-American singer-songwriter Malou Beauvoir communes with and for the spiritual traditions of her island heritage. The album is at once a celebration of the Vaudou spirits that embody and enrich the culture of Haiti, as well as a conveyance of their message of peace and awakening to the world at large.
Beauvoir's music is a rich blend of Haiti's folk traditions and a compelling weave of contemporary influences, melding soulful melodies, hip hop grooves and jazz virtuosity. The songs – a blend of original compositions, traditional folk tunes and beloved popular Haitian songs – convey a powerful message of acceptance and community at a time of turmoil in Haiti and polarization around the globe.
"If you have a voice, it's to be used to communicate for someone or for something," Beauvoir says. "It's great to just sing songs, but we (as a group) wanted to focus our art on bringing about change. I wanted these songs that we grew up with – their values, their principles, the ideas behind them –to become hip, to become accessible to the younger generation so that we can use our own identity to express our frustration, and motivate each of us, as individuals, to bring about change."
Spiritwalker, set for release on November 2 on Panthera Music International, was recorded at Brooklyn's Kamoken Studios with a multi-national band of gifted musicians. The core group of Haitian musicians included co-producers and instrumentalists Chico Boyer (an activist and community leader who also owns Kamoken Studios) and Cheff Loncher along with acclaimed singer-songwriter and multi-instrumentalist Paul Beaubrun and percussionists Sirgo Decius and Jean Guy Rene. In addition, the band comprised artists from Cuba (pianist Axel Laugart), Japan (pianist Yayoi Ikawa, guitarist Hiroyuki Yamada) and the U.S. (guitarist Jon Gordon, bassist Calvin Jones, and Haitian-American drummer Gashford Guillaume).
Born in Chicago to Haitian parents, Beauvoir was raised in Long Island while spending summers either in Paris, where her parents met, or in their native Haiti. "My father, who desperately loved Haiti, would constantly regale us with stories," Beauvoir recalls. "Then every summer you would go and find yourself on this beautiful island with a whole community of friends and family, and it was such a different life from New York that it really tempted you to stay."
Another compelling aspect of Beauvoir's time in Haiti was the tutelage of her uncle Max Beauvoir, a biochemist and high-ranking Vaudou priest, who ushered her into the island's profound spiritual traditions. She considers herself a natural Vaudou priestess or mambo, a word that implies an ongoing quest for knowledge in the Vaudou belief system. "We believe that when someone becomes a priest or priestess, it's the beginning of their journey," Beauvoir explains. "It's your invitation by the spirits to learn, to delve and to continue the rest of your life acquiring that knowledge. It has opened the door for me for a lifetime of learning, to cross that threshold and become a chalice to receive – and to give."
Beauvoir followed a circuitous path on her road to giving back through her music. After studying at the American University in Paris she earned a master's degree from the University of Hartford and began a successful career in marketing. A rapid ascent up the corporate ladder proved to be far less satisfying spiritually than it was financially, and she decided to pursue a more fulfilling, less secure life in music.
Malou's muse drew her into the jazz world, where she performed in Paris, Belgium and New York, released three albums and shared the stage or studio with such modern greats as Donny McCaslin, Terrell Stafford and Donald Vega.
The escalating turmoil in her beloved Haiti following the devastating earthquake of 2010 and the further havoc visited on the island by Hurricane Matthew led Beauvoir to connect more directly with the music of her cultural roots. Hearing the voices of the Vaudou spirits in her ear, she decided to convey a message of pride and empowerment to the people of Haiti, while communicating the importance of spiritual awakening and togetherness to an increasingly divided world.
"I was tired of seeing things that started out as spiritual beacons being used by politicians and profiteers to forward divisive political messages and greedy economic causes," Beauvoir says. "I started with Vaudou, saying these are our roots, this is what gave courage to slaves to revolt against Napoleon's army and win our freedom; why don't we dig deep down into our culture, our beliefs, our spirituality, and find the courage now to revolt against what's going on in our country and in the world. Vaudou is not a well-known religion, but I want people to judge it on what it is, not what it is portrayed to be."
"Spiritwalker has always been a term that I use to describe myself and all people who are in communication with the spiritual world," Beauvoir concludes. "I believe that everything in our world has a soul, from the grass to the stones to the air, which all have different energies that find their place and create a balance in the world. Spiritwalker strives to walk in step with the spirits that surround us."
Malou Beauvoir · Spiritwalker
Panthera Music International · Release Date: November 2, 2018
For more information on Malou Beauvoir, please visit: maloubeauvoir.com
DL Media