Singer José James to Release Tribute Album "Lean On Me" on Sept. 28th, 2018 | LISTEN TO NEW SINGLE!
by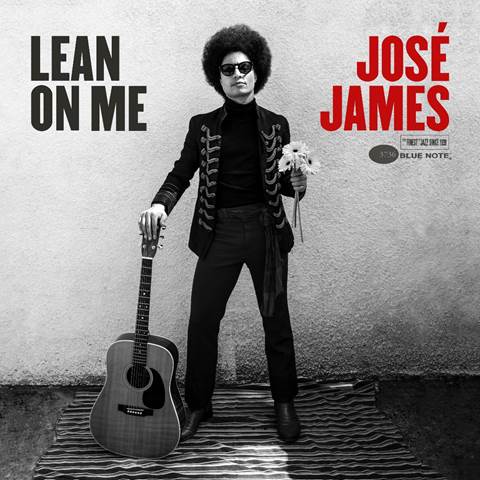 JOSÉ JAMES PAYS TRIBUTE TO BILL WITHERS WITH LEAN ON ME;
NEW ALBUM PRODUCED BY DON WAS OUT SEPT. 28 ON BLUE NOTE
CELEBRATES THE LEGENDARY SINGER & SONGWRITER
IN HONOR OF HIS 80th BIRTHDAY
FALL TOUR WILL BRING JAMES TO LOS ANGELES, NEW YORK,
PARIS, LONDON, AMSTERDAM, BERLIN, TOKYO & MORE
Singer, songwriter and lifelong fan José James honors the great Bill Withers with the September 28 release of Lean On Me (Blue Note), a loving tribute album that features 12 of the legendary singer and songwriter's most undeniable and soulful songs in honor of his 80th birthday year. Lean On Me was produced by Blue Note president Don Was and recorded in Capitol's legendary Studio B with a dream team band: Pino Palladino (bass), Kris Bowers (keys), Brad Allen Williams (guitar), and Nate Smith (drums), along with special guests including vocalist Lalah Hathaway, saxophonist Marcus Strickland, and trumpeter Takuya Kuroda. The lead track "Use Me" is available to stream or download today. The album can be pre-ordered now on vinyl, CD or download.
James is often celebrated for his genre-blending— his prolific output over the past decade has crisscrossed jazz, R&B, soul, hip-hop and indie rock—but this project is different. "Bill wrote the songs you love your whole life," he says. "I didn't want to put hip-hop beats under his music or deconstruct it with 10-minute bebop solos. There was only one right move here: show up with a killer band, run the tape, capture the vibe. We just played the songs."
That's also how all of this began, over the past few years, with James adding more and more Withers hits to his live set until he wound up with a massive medley that felt "like the best kind of church—people crying, dancing, singing and shouting. It was powerful," he says. At the same time, James was reeling from the deaths of so many of his musical heroes. He couldn't shake the urge that he ought to celebrate that living icon among us, Withers, whose influence is everywhere and yet whose name is too often left out of the canon. Along the way James' silken voice has only gotten richer, warmer, and more resonant—a perfect delivery system for Withers' humane wisdom.
Lean on Me was born in late 2017 as a touring project but an album was always the goal. James, who has created masterful tributes to Billie Holiday and John Coltrane, went full ethnomusicologist in choosing the songs, poring over Withers' nine LPs, the 2009 Still Bill documentary, and some untold number of YouTube clips for clues. When he had his short list, he still doubted himself: "I reached out to Don to ask, 'Do you think these songs would be cool?' Don's like, 'I dunno. Let's ask Bill.' I felt like: 'Oh my God, what have I done?'" But Withers gave his blessing over dinner at Hollywood's storied Musso & Frank's. For James it was a bucket list moment.
"Meeting Bill Withers was one of the personal highlights of my life," says James. "He's a total genius and one of the coolest people I've ever met. I learned more in that one hour with him than I learned at music school or a decade's worth of live shows. We all adore him and any songwriter worth their salt knows that Bill is up there with Paul McCartney, Stevie Wonder, Joni Mitchell, Smokey Robinson, Carole King, Leonard Cohen, Bruce Springsteen, Bob Dylan, Paul Simon, Elton John, Billy Joel – he's in the pantheon of greats. Plus he's an amazing singer and developed a sophisticated sound that blends funk, singer-songwriter, blues, R&B and gospel. I showed him my list of his songs and he absolutely loved it. I think he's happy that his music still has a place in the lives and hearts of people worldwide and that we all want to celebrate his life and talent."
Withers retired decades ago, but this band reminds us how much he's still with us. Part of that is familiarity—this is largely the lineup from James' breakout 2013 Blue Note debut No Beginning No End—but no amount of chops or mindmeld explains the earnestness they call up for Lean on Me. "You have to believe every word of it," says James. "With Bill, there's no space to not be genuine. You need to be comfortable with your emotional self, your masculine and feminine side, and hang it all out there."
The track listing for Lean On Me is as follows:
1. Ain't No Sunshine
2. Grandma's Hands
3. Lovely Day featuring Lalah Hathaway
4. Lean On Me
5. Kissing My Love
6. Use Me
7. Who Is He
8. Hello Like Before
9. Just The Two Of Us
10. Hope She'll Be Happier
11. The Same Love That Made Me Laugh
12. Better Off Dead
José James – Tour Dates:
Aug. 29 – Hollywood Bowl – Los Angeles, CA
Sept. 9 – Jazz à la Villette – Paris, France
Sept. 10 – Union Chapel – London, UK
Sept. 11 – Ancienne Belgique – Brussels, Belgium
Sept. 12 – Paradiso – Amsterdam, Netherlands
Sept. 13 – Heimathafen – Berlin, Germany
Sept. 22 – Monterey Jazz Festival – Monterey, CA
Oct. 19 – Jefferson Center – Roanoke, VA
Oct. 20 – The Hamilton – Washington DC
Oct. 26 – Highline Ballroom – New York, NY
Oct. 31 – Billboard Live – Osaka, Japan
Nov. 1 – Billboard Live – Tokyo, Japan
Nov. 2 – Billboard Live – Tokyo, Japan
Nov. 8 – Garfield Theatre – La Jolla, CA
Nov. 15 – Arts Commons – Calgary, AB
Jan. 25 – Berklee Performance Center – Boston, MA
Jan. 26-Feb. 2 – Blue Note at Sea
Mar. 15 – Chicago Symphony Center – Chicago, IL
Follow José James:
Website • Twitter • Facebook • Instagram
Blue Note Records