Saxophonist Michael Lington to Release New Album "Silver Lining" on June 8th, 2018 | LISTEN! | Announces New Tour
by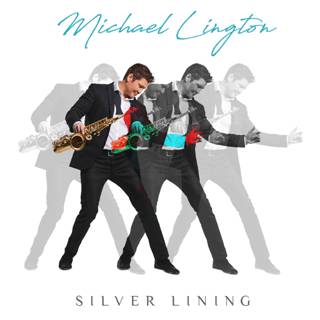 MICHAEL LINGTON'S NEW ALBUM, SILVER LINING,
SET FOR RELEASE ON JUNE 8
Lead Single "City Life" Featuring Dave Stewart
Is #2 Most Added At Radio
Lington Kicks Off U.S. Tour On May 6
Michael Lington – one of the world's top contemporary soul and jazz saxophonists – will release his new album, Silver Lining, June 8 on Copenhagen Music.
"City Life," the lead-off track and first single, is #2 Most Added at Contemporary/Smooth Jazz Radio. The song, which captures the seductive charms of big-city living, features a searing guitar solo by Dave Stewart.
"Three years ago, Dave Stewart and I were both performing at the Greek Theater in Los Angeles," Michael Lington recalls. "Prior to the show, Dave asked me if I would join him on a song during his set. I was very flattered as I was a big fan of him and Eurythmics. We became instant friends and have played and written together many times since then. When I asked him if he would play on my new album, he said, 'absolutely.'"
Instrumental singles aren't typically accompanied by lyric videos, but Lington underscores the truth of the adage "a picture is worth a thousand words" in the "City Life" lyric video, which can be viewed HERE.
Silver Lining, which is Lington's 10th solo album, is now available for pre-order HERE. Fans who pre-order the digital album will instantly receive "City Life."
The first single is one of nine songs Lington and his producer, Barry Eastman, co-wrote for Silver Lining. In addition to Lington's alto sax and Eastmond's keyboards on all tracks, the participating musicians include Paul Jackson Jr. and Ray Parker Jr. on guitars, Freddie Washington and Alex Al sharing bass duties, Teddy Campbell on drums, Lenny Castro on percussion, and a number of other musicians appearing on a track or two – including one of the original Funk Brothers, Jack Ashford.
MICHAEL LINGTON TEAMS UP WITH PAUL JACKSON JR. ON "JAYWALKING,"!
Stax soul legend William Bell, a 2017 GRAMMY®-winner, sings lead on Lington's stirring version of the Curtis Mayfield-penned "People Get Ready" and Dorian Holley handles vocals on the classic Tower of Power hit "So Very Hard To Go."
Silver Lining was recorded live at several studios, including Sunset Sound in Los Angeles and Royal Studios in Memphis. See below for track listing.
Lington and his band will be previewing songs from Silver Lining on their upcoming tour, which kicks off on Sunday, May 6, at Thornton Winery in Temecula. See below for itinerary. Tickets are available at www.michaellington.com.
On June 8 and 9, he will open for Barry Manilow at Wolf Trap in Washington, DC. Lington will also perform on both voyages of the sold-out Dave Koz and Friends at Sea – Scandinavia & the Baltic cruise, which departs from Copenhagen, Denmark in May.
Of the title track to Silver Lining, Lington says, "I feel in life you have to always find the silver lining. Most times things don't turn out the way you think they will, but somehow they always work out, many times for the better. This song I love because it reminds me of the early days of Creed Taylor's jazz label, CTI Records. That music is my core and makes an emotional connection with me and most lovers of early soul-jazz. The title Silver Lining just fits this song."
Silver Lining follows Lington's critically acclaimed 2016 album, Second Nature, which included the hits "Midnight Drive," "Memphis Strut" and "Beale Street." The later featured Rock & Roll Hall of Fame inductee Booker T. Jones. The album is a tribute to the Memphis soul sound, which was hugely influential to Lington while he was growing up in Copenhagen.
"I loved that contemporary sax was so versatile in all styles of music: funk, jazz, R&B, pop," Lington says, but soul music hit him most directly. "It's hard to describe why something in particular is meaningful to a person, but soul music spoke to me very early on in my life—it's just a feeling and reaction I had when I would hear it."
Track Listing – Silver Lining
1. City Life – featuring Dave Stewart
2. Break The Ice
3. Déjà Vu
4. People Get Ready – featuring William Bell
5. Silver Lining
6. Can't Say Goodbye
7. M-Funk – featuring Ray Parker Jr.
8. Swingin' On Main Street
9. So Very Hard To Go – featuring Dorian Holley
10. Jaywalking – featuring Paul Jackson Jr.
11. Straight To The Top
Michael Lington – Upcoming Tour Dates
5/6 – Temecula, CA @ Thornton Winery w/Jonathan Butler & Kenny Lattimore
5/13-20 – Dave Koz Cruise and Friends at Sea – Scandinavia & the Baltic – SOLD OUT
5/20-27 – Dave Koz Cruise and Friends at Sea – Scandinavia & the Baltic – SOLD OUT
6/1 – Newport Beach, CA @ Hyatt Newporter – Newport Beach Jazz Festival
6/2 – Las Vegas, NV @ The Foundry at SLS w/Paul Taylor and Kenny Lattimore
6/8 – Washington, DC @ Wolf Trap – opening for Barry Manilow
6/9 – Washington, DC @ Wolf Trap – opening for Barry Manilow
6/15 – Denver, CO @ The Soiled Dove Underground (two shows) w/Paul Taylor
6/16 – Sterling Heights, MI @ Freedom Hill Amphitheater – Jazz Spectacular 2018
8/10 – Honolulu, HI @ Blue Note Jazz Club (two shows)
8/11 – Honolulu, HI @ Blue Note Jazz Club (two shows)
8/24 – Napa, CA @ Blue Note Jazz Club (two shows)
8/25 – Napa, CA @ Blue Note Jazz Club (two shows)
9/2 – Dallas, TX @ Riverfront Jazz Festival – Texas Horse Park
10/5 – San Antonio, TX @ Fort Sam Houston w/Greg Manning, Adam Hawley
10/6 – Dallas, TX @ Bishop Arts Theater (two shows) w/Greg Manning, Adam Hawley
10/7 – Houston, TX @ House of Blues – Bayou City Jazz Series w/Greg Manning
10/16 – Porches, Portugal @ Algarve Smooth Jazz Festival