Resonance Records to Release Classic Grant Green Recordings: "Funk in France: From Paris to Antibes (1969-1970)" & "Slick! – Live at Oil Can Harry's" on May 25th, 2018 | WATCH NEW VIDEO! LISTEN TO NEW SINGLE!
by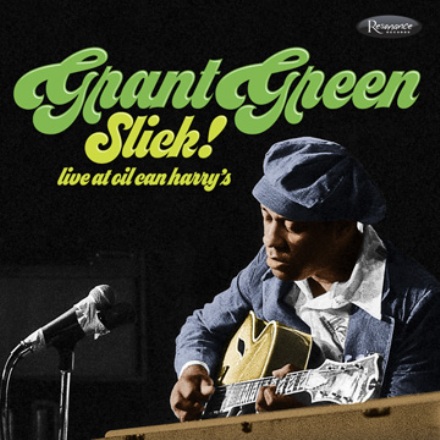 Resonance Records to Release Previously Unissued Music from
Jazz Guitar Icon Grant Green
Historic Recordings:
Funk in France: From Paris to Antibes (1969-1970)
& Slick! – Live at Oil Can Harry's
First official releases of previously unissued Grant Green material in over 10 years,
CD & Digital Editions available May 25 via Resonance Records
"Grant Green's Evolution of Funk" Tribute Band Coming to NYC
for a 4-night run from June 28 to July 1 at Jazz Standard
Resonance Records is proud to be releasing the first official previously unissued recordings of Grant Green in over 10 years, representing the earliest (1969-1970) and latest (1975) known live recordings of Grant Green as a bandleader. Funk in France: From Paris to Antibes (1969-1970) and Slick! – Live at Oil Can Harry's will see CD and digital releases on May 25.
Funk in France: From Paris to Antibes is two-albums-in-one and showcases Green's early transition to a heavier, funkier sound as he entered the 1970s. Released in partnership with the Institut national de l'audiovisuel (Ina) with remastered high-resolution audio transferred directly from the original tapes of the Office of French Radio and Television (ORTF), these recordings feature the legendary guitarist with bassist Larry Ridley and drummer Don Lamond, along with jazz guitar icon Barney Kessel accompanying Green on "I Wish You Love" at la Maison de la radio in Paris on October 26, 1969; plus full concert recordings from the Antibes Jazz Festival on June 18 and 20, 1970 with saxophonist Claude Bartee, organist Clarence Palmer, and drummer Billy Wilson.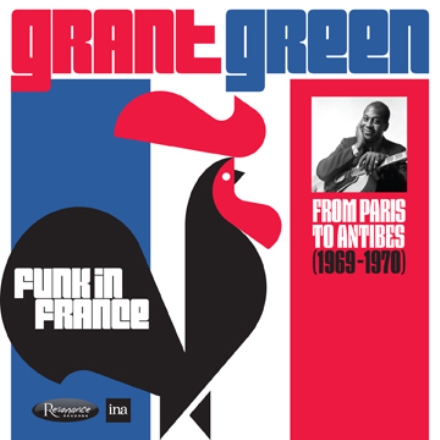 Captured live on September 5, 1975 and originally broadcast on CHQM-FM in Vancouver, the companion album Slick! – Live at Oil Can Harry's was recorded less than four years before Green's untimely death at the young age of 43. Featuring a primarily Detroit-based band with Emmanuel Riggins (father of drummer Karriem Riggins) on electric piano, Ronnie Ware on bass, drummer Greg "Vibrations" Williams (Jack McDuff, Lou Donaldson) and Gerald Izzard on percussion, the album has Green pushing the limits of traditional jazz and stretching the form into R&B and funk territory. Even serious devotees will agree this is decidedly uncharted territory in the discography of Grant Green.
Producer Zev Feldman says about these projects, "I wanted to create a really special event celebrating Grant Green and thought that putting out 2 separate albums plus tour dates with a tribute band all at once would make a really strong statement. We're proud to have the family's involvement on this project, including the eldest son Greg, a great guitarist in his own right. These albums showcase what I call Green's 'evolution of his funk,' and I think these albums plus the tribute band will excite longtime Grant Green fans and hopefully bring new fans along for the ride too."
Born June 6, 1935 in St. Louis Missouri, Grant Green started performing at an early age, and was doing professional gigs by his teenage years. In his mid-twenties, he was swept away by alto saxophonist, Lou Donaldson, who urged him to come to New York in 1960. In New York Green met Alfred Lion of Blue Note Records and was the most-recorded artist on the label between 1960 and 1965.
After his death in 1979, Grant Green's music drew the attention of DJs and producers who turned Grant's funky guitar breaks into hip-hop grooves. Green's forward-thinking riffs have been sampled by hip hop icons A Tribe Called Quest, Wu-Tang Clan, Outkast, Kendrick Lamar, and many more.
Despite Green's popularity in the 1960s and subsequent revivals in hip-hop circles, he remains a largely under recognized figure in the history of jazz. "He deserved even a lot more. Way underrated. Everybody knows, every guitar player knows he was the top guy," bemoaned Dr. Lonnie Smith in his interview for the liner notes of Funk in France. Let's hope these Resonance releases can go a long way to shining a brighter light on one of jazz guitar's most important figures.
Funk in France: From Paris to Antibes (1969-1970)
The 48-page booklet for Funk in France includes essays by the renowned Blue Note Records discographer, writer and executive producer of this album Michael Cuscuna, along with producer Zev Feldman of Resonance and Pascal Rozat of Ina; interviews with Soulive guitarist Eric Krasno, the legendary organist Dr. Lonnie Smith, Grant Green's eldest son Greg Green (aka Grant Green Jr.) and the organist from the Antibes concerts, Clarence Palmer; plus memorabilia and previously unpublished photos by French photographers Christian Rose and Jean-Pierre Leloir taken at the ORTF studio 104 and Antibes Jazz Festival, as well as jazz photography icon Chuck Stewart.
Slick! – Live at Oil Can Harry's
For Slick!, Resonance has assembled an exhaustive 48-page booklet including essays by noted music journalist A. Scott Galloway, Vancouver DJ and Gary Barclay and Resonance producer Zev Feldman; interviews with Detroit jazz guitar legend Perry Hughes (in conversation with guitarist Jacques Lesure, a fellow Detroit native), Grant Green's eldest son Greg Green (aka Grant Green Jr.), drummer Greg "Vibrations" Williams, as well as excerpts from archival interviews conducted by Gary Barclay with Grant Green and Emmanuel Riggins in September of 1975. The package also features a number of previously unpublished photos taken during the Oil Can Harry's engagement by Vancouver- based photographer Gerry Nairn.
Tribute Band
For the first time, Resonance has assembled a band that will play the music from our archival releases live on the road. The project is called "Grant Green's Evolution of Funk" and it features an all-star band with guitarist Grant Green Jr. (Green's eldest son), saxophonist Donald Harrison, keyboardist Marc Cary and drummer Mike Clark. The world premiere of this band will be at New York City's renowned jazz club Jazz Standard for a 4-night run from June 28 to July 1, 2018. There is also interest from many different parts of the world in presenting this exciting project as well, so stay tuned for more dates to be announced.