Singer Alaina Rose Releases New Single "Best Day Ever" | LISTEN!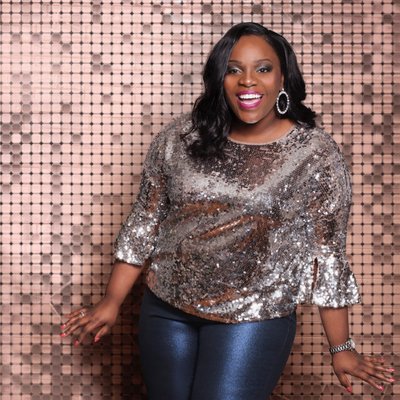 IMA Entertainment Celebrates
Worship Leader And Urban Song Stylist
Alaina Rose
As She Ushers In The Best Day Ever
Audiences across genres and music programmers have found a new love in the big voice and bold personality of IMA Entertainment debut recording artist Alaina Rose. The Connecticut native is undoubtedly a church girl who has drawn from elements of classical, jazz and R & B to create a sound that honors God and produces electrifying performances wherever she goes. Alaina Rose grew up watching her parents and siblings minister their gifts of music before the people each Sunday in worship. She too came to know the Lord and decided to devote her life to making a joyful noise in serving the Lord.
Alaina loved the guitar and gravitated towards lead and then bass before moving on to the piano. She would later abandon instruments and place her concentration on cultivating the voice that God has given her. Her first solo in church, a cover of Cece Winans' Blessed Assurance left the audience in amazement. Where is all this voice coming from, they wondered. Her Dad, noted musician, songwriter, producer and music minister David Brown, knew that the hand of the Lord was upon her and her gift would bring her before great men and women across the country.
Being a member of Cathedral of Praise under the pastorate of Bishop JC White provided a great foundation for this budding Gospel artist. She spent many years singing in the youth choir and benefited from the foundation laid by Bishop White's musicianship and servant's heart. Years of training at the Watkins Overton High School of the Performing Arts quickly prepared her on how to use her voice and to care for it properly. Continuing he studies while in college, she would also pursue coursework in social work. Her gift would make room for her and she would be called upon to do studio backing work for Deon Kipping as well as offer services as an in-demand background vocalist for Jonathan McReynolds, Todd Dulaney, Byron Cage, Anita Wilson and JJ Hairston, to name a few.
Today, Alaina Rose steps out front to declare her best days are in front of her. Her debut single, Best Day Ever is available now on all digital and streaming platforms. Alaina's sound is fresh and current, her voice is unmistakable and the praise she raises to God is unrelenting. The single is already gaining traction amassing her a huge fan base and heading to the radio top 100 within the coming weeks.
Stay Connected with IMA Recording Artist Alaina Rose via social media
Twitter – @alainarosemusic
Facebook – Alaina Rose Music
RGMC Impact