Vocal Band Take 6 Releases New Single "Change The World" – LISTEN! | New Album "Iconic" Coming Soon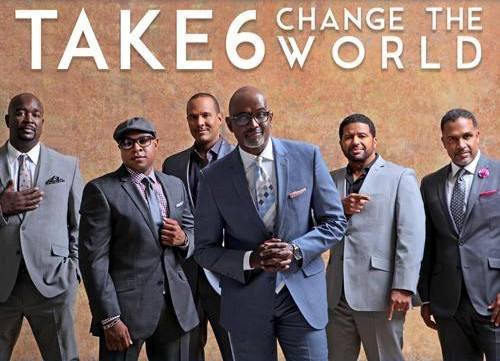 Take 6 returns with an a cappella splash on "Change The World"
The multi-faceted vocal band Take 6 keeps the music sweetly flowing, as they are about to release a special project of classic jazz, pop, R&B and gospel treasures. Iconic (Coming Soon via Sono Recording Group) focuses on Take 6's special favorites through their three and-a-half decade extraordinary journey, including The Spinners, Al Jarreau, Nora Jones, Christopher Cross and their latest single, "Change The World."
The Eric Clapton multi-Grammy hit revisits recent events, especially the teenagers who are marching in various U.S. cities to protect their own from gun violence in their schools. Showcasing their intriguing vocal fueled orchestra of percussion, bass, horns and mind boggling harmonies, Alvin Chea, David Thomas, Joey & Mark Kibble, Claude V. McKnight III and Khristian Dentley are musical ambassadors who know how to unhesitatingly spread love at a moment's notice.
"Change The World" is now available via most major digital outlets.
Peggy Oliver
The Urban Music Scene
More News....on The Urban Music Scene!