Reggae Artist Mystic Bowie To Release Debut Album "Mystic Bowie's Talking Dreads" on June 15th, 2018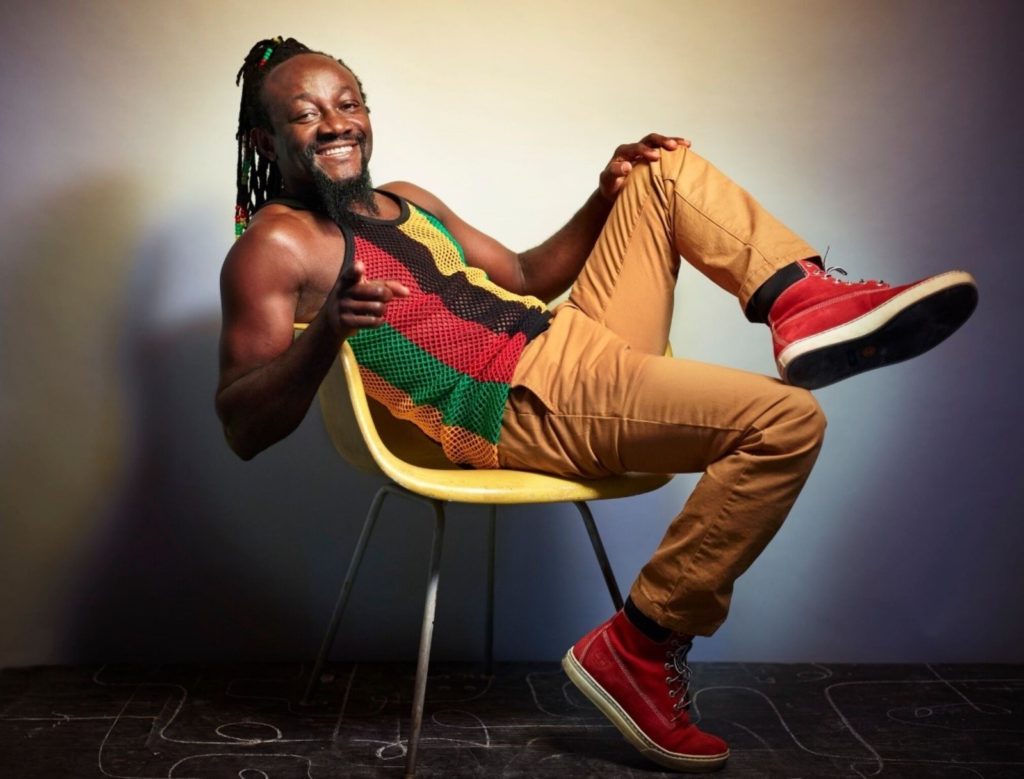 Mystic Bowie To Release Debut "MYSTIC BOWIE'S TALKING DREADS" Album Featuring Reggae Versions Of Talking Heads Hits And More On June 15
SINGLE "ONCE IN A LIFETIME" TO BE RELEASED ON MAY 4
FREDDIE MCGREGOR, ERNEST RANGLIN, TARRUS RILEY, DEAN FRASER, KIRK BENNETT, LINCOLN THOMAS AND CINDY WILSON OF THE B52'S JOIN MYSTIC ON THE COLLECTION
LOS ANGELES, March 1, 2018 /PRNewswire/ — Reggae artist Mystic Bowie will release his debut album titled MYSTIC BOWIE'S TALKING DREADS, featuring classic Talking Heads songs, and more, reggae-style, on June 15. The debut single, "Once In A Lifetime," will be released on May 4.
As a former member of the Tom Tom Club, a band that included former Talking Heads founders Chris Frantz and Tina Weymouth, Mystic Bowie infuses fresh life into Talking Heads' classic catalog with his high octane mix of roots reggae, ska and lover's rock.
The Talking Dreads album features a lineup of legendary reggae figures including singer Freddie McGregor; ska guitar master Ernest Ranglin (Bob Marley, Jimmy Cliff and Monty Alexander); Soul Train Award nominated Tarrus Riley ("Start Anew," "Good Girl Gone Bad"); and saxophone great Dean Fraser. The album also features drummer Kirk Bennett and Lincoln Thomas, McGregor's longtime guitarist. Cindy Wilson of the B-52s special guests on a duet with Mystic for "Heaven."
The album will include 11 Talking Heads songs with Mystic's own unique, Jamaica-fied spin; plus two additional tracks, including: "Love Goes to Building On Fire," "Slippery People" (Feat. Tarrus Riley): "Burning Down The House," "House In Motion," "This Must Be The Place," "Once In A Lifetime," "Pulled Up," "Life During Wartime" (Feat. Freddie McGregor); "Crossed Eyed And Painless;" Grateful Dead's "Shakedown Street," "Psycho Killer," "Piece of My Heart," "Heaven" (Feat. Cindy Wilson).
Since introducing his musically revolutionary Talking Dreads project at the High Times Music Festival in Negril in 2015, the Jamaican-born singer has performed at more than 100 shows across North America – spinning the heads of initially skeptical Talking Heads fans, and getting everyone grooving along to the rhythms and jubilant spirit of his native island.
With the success of these performances, Mystic Bowie, based in the Northeastern U.S., headed back to his homeland to the famed Barry O'Hare Studios in Ocho Rios. Gathering old friends he had played music with since childhood, along with younger musicians, legendary Jamaican artists and other special guests, Mystic captured all the magic of his live performances on MYSTIC BOWIE'S TALKING DREADS.
"Talking Dreads is much more than a cover band," Mystic says. "I am very much drawing on my own musical culture and history to make these amazing songs my own, while at the same time preserving the integrity of the Talking Heads songs." He continues, "I've always felt that reggae's dance-inspiring, feel good vibe is universal, as are many of the band's songs. And don't forget their intelligent, powerful lyrics, which are fun to sing and shine fresh light on through this new fusion of styles."
Mystic's close personal and professional relationship with Chris Frantz and Tina Weymouth of began when he joined the Tom Tom Club as a singer in 1996. He appeared on their 2000 album THE GOOD, THE BAD AND THE FUNKY and performed with them for nearly 20 years.
In conjunction with the release of MYSTIC BOWIE'S TALKING DREADS, the band will tour the U.S.; following are dates/venues for 2018, with additional performances to be announced.
| | | |
| --- | --- | --- |
| 4/13/18 | Geneseo Riviera | Geneseo, NY |
| 5/24/18 | Buffalo Iron Works | Buffalo, NY |
| 5/25/18 | Jackson Downtown Summer Concert Series | Jackson, MI |
| 5/26/18 | Vegetable Buddies | South Bend, IN |
| 5/27/18 | Dark Star Jubilee | Thornville, OH |
| 6/15/18 | Fairfield Theater Warehouse | Fairfield, CT |
| 6/20/18 | Brooklyn Bowl | New York, NY |
| 6/22/18 | MILKBOY | Philadelphia, PA |
| 6/28/18 | Koru Beach Klub | Avon, NC |
| 6/29/18 | Motorco Music Hall | Raleigh-Durham, NC |
| 6/30/18 | Grey Eagle | Asheville, NC |
| 7/6/18 | The Cabot | Beverley, MA |
| 7/7/18 | Flying Monkey | Plymouth, NH |
| 7/28/18 | Mashomack Preserve's 35th Annual Benefit | Mashomack, NY |
| | Celebration on Shelter Island, NY | |
| 8/18/18 | Michael David Winery | Lodi, CA          |
Check out the OFFICIAL WEBSITE for more information.
https://www.facebook.com/mbtalkingdreads
https://www.instagram.com/talking_dreads/
Twitter: @Talking_Dreads
SOURCE Mystic Bowie