NEW JAZZ RELEASE: David Murray feat. Saul Williams – "Blues For Memo" | Coming Digitally Feb. 2nd – Physically Feb. 16th, 2018
by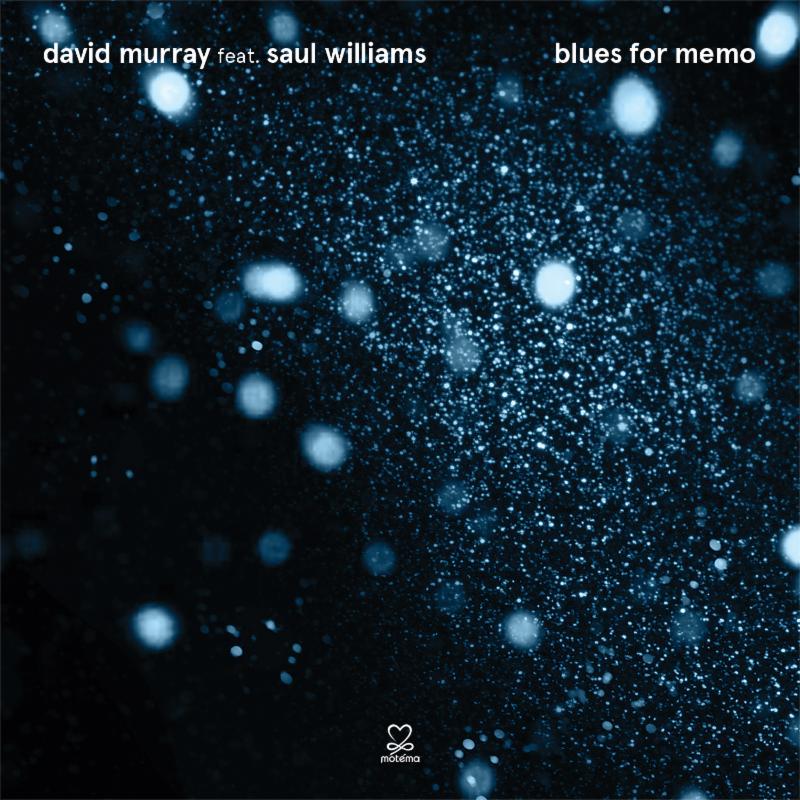 Jazz Innovator David Murray &
Acclaimed Actor/Poet Saul Williams
Craft Powerful, Political Expression of the Blues
on New Album, BLUES FOR MEMO,
Available Digitally February 2
Physical Release: February 16 on Motéma Music
Project Pays Homage to Turkish
Jazz Impresario Mehmet "Memo" Uluğ (1959-2013),
Inspired by Avant-Garde
Jazz Legend Butch Morris (1947-2013)
& Poet Amiri Baraka (1934-2014)
Features Jason Moran, Orrin Evans, Nasheet Waits,
Craig Harris, Jaribu Shahid & More
At Amiri Baraka's funeral in 2014, Saul Williams recited a poem imploring the iconic poet, author and social critic to "get out of the coffin" and continue his important work. Sadly, Baraka was beyond hearing the younger poet's words, but they did reach the ears of one of his closest collaborators: saxophonist David Murray.
Williams' impassioned reading made such an impression on Murray that a day later he was on the phone, proposing a new collaboration. "Saul was one of the most dynamic speakers at the funeral," Murray recalls. "His words were violent, but Baraka used violent words too."
Williams sent several of his works to Murray, mostly pieces that were soon to be published in his politically scathing 2015 collection, US(a.), which powerfully confronts issues of race, class, gender, economics and culture in modern-day America. The saxophonist responded to the poet's words with his trademark vigor, resulting in their new album, Blues for Memo, due out February 2 (digitally). Recorded in Istanbul at the end of a three-week European tour by request of the legendary Turkish producer Ahmet Uluğ, the album features a stellar band – pianist Orrin Evans, bassist Jaribu Shahid, and drummer Nasheet Waits – performing road-tested versions of these newly-penned compositions. Trombonist Craig Harris, keyboardist Jason Moran, guitarist (and Murray's son) Mingus Murray, kanun player Aytac Dogan, and vocalist Pervis Evans offer striking contributions as well.
Blues for Memo was commissioned by Ahmet Ulug, of Pozitif music in Istanbul to commemorate his late brother Mehmet Uluğ – affectionately known as "Memo" – who co-founded the music promotion company Pozitif (with a third partner, Cem Yegul), and opened the well-known Istanbul club Babylon. Pozitif opened the doors to experimental jazz in Turkey, and have presented such artists as David Murray, Butch Morris, Sun Ra and Pharoah Sanders. The album is a labor of love from Murray to the Ulug brothers in response to their many years of friendship and support. Saul Williams knew Memo from his shows in Babylon in the late '90s with saxophonist Ilhan Ersahin's Wax Poetics project.
The session also provided an opportunity to pay homage to another longtime Murray collaborator, conduction innovator and cornetist Butch Morris, who lived and taught in Istanbul for several years in the late 1990s. Williams adds his words to "Obe," one of nearly 30 Morris compositions that Murray has recorded over the decades. "We were all really close," Murray says. "So we all put our heads together and ended up making a tribute to Mehmet and Butch Morris at the same time."
The union between Williams and Murray becomes even more meaningful as it allows the two to continue poet Amiri Baraka's mission. "As someone who had grown up extremely familiar with and inspired by the works of Amiri Baraka, I was honored when David asked me to work with him," Williams says. "I stepped into this very much aware of the fact that I was collaborating with someone who had worked with Amiri."
When Williams began performing in the mid-90s, as part of the thriving New York slam poetry scene, he consciously avoided working with jazz musicians. He saw the pairing of poetry and jazz at that time as somewhat cliché, especially in light of the thrilling merger of poetry and hip hop then underway. "I was eager to find a way to make sure that my work was not easily connected to some passé idea," Williams says. "I never really wanted to dive too deeply into jazz because it seemed to fit an existing idea."
Two decades later, Williams could count a wealth of experiences stemming from his widely acclaimed work: a half-dozen books, appearances in films including Slam (1998), the lead role in the Tupac Shakur-based Broadway musical Holler If Ya Hear Me, and several albums fusing his poetry with hip hop, rock and electronic music. So with an established reputation, years of distance, and a deep respect for Murray's work, he undertook his first substantial jazz collaboration – and was surprised by what he found.
"As a poet who's very often tied to the page, collaborating with David has freed me up," he says. "What's beautiful about jazz is that it's a celebration of improvisation. It has so much to do with listening, how you hear and what you hear, and how you respond to that. It keeps me fresh, so it's the opposite of what I was afraid of when I was dodging performing with jazz musicians. It has invigorated the creative process."
For Murray, the collaboration with Williams took on a similar form to his work with Baraka and other poets, whether living writers like Ishmael Reed or his adaptations of work by long-dead authors like Alexander Pushkin. "I let a poem just sit on my piano for a week, and the next thing I know it turns into a song," Murray explains. "The words are like water; they find their own way."
The band also takes a few pieces without Williams' words. The title track pays homage to Memo with a blend of blues and classical Turkish music with the addition of Aytac Dogan on the kanun, a zither-like stringed instrument from the Middle East. Murray's "Positive Messages" offers an uplifting yet forceful message, with a laid-back groove fueled by Moran on Rhodes; Sun Ra's "Enlightenment" tips its hat to the Uluğ brothers' love of the cosmic bandleader and the influence of his teachings on Murray's formative years.
At a challenging time, Williams' interpretation is understandably confrontational and incisive. Commissioned by Simon & Schuster upon Williams' return from a four-year sojourn in Paris, US(a.) was intended to be a celebration of being an African-American living in Obama's America, but the string of police shootings that led to the Black Lives Matter movement and the rise of Donald Trump led to a much darker tone.
A piece like "Red Summer" is directly inspired by the 2015 mass shooting in a Charleston church. "Citizens (The River Runs Red)" takes an excerpt from "Said the Shotgun to the Head," urging a shift from a patriarchal society to a female perspective. "Cycles and Seasons" draws from Williams' poem "Coltan as Cotton," which parallels the mining of coltan – a precious mineral found in smartphones and other technology – with more traditional forms of mining.
Reflecting on Blues For Memo and their work together, Murray says, "Saul is a very forward-thinking visionary. I've always tried to be very accommodating to poets and their vision of what the world is. I've tried to make it a clearer and truer vision through music."
2018 TOUR DATES
January 30 – February 2 New York (NY) Birdland
February 6 Paris (FR) Sons d'Hiver
February 7 Saint Jean de Védas (FR) Victoire 2
February 8 Zurich (CH) Moods
February 9 Salzburg(AT) Jazzit
February 10 Vienna (AT) Porgy & Bess
February 11 Antwerp (BE) Arenberg Theatre
February 13 Stockholm (SE) Fasching
February 14 Oslo (NO) Victoria
February 15 Helsinki (FI) Selo Hall
February 16 Bergen (NO) Sardinen
February 17 Goteborg (SE) Nefertiti
David Murray featuring Saul Williams· Blues For Memo
Label: Motéma Music · Digital Release Date: February 2, 2018
Physical Release Date: February 16, 2018
For more information on David Murray, visit davidmurraymusic.com
For more information on Saul Williams, visit saulwilliams.com
For more information on Motéma Music, visit motema.com
Jordy Freed