LISTEN TO NEW MUSIC! Jekalyn Carr Unveils New Website & New Single "You Will Win"
by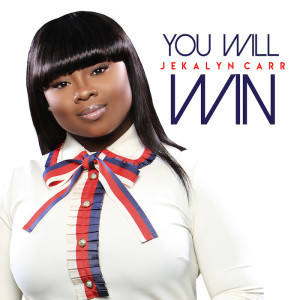 GRAMMY-NOMINATED RECORDING ARTIST JEKALYN CARR UNVEILS HER NEW WEBSITE YOUWILLWIN.ORG
BILLBOARD TOP 15 RADIO SINGLE "YOU WILL WIN" AVAILABLE NOW ON ITUNES AND GOOGLEPLAY
ATLANTA, GA (Monday, September 18, 2017) – – Stellar Award winning, GRAMMY and Billboard Music Award nominated and GMA Dove Award nominee Jekalyn Carr has unveiled her new website Youwillwin.org on the heels of releasing her Billboard Top 15 radio single "You Will Win," which is available now on iTunes and GooglePlay.
On the YouWillWin.org website, fans will be able to post various things and situations that they are winning over. The website will offer You Will Win paraphernalia and receive updates on the You Will Win movement and Jekalyn Carr.
Jekalyn Carr's incredible song, "You Will Win" is the first single off her forthcoming live record, One Nation, Under God set to be released January 2018 on her independently owned label Lunjeal Music Group along with her new book.
"You Will Win" is a bold statement of encouragement, and a prophetic declaration of victory over all things in God's name. "You Will Win" was written by Carr's father, Allen Carr, who's written her biggest records such as; "Greater Is Coming" and the Grammy and Billboard Music Award nominated hit song "You're Bigger." The father-daughter duo proves again to be an awesome joint force in uplifting God's name and His people.
The J Hardy Agency