EXCLUSIVE STREAM! LISTEN to New Album from Saxman NAJEE "Poetry In Motion" from Now til Aug. 27th!!
FOR A LIMITED TIME: STREAM THE ENTIRE NEW ALBUM "POETRY IN MOTION" BY SAXOPHONIST NAJEE – EXCLUSIVELY ON THEURBANMUSICSCENE.COM!!
Special Stream Ends August 27th! Album is Available for Pre-Order now on Amazon & iTunes.
Whats Happening Readers!
Cheers! Here's your chance to listen to the entire new album from contemporary/urban jazz saxophonist NAJEE entitled "Poetry In Motion" via Shanachie Entertainment! Hear the entire album from now until Aug. 27th, 2017! The new project will be released on Aug. 25th. The album feature special guests Incognito, Eric Roberson, Maysa, Blake Aaron, Bobby Lyle and Will Downing. TAKE A LISTEN BELOW!
Stream Expired.
What a way to celebrate one's 30th anniversary in the industry but with a personal thank you to two musicians that left their own impact with so many fans and peers. Of course, Najee is beyond the perfect candidate in extending homage to Prince and Al Jarreau, legends in their own right and whom performed alongside with the much respected saxophone/woodwind player in their careers. Poetry In Motion is Najee's fourth release for the thriving label, Shanachie Entertainment. The album is available for pre-order/purchase now on Amazon & iTunes.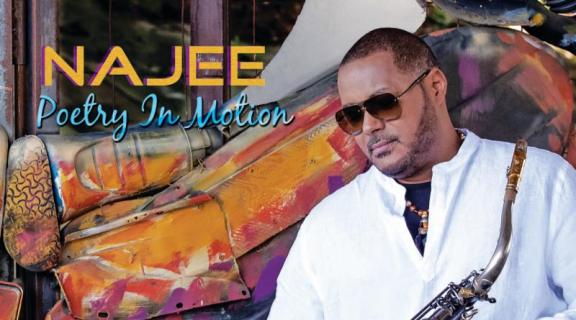 Connect with Najee:
Facebook: https://www.facebook.com/NajeeOfficial/
Twitter: @NajeeOfficial ‏
(Music Stream Used by Permission – Shanachie Entertainment)
The Urban Music Scene.com