Jazzmeia Horn's New Album "A Social Call" is Now #1 on JazzWeek Radio Chart | Adds New Tour Dates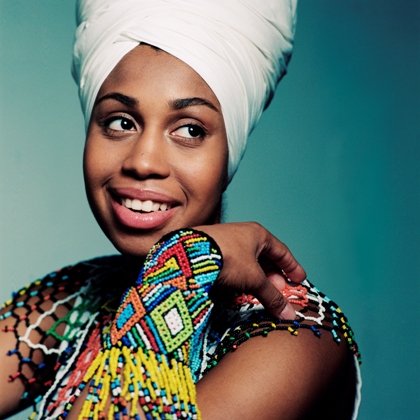 ACCLAIMED SINGER JAZZMEIA HORN'S
DEBUT ALBUM REACHES #1
Texas-Born Singer Adds New Tour Dates
For Immediate Release – Destined to be remembered as a 2017 breakout, acclaimed singer Jazzmeia Horn's debut album, A Social Call, has reached #1 on the JazzWeek Radio Chart.
A Social Call, released on May 12, 2017 via Prestige, a division of Concord Music Group, showcases Horn's astounding range and seamlessly blends the best of vintage with contemporary. The album's 10 tracks—performed with an all-star acoustic jazz lineup—bristle with a bracing sense of clarity that's already capturing the attention of critics across the country.
Check out album track "Tight" (see above) and read on to see new tour dates and what critics are saying.
Photo Credit: Jacob Blickenstaff
JAZZMEIA HORN ON TOUR:
6/9 – Side Door – Old Lyme, CT
6/17 – Pittsburgh Jazz Festival – Pittsburgh, PA
7/8, 9 – Django Reinhardt Jazz Festival – Birdland – New York, NY
7/13 – Cooper Hewitt Museum – New York, NY
7/14 – Yonkers Waterfront Series – Yonkers, NY
7/21 – South – Philadelphia, PA (with Orrin Evans Trio)
7/22 – South – Philadelphia, PA (with Orrin Evans Trio)
8/24 – Faena Theater – Miami Beach, FL
8/25 – Medgar Evars Jazz Festival- Brooklyn, NY
JAZZMEIA HORN ONLINE:
https://www.theartistryofjazzhorn.com/
https://www.facebook.com/TheArtistryofJazzHorn
https://www.instagram.com/theartistryofjazzhorn/
Twitter: @msjazzhorn
Concord Music Group