An Intimate And Inspiring Conversation with Music Mogul Mike Bivins | June 3rd, 2017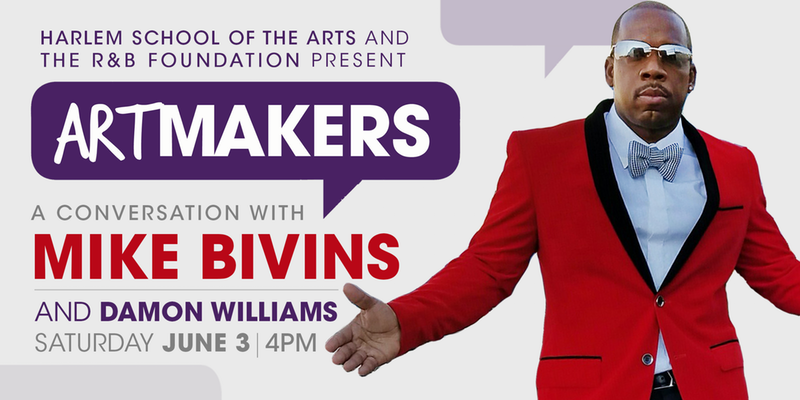 Harlem School Of The Arts And The R&B Foundation Present An Intimate And Inspiring Conversation With Entrepreneur And Music Mogul Mike Bivins
Part of the on-going ARTMakers series, featuring conversations with notable and emerging artists – June 3rd @ 4PM
NEW YORK – May 31, 2017 – PRLog — On June 3rd, in celebration of Black Music Month and the HSA Spring Music Festival, the Harlem School of the Arts, in association with The R&B Foundation, welcomes entrepreneur and music mogul Mike Bivins, for an intimate conversation about his life and multi-facetted career.
The event is part of HSA's on-going ARTMakers series, and will take place in the organization's Gallery space (645 St. Nicholas Avenue) at 4:00PM. The conversation will be moderated by Damon Williams, Chairman of The R&B Foundation.
Mike Bivins exploded onto the music scene in the 80s, as a member of the enormously successful group New Edition who came out of Boston's Orchard Park projects. He went on to become a founding member of the equally successful 90s group, Bell Biv DeVoe (BBD). These early experiences helped shape his entrepreneurial skills and his passion for talent management and producing. Today Mike is CEO of Sportyrich Enterprises, an apparels and entertainment company he launched in 2009.
Success in business has provided Mike a unique opportunity to give back to his Roxbury community in Boston, and he has made that a centerpiece of his business commitment and mission. This year he will sponsor membership to the YMCA for up to 700 kids from the local Roxbury area, to afford them the benefit and full range of opportunities offered through the Y.
His belief in paying it forward will, no doubt, be a key part of his conversation. Bivins is especially interested in the young people who are expected to fill the HSA Gallery, drawn there by the up-surge in interest since BET's airing of the three-part mini-series, "The New Edition Story." The bio-series, on which Mike Bivins served as co-executive producer, has become the network's highest-rated and most successful program.
Mike Bivins is using the power of his celebrity platform to positively influence the next generation of entertainers and business movers and shakers; that's why forums like the ARTMakers series are especially important to him.