The 2nd Annual DC Go-Go New Music Day on May 12th | Releases New Album "DC Go-Go New Music Vol. 1" in Memory of Chuck Brown
by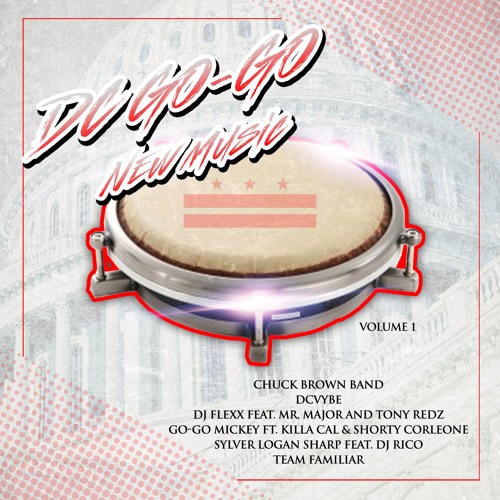 2nd ANNUAL DC GO-GO NEW MUSIC DAY IN WASHINGTON, DC
DROPS NEW GO-GO MUSIC ON FRIDAY MAY 12th, 2017
Remembering Chuck Brown by the Simultaneous Release of New Music by DC Go-Go Bands the Friday before May 16
While the crowds at live music shows in Go-Go continue to be strong, there has always been a lack of consistent studio recordings of original music in the genre outside of Chuck Brown. With the 5th anniversary of Chuck's loss approaching, what better way to honor the Godfather of Go-Go than have a day dedicated to the release of new recordings in the genre he created. Last year's inaugural DC Go-Go New Music Day saw the release of music by several DC bands and received major local press including print, morning TV shows and radio. One song from the grouping made it into rotation on radio here, and many received support in the form of mix play and DJ and fan support.
This year there will be a digital release of the music "DC Go-Go New Music Volume 1" which includes original new music by The Chuck Brown Band, DcVybe, DJ Flexx, Go-Go Mickey feat. Killa Cal & Shorty Corleone, Sylver Logan Sharp feat. DJ Rico and Team Familiar.
Additional 2017 information: Go-Go Music has been included in VH1-s The Breaks, Big Tony of Trouble Funk joined Dave Grohl at a televised special from the Kennedy Center celebrating the opening of the Smithsonian Museum of African American History and Culture (which includes a significant Chuck Brown display and nod to Go-Go), Backyard Band is scheduled to perform in West Africa in 2018, and Chuck Brown's Bustin' Loose is being sampled in an upcoming Netflix program and release.
Full Circle Entertainment