Sheila E Preparing Revolutionary All-Star Anthem Album Iconic | Coming Soon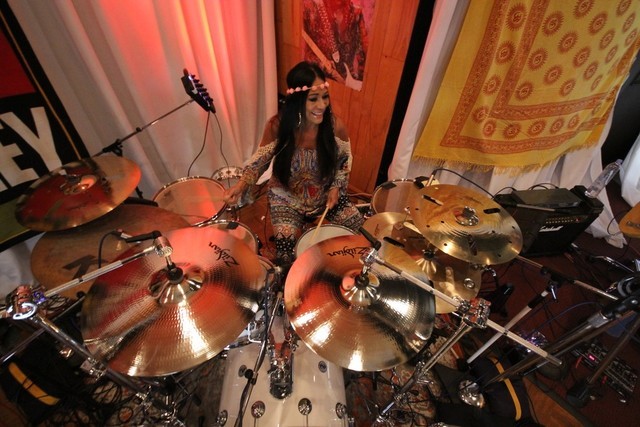 Sheila E Preparing Revolutionary All-Star Anthem Album Iconic
One month Left In Pledge Music Crowd Funding Campaign Underway
Sheila E is up to something, as always, feverishly working overtime preparing a new album for the summer chock full of guest stars, classic songs and surprises.
The project, titled Iconic and engaged in a Pledge Music crowd funding campaign at press time, promises electrifying revisions of some of the greatest anthems of revolution and protest in Soul and Rock. Titles revealed include the following:
A new version of the Prince & The Revolution anthem "America" featuring longtime Prince and the New Power Generation member Candy Dulfer on alto sax
A version of Stevie Wonder's 1973 Innvervisons classic "Jesus Children of America" featuring contemporary gospel king Israel Houghton
Beatles drummer Ringo Starr, with whom Sheila has toured several summers, guesting on a cover of the Fab Four classic, "Revolution"
A cover of Funkadelic's freak flag-waving "One Nation Under a Groove" featuring the Grandfather of Funk himself George Clinton
A remake of Sly & The Family Stone's "Everyday People" featuring Family Stone guitarist Freddie Stone.
Sheila's band includes her brothers Juan and Pete plus Eddie M on sax and former Bride of Funkenstein/Family Stone vocalist Lynn Mabry.
Other artists Sheila and company will be addressing range from Marvin Gaye and James Brown ("Super Bad") to Joan Baez.
To contribute to this creation and get a drum throne perspective of it all as it happens, go to pledgemusic.com/projects/sheilae and help "Sister Faith" make fortifying America unifying history in 2017. There's roughly a month left to go in the campaign which extends to the end of June.
The Urban Music Scene.com