Saxophonist Bobby Watson to Release New Album "Made in America" on April 21st, 2017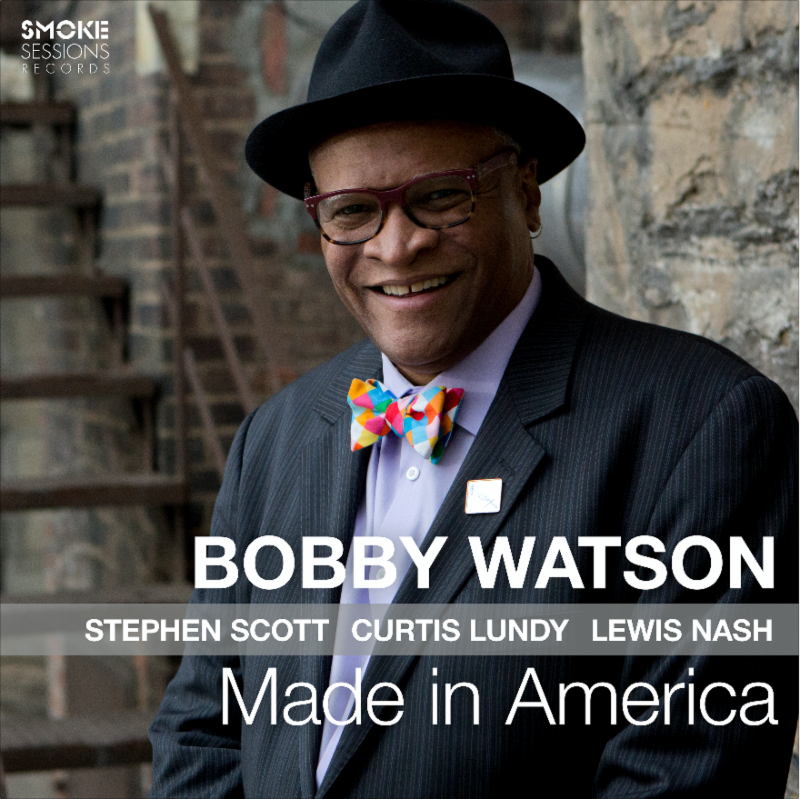 Saxophonist Bobby Watson Shines Light on
Vital but Largely Unappreciated Black Pioneers
on Made in America, Available April 21
via Smoke Sessions Records
Album Pays Tribute to Butterfly McQueen,
Madam C.J. Walker, Sammy Davis Jr., Wendell Pruitt,
Major Taylor, and Dr. Mark Dean, Among Others
Release Performances April 28 – 30 at Smoke Jazz & Supper Club
While Black History Month provides an annual reminder of the momentous contributions that African-Americans have made to the nation's history, 28 days out of 365 aren't nearly enough to compensate for the neglect those "hidden figures" (to borrow the title of a recent hit film) have suffered in classrooms and history books. On his latest album, Made in America, saxophonist and composer Bobby Watson does his part to call attention to some vital but largely unappreciated black pioneers in a variety of fields, from politics to pop culture, science to sports.
Made in America, due out April 21 from Smoke Sessions Records, offers a musical portrait gallery of nine influential African-Americans. Listeners may be familiar with some — surely everyone knows the name Sammy Davis, Jr., while Grant Green, Butterfly McQueen and Madam C.J. Walker will ring a bell with many — most of them remain obscure despite their history-making achievements.
"This project has been a history lesson for me," Watson says, "and I hope it will be a history lesson for the listeners."
To shed light on these overlooked giants of American history, Watson enlisted a few collaborators with whom he shares some significant history of his own. On Made in America the renowned saxophonist is joined by the Curtis Lundy Trio, featuring bassist Curtis Lundy, pianist Stephen Scott and drummer Lewis Nash. All four have tenures with the influential singer Betty Carter in common, while the album marks a welcome return to the scene for Scott, who has been largely silent for the last several years.
In a sense, Watson's enlistment of Lundy and the bassist's veteran trio expands the mission of the album itself, finding another too-undersung figure in Lundy himself. "I've known Curtis for over 40 years," Watson says. "He's a groove master, and he knows how to put a trio together. I thought it was only fair to give him the recognition that he deserves on this album."
The same impulse drove the concept of Made in America, the honorees of which were in most cases new to even Watson himself before he embarked on the project. "I've been studying black history for years," he explains, "and I would come across these great figures in history whom I'd never heard of. It set me on a path to find other black figures in history that weren't as big as George Washington Carver or Booker T. Washington, and to try to illuminate these folks."
"This is not your typical jazz record," Watson concludes. "I want to try, in the time I have left, to reflect the things that I'm learning about history, about America and about the world and the people that came before me, and hopefully connect that with some of our young people and older people, both black and white."
"Made in America" was produced by Paul Stache and Damon Smith and
recorded live in New York at Sear Sound's Studio A on a Neve 8038 custom console at 96KHz/24bit and mixed to 1/2″ analog tape using a Studer mastering deck.
Available in audiophile HD format.
Bobby Watson Album Releases Performances:
April 28 – 30 | Smoke Jazz Club | New York, NY
Bobby Watson · Made in America
Smoke Sessions Records · Release Date: April 21, 2017
For more information on Smoke Sessions Records,
please visit SmokeSessionsRecords.com
DL Media