Patti LaBelle, Common, JoJo, Jencarlos Canela & More Shine a Light on HIV/AIDS at 'Keep the Promise' Event | Nov. 30th, 2016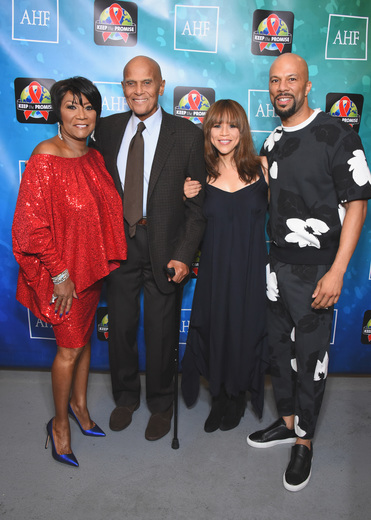 THE STARS COME OUT TO SHINE A LIGHT ON HIV/AIDS
AT AIDS HEALTHCARE FOUNDATION'S WORLD AIDS DAY EVENT
KEEP THE PROMISE
AHF Kicked Off Series of Worldwide Events Commemorating World AIDS Day with Keep the Promise
LOS ANGELES, CA (December 1, 2016) – On November 30th, AIDS Healthcare Foundation (AHF) began its World AIDS Day initiative, Around the Globe in a Day, with Keep the Promise in Los Angeles, CA. Keep the Promise, which welcomed thousands of people for a march down Hollywood Boulevard and a free concert at the Dolby Theater, was an advocacy effort created to continue to spread awareness about HIV and AIDS. Hosted by actress / choreographer, Rosie Perez, the concert was headlined by Patti LaBelle and also featured B Flow, Common, JoJo, Jencarlos Canela, and Espinoza Paz. In addition, AHF presented living legend Harry Belafonte with its Lifetime Achievement Award for his charitable work and activism all over the world at the event.
Today AHF continues its Around the Globe in a Day activities with free concerts and testing events in Cambodia, Mexico and other areas throughout the U.S., Africa, Latin America, the Caribbean, Eastern Europe and Asia.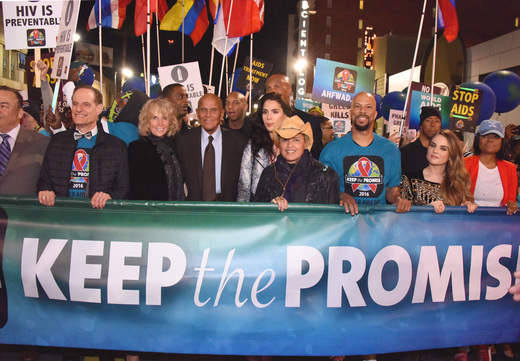 Speaking about last night's event, AHF's President, Michael Weinstein, says, "The voices of the world were heard last night in Hollywood, Mexico City and Phnom Penh.More than a thousand people marched in the streets. Some of the greatest artists of any generation came together on the same stage for one cause. An iconic artist, entertainer and activist was honored for his fearless advocacy as part of the global Keep the Promise campaign. As we observe World AIDS Day, the 1.1 million people who died of AIDS last year will be remembered. We will continue to fight for people's right to access lifesaving treatment, and to educate young people and others who may be at risk."
About AIDS Healthcare Foundation (AHF)
The Los Angeles-based AIDS Healthcare Foundation (AHF) is a global non-profit organization providing cutting-edge medicine and advocacy to more than 641,000 people in 37 countries. They are currently the largest provider of HIV / AIDS medical care in the U.S.
AHF funds its mission to rid the world of AIDS through a network of pharmacies, thrift stores, healthcare contracts and other strategic partnerships. Generating new, innovative ways of treatment, prevention and advocacy has been the hallmark of AHF's success. They are currently leading a mass testing initiative to identify and treat the 25 million people who are unaware they are infected.
By advocating big goals – such as having 1 billion people tested each year – AHF hopes to eliminate older, more time-consuming methods. Since 1987, AHF has cared for thousands of people living with HIV and AIDS worldwide. As they create and implement new programs in communities across the U.S. and abroad, they expand delivery of healthcare and influence over policy with the aim of saving more lives.
For more information on AHF, also visit www.aidshealth.org.
Photo Credit: Getty Images