Restored Recording of Dizzy Gillespie's "Concert of the Century – A Tribute to Charlie Parker" | Coming Nov. 11th, 2016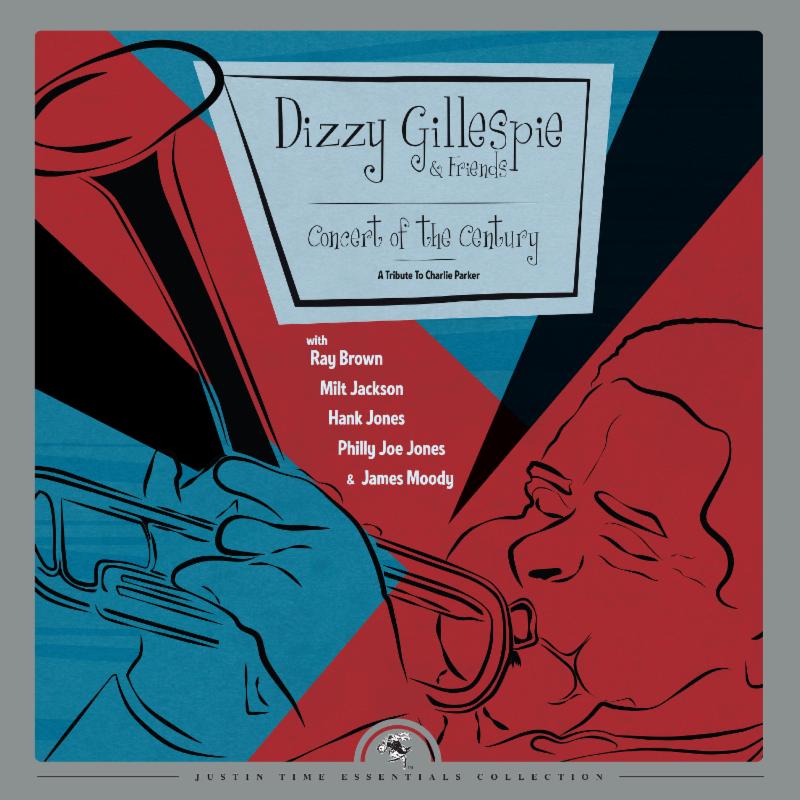 Justin Time Essentials Collection Announces Restored Recording of Dizzy Gillespie's Concert of the Century – A Tribute to Charlie Parker
Available Everywhere for the First Time – November 11, 2016
Album Features James Moody, Milt Jackson, Hank Jones, Ray Brown, and Philly Joe Jones
In 1980 on a cold November night in Montreal, two iconic landmarks of jazz history were channeled by a group of immortal musicians under the leadership of the incomparable Dizzy Gillespie for a thrilling concert entitled Concert of the Century — A Tribute to Charlie Parker. Along with Parker, Dizzy was a key participant in both of those events: the legendary Jazz at Massey Hall concert and the unforgettable Jazz at the Philharmonic (JATP) celebrations. For this concert, the peerless trumpeter helmed a spectacular sextet featuring his musical cohort of many years, tenor-man and flautist James Moody, the father of the modern jazz vibraphone Milt Jackson, and the impeccable rhythm section of Hank Jones, Ray Brown and Philly Joe Jones on piano, bass and drums respectively.
Assembled by the esteemed longtime Montreal concert producer Rouè Doudou Boicel, the group performed for 3000 exuberant fans at the Salle Wilfred Pelletier Hall of Place des Arts in Montreal, Quebec. Recorded in its entirety by Boicel, a very limited edition LP release appeared very briefly after the concert, but the tapes have lain dormant ever since — until now. Through the Justin Time Essentials Collection, this stunning performance is now available in three different formats — as a CD, HD digital (Mastered for iTunes), and a 180 gram deluxe gatefold 2 LP set.
Altogether, these six giants have brought their profound talents to more than a thousand of jazz' finest recordings — spanning more than half a century of jazz expression at its highest levels — and with more than 300 years of combined recognition at the upper levels of the jazz pantheon. From the first sounds echoed on this night, it was apparent that each of them was at the very top of their game, unified not only by their deep love and respect for Charlie "Bird" Parker, but in the pure joy and transcendent spirit of each others' company. The delight that each of the musicians shared in the experience is not only contained fully in the music, but also in the banter and repartee between the songs that further captivated the enthralled and loudly receptive audience.
Historically, the infectious spirit of the JATP shows is always in the air, and although the explosive cutting contests and battles that were so much a part of that format are not part of this event, the loving commitment to the music by the all-star lineup and the audience's palpable excitement is very similar. Focused substantially on songs associated with Bird, the repertoire is outstanding, and the musicians offer it up with the perfect brew of virtuosity, jubilance, passion, tastefulness and command within a synergy that is what this music is all about at its best.
Concert of the Century — A Tribute to Charlie Parker has been fully re-mastered for the finest audio quality and marks another sterling achievement in Justin Time's commitment to jazz in both its exciting present and its glorious history.
Track Listing:
1. Blue 'n' Boogie
2. If I Should Lose You
3. Darben the Redd Foxx
4. Time on my Hands
5. Get Happy
6. The Shadow of Your Smile
7. Bass Solo
8. Stardust
Dizzy Gillespie · Concert of the Century — A Tribute to Charlie Parker
Justin Time · Release Date: November 11, 2016
For more information on Justin Time, please visit: justin-time.com
DL Media