Chick Corea Adds Special Guests to Two-Month Birthday Celebration at The Blue Note | Starting Oct. 19th, 2016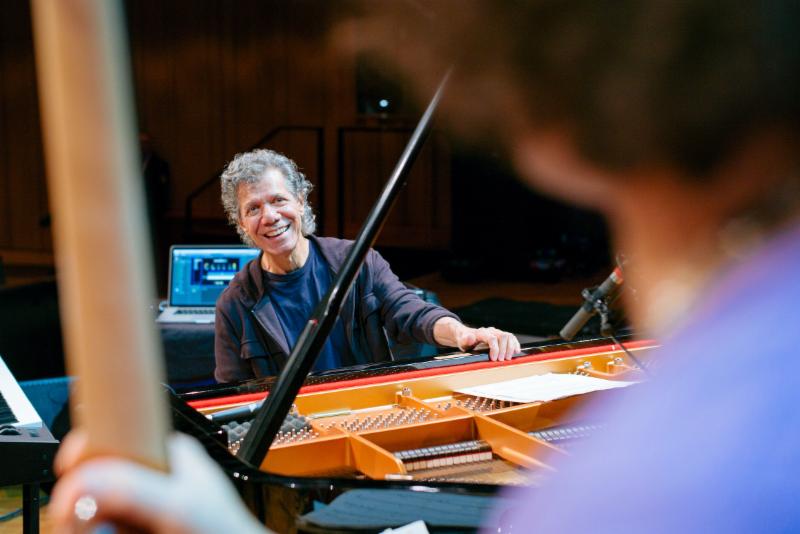 CHICK COREA
Adds Duets with Herbie Hancock, John McLaughlin,
Brad Mehldau & Gonzalo Rubalcaba
to Two-Month Birthday Celebration at The Blue Note
8 Consecutive Weeks, 80 Shows,
15 Legendary Bands, 60 Iconic Musicians
October 19 through December 11, 2016 in New York City
New York, NY – October 6, 2016 – Final lineup additions have been announced for Chick Corea's unprecedented two-month 75th Birthday Celebration at The Blue Note, which runs October 19 through December 11, 2016.
Lineup additions to the 80-show engagement, which will feature Corea leading 15 legendary bands comprised of 60 musical friends from over half a century, include the following:
Chick Corea Piano Duets: November 18-20
w/ Brad Mehldau (November 18)
w/ Herbie Hancock (November 19)
w/ Gonzalo Rubalcaba (November 20)
Chick Corea & John McLaughlin Duet: December 7
Tickets are now available to the general public and can be purchased at www.bluenotejazz.com or call 212-475-8592.
Additionally, genre-defying multi-instrumentalist and producer Taylor McFerrin and firebrand Cuban saxophonist Yosvany Terry have been added to the "Experiments in Electronica" project (November 9-10), in which Corea debuts his new, next-level take on electronica with drummer Marcus Gilmore.
The complete residency schedule can be found at the bottom of this press release.
Corea's first Blue Note birthday run, marking his 60th anniversary in the fall of 2001, was a cathartic two-week engagement for a city just beginning to heal following the 9/11 attacks. The run produced the GRAMMY®-winning album Rendezvous in New York. In November 2011, he returned to The Blue Note with a month-long 70th birthday residency featuring countless artistic giants. This year's 75th birthday celebration marks his most ambitious Blue Note residency ever.
Photo Credit: Aaron Meekcoms, courtesy of Chick Corea Productions
Chick Corea's 75th Birthday Celebration will feature two shows nightly, at 8pm and 10:30pm.
CHICK COREA
BIRTHDAY CELEBRATION AT THE BLUE NOTE
Complete Schedule
Wednesday – Sunday, October 19-23
THE CHICK COREA ELEKTRIC BAND
Chick Corea (keyboards), Eric Marienthal (saxes),
Frank Gamble (guitar), John Patitucci (bass), Dave Weckl (drums)
Wednesday – Sunday, October 26-30
FOR MILES
Chick Corea (keyboards), Kenny Garrett (saxes), Wallace Roney (trumpet),
Mike Stern (guitar), Marcus Miller (bass), Brian Blade (drums)
Wednesday – Thursday, November 2-3
THREE QUARTETS BAND
Chick Corea (piano), Steve Gadd (drums), Eddie Gomez (bass), Ben Solomon (sax)
Friday – Sunday, November 4-6
THE LEPRECHAUN BAND
Chick Corea (keyboards), Steve Gadd (drums), Gayle Moran Corea (vocals),
Steve Wilson (sax & flute), Michael Rodriguez (trumpet), Steve Davis (trombone),
Eddie Gomez (acoustic bass), TBA (electric bass)
Wednesday – Thursday, November 9-10
EXPERIMENTS IN ELECTRONICA
Chick Corea (keyboards + computers), Marcus Gilmore (drums), Taylor McFerrin
Friday – Sunday, November 11 – 13
CHICK'S FLAMENCO HEART
Chick Corea (keyboards), Jorge Pardo (sax & flute), Niño Josele (acoustic guitar), Carles Benevant (bass), Tom Brechtlein (drums), Luisito Quintero (percussion), Flamenco Dancer (TBA), Vocalist (TBA)
Wednesday – Thursday, November 16-17
THE CHICK COREA BIG BAND
Chick Corea (keyboards), Erlend Skomsvoll (arranger & conductor),
the Trondheim Jazz Orchestra – 13-Piece Big Band (8 horns, guitar, bass & drums)
Friday – Sunday, November 18-20
CHICK COREA PIANO DUETS
Friday, November 18: Chick Corea & Brad Mehldau
Saturday, November 19: Chick Corea & Herbie Hancock
Sunday, November 20: Chick Corea & Gonzalo Rubalcaba
Tuesday – Wednesday, November 22 & 23
CHICK COREA & GARY BURTON
with the Harlem String Quartet
Chick Corea (piano), Gary Burton (vibes),
Ilmar Gavilán (violin), Melissa White (violin),
Jaime Amador (viola), Felix Umansky (cello)
Friday – Sunday, November 25-27
ORIGIN II
Chick Corea (piano), Ravi Coltrane (sax),
Steve Wilson (sax & flute), Steve Davis (trombone),
Carlitos Del Puerto (bass), Marcus Gilmore (drums)
Wednesday – Sunday, November 30 – December 4
THE MUSIC OF RETURN TO FOREVER AND MORE (ACOUSTIC)
Chick Corea (keyboards), Ravi Coltrane (sax),
Hubert Laws (flute), Avishai Cohen (bass), Lenny White (drums)
Wednesday, December 7
CHICK COREA & JOHN McLAUGHLIN
DUET
Thursday – Sunday, December 8-11
THE MUSIC OF RETURN TO FOREVER AND MORE (ELECTRIC)
Chick Corea (keyboards), John McLaughlin (guitar),
Victor Wooten (bass), Lenny White (drums)