Drummer Nate Smith to Release New Album "KINFOLK: Postcards from Everywhere" on Feb. 3rd, 2017 | LISTEN!
by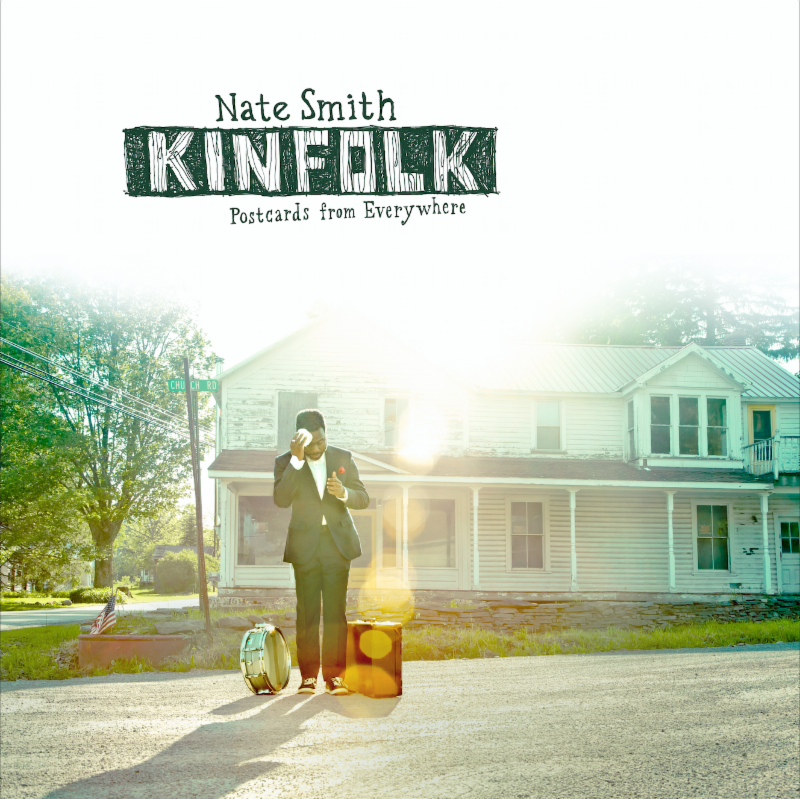 Drummer Nate Smith Chronicles His Own Black American Experience and Reality of the American Dream Through Deep-Rooted Grooves on Debut Album
KINFOLK: Postcards from Everywhere – Available February 3, 2017 on Ropeadope Records
Album Features Special Guests Chris Potter, Dave Holland, Lionel Loueke, Adam Rogers, and Gretchen Parlato
Nate Smith's visceral, instinctive, and deep-rooted style of drumming has already established him as a key piece in reinvigorating the international jazz scene, and now his rising career reaches a new benchmark with the release of his bandleader debut, KINFOLK: Postcards from Everywhere (February 3, 2017 via Ropeadope Records). Much like his diverse and ample résumé (which includes esteemed leading lights such as Dave Holland, Chris Potter, Ravi Coltrane, José James, Somi, and Patricia Barber, among others), this album sees Smith fusing his original modern jazz compositions with R&B, pop, and hip-hop.
This leader debut shows Smith at the helm of a core ensemble consisting of pianist and keyboardist Kris Bowers, guitarist Jeremy Most, alto and soprano saxophonist Jaleel Shaw, electric bassist Fima Ephron, and singer/lyricist Amma Whatt, with Michael Mayo on backing vocals. The lineup expands on several cuts with the inclusion of several illustrious guests: saxophonist Chris Potter, bassist Dave Holland, guitarists Lionel Loueke and Adam Rogers, and vocalist Gretchen Parlato.
Because Smith didn't come strictly from the formal matriculation of music studies as so many of his jazz contemporaries did, he lovingly describes his approach to drumming as "unrefined," which in turns helps him distinguish his voice. He did, however, earned his bachelor's degree in 1997 in media arts and design from James Madison University. While he was still in college, the legendary singer Betty Carter recruited him for her world-acclaimed Jazz Ahead program.
Smith says that the visual arts discipline he studied in college definitely seeps into his compositions. "I love great movies and images. I've always had a deep interest in composing for film," Smith says. "For this project, there is something very cinematic about the way that I conceived this record. That's why it was so important for me to cast the right characters in terms of musicians. They bring to life the themes of family, nostalgia and identity that define this music." Ultimately, Smith likens the songs on KINFOLK to film vignettes sequenced together to tell a greater story about the unfolding journey of a working artist. This music represents snapshots from that voyage – these songs are the postcards from everywhere along the winding road.
Nate Smith · KINFOLK: Postcards from Everywhere
Ropeadope Records · Release Date: February 3, 2017
For more information on Nate Smith, please visit: NateSmithMusic.com
For more information on Ropeadope, please visit: Ropeadope.com
DL Media