Music Legend Joe Simon Releases New Documentary, Book and Single with The Temptations
by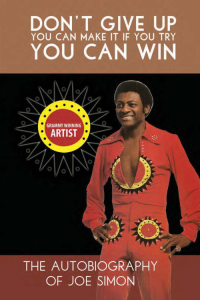 Singer Joe Simon Reflects On An Extraordinary Career With The Documentary "Looking Back."
The last of the great male soul voices returns with a new documentary, a book and single with the Temptations
NEW YORK – Sept. 13, 2016 – PRLog — New York: Joe Simon one of R&B's most successful male vocalists is seeing a career renaissance which started this summer as the recipient of the Phillies, Gamble & Huff Community Partnership Award presented at Citizens Bank Park. The renewed interest in Simon's career resulted in Looking Back with Joe Simon, a 30 minute documentary on the singer's rise from the Louisiana cotton fields to sleeping in a chicken coop for two years to his assault on the R&B charts, resulting in 38 Top 40 singles, 13 Top 10's, and 3 #1 hits including a Grammy Award for Best Male R&B Vocal Performance for "The Chokin' Kind." In addition, Simon wrote, produced and performed the theme to the 1973 Warner Brothers blockbuster, Cleopatra Jones which sold over 500,000 copies.
His songs have been sampled by some of hip hop's biggest artists including OutKast who sampled "Before The Night Is Over," on their hit "So Fresh So Clean" and 50 Cent's remix of Lil' Kim's "Magic Stick," which included a sample of Simon's "It Be's That Way Sometimes." The streaming of his songs on both Spotify and Pandora have experienced explosive growth in the past few months.
In the new documentary, Simon reminisces about his career, the decision to give Michael Jackson and The Jackson Five a chance to open for him and play The Apollo for the first time and why he turned down the chance to manage and record the group. He also talks about his friendship with Otis Redding (Simon was a pallbearer at his funeral), B.B. King and how Sly Stone and Larry Graham ended up being on his breakout single, "My Adorable One,"a song that established "The Joe Simon Sound." But his most interesting revelation is how he really felt about R&B music and the night in front of an audience of 10,000 fans in New Orleans, Louisiana he walked away from it all.
In conjunction with the documentary, Simon is re-releasing his autobiography, Don't Give Up, You Can Make It If You Try, You Can Win. Of the book, noted R&B historian Bill Dahl called it "a fascinating saga that chronicles the rise to fame of a young man from rural Louisiana with a wonderful voice, and his eventual realization that there was more to life than being a soul luminary."
Joe Simon will be adding to his illustrious discography with a new single "Time To Change," which he wrote and produced and featuring a historic pairing with The Temptations. The new single will be serviced to radio stations across the country.
For more info visit www.facebook.com/joesimonfanclub. www.twitter.com/therealjoesimon,http://joesimonministries.com