WATCH NEW VIDEO! Hit Group Bell Biv DeVoe Returns with New Single "Run"
by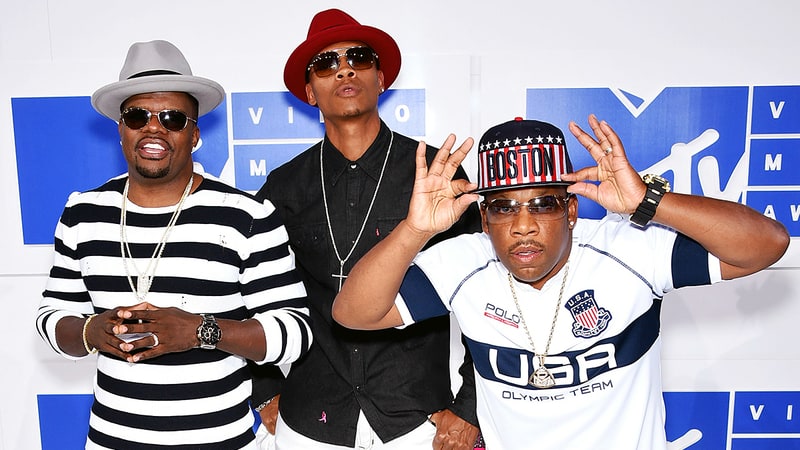 BBD Returns To Show Youngins How It's Done with Single/Video "Run"
Boston boys Bell Biv DeVoe (a.k.a. BBD), the renegade underdog trio spin-off of R&B vocal group New Edition, make a strong bid for a comeback this week with the single/video "Run." Though the single – produced by Erick Sermon of `80s Hip Hop duo EPMD – has been floating around since July, the debut of the video (directed by Lionel C. Martin who helmed BBD's runaway smash first single from 1990, "Poison") has gone viral on the internet. The reunion kicks off a tsunami of activity for the group that will be dropping its first album in 15 years come January 27, 2017 with the curiously titled Three Stripes =, as well as a 3-part miniseries biopic "The New Edition Story" in the first quarter.
In the clip, the fellas mash out in a tricked out jeep (an erotic reference point for many a `90s rap classic) to recording session and candlelit party where all the hotties are wearing t-shirts and cut-offs branded with the words BBD RUN in the style of the of classic Run-DMC logo. The song is a "sucker for love" relationship blues about a gold-digger who gladly scoops up the expensive gifts but plays her man with limited time and affection. The "you run-run-run" hook is a lift from girl group The Crystals' 1963 hit "Da Doo Ron Ron" while cut-in elements of Sermon's track stem from trumpeter Herb Alpert's 1979 international club instrumental "Rise" which was legendarily sampled by Puff Daddy in 1997 for rapper The Notorious B.I.G.'s "Hypnotize" (the last hit "Biggie" enjoyed in his lifetime before his brutal murder). Ricky Bell sings lead with smooth hype and a mid-song rap by Michael Bivins and Ronnie DeVoe. The musical pastiche history lesson is an updated example of the BBD sound which the group described back in the day as "Hip Hop smoothed out on the R&B tip with a Pop feel-appeal to it."
It's a welcome return for Bell Biv DeVoe who defied all naysayers in 1990 when the three non-lead singing members of New Edition (the stars were Bobby Brown, Ralph Tresvant and, later, Brown's replacement, young veteran Johnny Gill) banded together in the era of "Arsenio" and dropped an urban street classic with their quadruple-platinum selling LP, Poison, shocking all by spawning five smash singles/videos: "Poison," "BBD (I Thought It Was Me)," "Do Me!," "When Will I See You Smile Again" and "Dope!" Infamously, both subsequent albums Hootie Mack (1993) and BBD (2001) were disastrous flops.
With the release of "Run," Bell Biv DeVoe (also recently featured in another well received reunion with Ralph Tresvant backing Johnny Gill on the 2015 Urban Adult Contemporary hit "This One's For Me and You") can smack it up, flip it and rub down the world of R&B Hip Hop once again.
Photo Credit: Dimitrios Kambouris/WireImage
A. Scott Galloway
Music Editor
The Urban Music Scene
September 13, 2016