Jazz Legend Joe Lovano Is Set to Release His 25th Blue Note Album "Classic: Live At Newport" on July 29th, 2016
by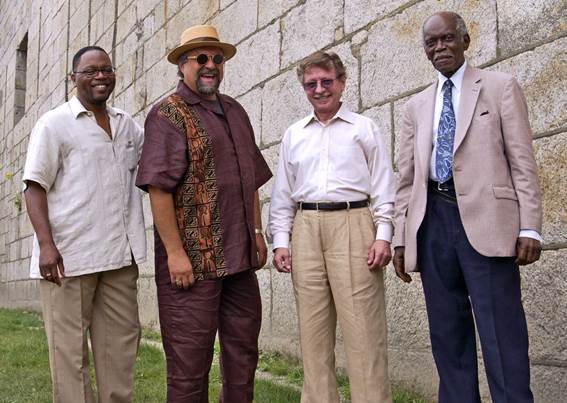 Photo by John Abbott | Newport, Rhode Island | August 14, 2005 | [L-R] Lewis Nash, Joe Lovano, George Mraz, Hank Jones
JOE LOVANO SET TO RELEASE HIS 25th BLUE NOTE ALBUM ON JULY 29
"CLASSIC: LIVE AT NEWPORT" – RECORDED AT THE FESTIVAL IN 2005
FEATURING HANK JONES, GEORGE MRAZ & LEWIS NASH
Photo by John Abbott | Newport, Rhode Island | August 14, 2005 | [L-R] Lewis Nash, Joe Lovano, George Mraz, Hank Jones
On July 29, Joe Lovano will add the 25th album to his remarkable Blue Note catalog with the release of Classic: Live At Newport, which the Grammy-winning saxophonist has dedicated to the memory of both the legendary pianist Hank Jones and longtime Blue Note president Bruce Lundvall. Recorded on August 14, 2005 at the Newport Jazz Festival, the album captures the Joe Lovano Quartet featuring a then 87-year-old Jones, as well as bassist George Mraz, and drummer Lewis Nash.
Classic: Live At Newport will be released on the eve of the 2016 Newport Jazz Festival at which Lovano will be performing with guitarist John Scofield, reuniting another quartet that made a series of memorable Blue Note albums in the early 1990s. Next month Lovano will also be reprising his acclaimed 1995 double album Quartets: Live At The Village Vanguard with another two week stand at the famed New York City club. Lovano will be appearing at the Vanguard with pianist Kenny Werner, bassist John Patitucci, and drummer Andrew Cyrille from July 5-10, followed by a week with trumpeter Tom Harrell, bassist Anthony Cox, and drummer Billy Hart from July 12-17. Quartets: Live At The Village Vanguard has recently been reissued on vinyl as part of the Blue Note Records 75th Anniversary Vinyl Reissue Series.
* * *
Lovano first assembled his quartet with Jones, Mraz and drummer Paul Motian for the stunning 2004 ballads album I'm All For You. The album was so well received that the quartet returned to the studio to record the album Joyous Encounter, which was released in May 2005. That summer Lovano took his working quartet (which replaced Motian with Nash on drums) on a European tour during which the band developed an even deeper rapport before returning to the U.S. to perform at Newport. "With Lewis the music took on a much more hard-hitting approach and I felt a need to record us live at Newport, even though I knew it couldn't be released at the time," explains Lovano.
"This was truly my Classic Quartet in every sense of the term," Lovano says. "Hank Jones was clearly one of the modern jazz geniuses of all time and he elevated us all with his imagination and inspiration. His accompaniment and solos were full of love, poetry and searching; he made you feel so good all the time. I played with Hank from when he was in his early 80's through his 90th year and liked to say he was always fresh as a daisy. I treasured our friendship and collaborations and learned so much from him. His wisdom and knowledge about music and life, his humor, wit, passion and love will always inspire and be with me."
Classic: Live At Newport captures the quartet's entire 6-song set, which opened with the swaggering Lovano blues "Big Ben" and featured songs drawn from the band's studio albums including 2 songs written by Hank's brother Thad Jones ("Don't Ever Leave Me" and "Kids Are Pretty People") before closing with a rollicking performance of Oliver Nelson's "Six and Four" to wild applause.
Lovano and Jones continued their fruitful collaboration with the 2007 duo album Kids: Live at Dizzy's Club. Jones passed away in 2010 at the age of 91.
The track listing for Classic: Live At Newport is as follows:
1. Big Ben (Joe Lovano)
2. Bird's Eye View (Joe Lovano)
3. Don't Ever Leave Me (Thad Jones)
4. I'm All For You (Joe Lovano)
5. Kids Are Pretty People (Thad Jones)
6. Six and Four (Oliver Nelson)
Blue Note Records