Saxophonist Chico Freeman to Release New Album "Spoken Into Existence" on May 13th, 2016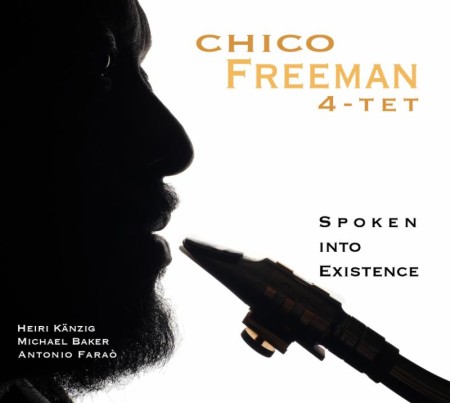 Celebrated Saxophonist Chico Freeman
Makes Auspicious Homecoming with New Album,
Spoken Into Existence – Available May 13 via Jive Music
Dizzy's Club Coca Cola Performance on May 19 Introduces
New Band: The Chico Freeman Plus+tet Featuring Orrin Evans, Kenny Davis, Nasheet Waits and Reto Weber
After living and working in Europe for the last decade, innovative saxophonist Chico Freeman makes his long-awaited return to the United States in May. Marking this auspicious homecoming, the creative and trailblazing artist will celebrate with the domestic release of his tour-de-force album Spoken Into Existence (Jive Music, May 13, 2016). Freeman's stateside return offers more cause for celebration, as he introduces audiences to his new ensemble: The Chico Freeman Plus+tet featuring pianist Orrin Evans, bassist Kenny Davis, drummer Nasheet Waits and percussionist Reto Weber with performances at Dizzy's Club Coca Cola on May 19.
In the early 2000s, with dozens of recordings as a leader, Freeman moved from New York to Europe to start a new chapter of exploration by focusing on his own self-improvement and self-reflection. His thirst to immerse himself in his music, his curiosity to explore working with different musicians and living in different cultures while challenging himself to be better than he was, has all prepared Freeman for this new stateside chapter of his life.
With the U.S. release of his stunning album Spoken Into Existence, he is joined on the 13-piece program by his international quartet he's worked with regularly since 2013 (Italian pianist Antonio Faraò, Swiss bassist Heiri Känzig, and American drummer Michael Baker). Freeman serves notice that he is still a force to be reckoned with by addressing a cohort of rich melodies framed within a diverse array of styles (hip hop, funk, bebop, post-bop, the blues, melodies conjured from African and Asian scales) and renders them on tenor and soprano saxophones with keen intention, authoritative execution, and tonal control that transforms his metal instruments into analogue for the human voice.
For all of the technical authority on display throughout this recording, Freeman maintains that he operates by a deeply held conviction that "to express the truth of who you are at the moment you're playing" is of paramount value. "I was in Cuba with Dizzy Gillespie when he answered a journalist's question, 'What is Jazz?' with 'the search for truth.'" Freeman elaborates, "First comes expression, and when you find yourself in need of being able to express more, you develop the technique in order to accomplish that objective." For Freeman, Spoken Into Existence manifests in notes and tones the meaning of Michael Jordan's dictum, "You have to see it to be it" (or, as Freeman puts it, that "you can manifest what you want to achieve or materialize it if you can see it clearly") and the aphorism, "words are things."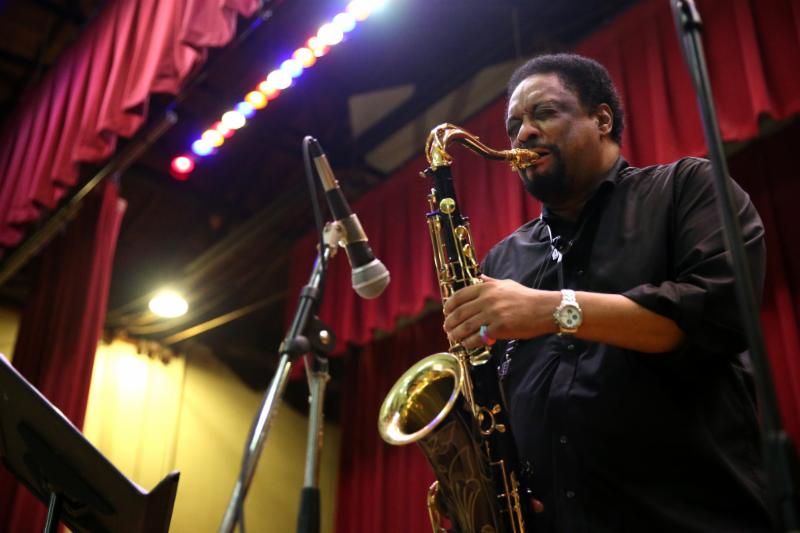 About Chico Freeman:
Freeman has a history of collaborating with such diverse talents as–to name a short list–Wynton Marsalis, Bobby Hutcherson, John Hicks, Muhal Richard Abrams, Arthur Blythe, Kenny Barron, George Cables, Cecil McBee, Branford Marsalis, Billy Hart and Hilton Ruiz. Freeman's discography of more than 30 albums as a leader, also includes seven sessions with the Freeman-organized all-star collectives the Leaders and Roots, six co-led dates with his father Von Freeman and featured sideman appearances in bands led by iconic figures like McCoy Tyner, Jack DeJohnette, Sam Rivers, Don Pullen, and Elvin Jones.
Freeman internalized the ethos of presenting original materials as an active member of Chicago's Association For The Advancement of Creative Musicians, which he joined soon after deciding to switch his major at Northwestern University from mathematics to music. Between 1969 and 1975, he played frequently with AACM members Muhal Richard Abrams, Henry Threadgill, Steve McCall, Fred Anderson and Phil Cohran, and in various local blues, funk, fusion and R&B bands, including the horn section of Earth, Wind and Fire. While he was dubbed a "young lion" three decades ago for his participation on the 1982 recording with other stars-to-be Wynton Marsalis, Kevin Eubanks, Paquito D'Rivera, Bobby McFerrin and Anthony Davis, Freeman now merits being called a "master on his instrument."
Pre-order Spoken Into Existence:
iTunes: apple.co/1OJyUaN
Amazon: amzn.to/1RUXmWW
Upcoming Chico Freeman Performances:
May 14 / South Jersey Jazz Festival / Sandi Point, NJ
May 19 / Dizzy's Club Coca Cola / New York, NY
May 20 – 21 / Green Mill / Chicago, IL
August 12 / Jimmy Mak's / Portland, OR
August 13 / San Jose Jazz Festival / San Jose, CA
Chico Freeman – "Niskayuna"
Chico Freeman · Spoken Into Existence
Jive Music · Release Date: May 13, 2016
For more information on Chico Freeman, please visit: ChicoFreeman.com
For more information on Jive Music, please visit: JiveMusic.at
DL Media