Urban Gospel Group LIVRE' Release New Music Video "God Rest Ye Merry Gentlemen" | From Christmas Compilation "A Classic Holiday"
by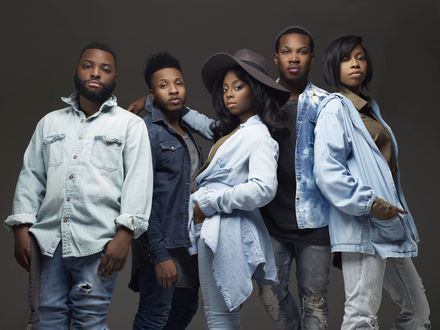 Gospel Music's Rising Urban Inspirational Group LIVRE' Brings Soul And Cheer With New Holiday Video "GOD REST YE MERRY GENTLEMEN"
LIVRE's Christmas Single Highlighted On Star-Studded Holiday Compilation Featuring Alicia Keys, Brandy, Tyrese, Justine Skye, Gabi Wilson, Elle Varner, SWV's Coko And More
New York, NY — Gospel music's Urban Inspirational quintet LIVRE' (pronounced liv-RAY) release the official video for their modernized rendition of "God Rest Ye Merry Gentlemen," a featured track on the star-studded compilation, A Classic Holiday… Presented by MBK.
Comprised of Ajanee Hambrick, Ariel Malloy, Malik Spence, Kenneth Williams and Roger Tolbert, the New York-based group is already earning accolades with their stand-out holiday track that's reminiscent of a soulfully enriched Pentatonix.
Crowned the next generation of urban inspirational singers, LIVRE' had three Top 20 singles on Billboard's Gospel Radio Chart: "I Will Be Alright," "Amazing" and their most recent release "Everything's Coming Up Jesus." The talented vocalists are preparing their debut album JERICHO: TRIBE OF JOSHUA slated for release in Spring 2016.
A Classic Holiday… offers a range of contemporary R&B pop, traditional soul, gospel and jazz-infused songs from super-stars: Alicia Keys, Tyrese and Brandy; talented singers: Coko (of SWV), Gabi Wilson, Elle Varner, B. Slade (formerly known as Tonex), Justine Skye; Anaysha, who came to prominence as of one of Kirk Franklin's lead singers; and emerging artists Daisha and Alex Harris, who is already drawing comparisons to Sam Cook with his retro-vocal styling's. The Huffington Post has declared that the new classic set "is the new holiday album of the year."
LIVRE' will be promoting the Christmas project and their single by making special appearances on Good Day New York (Airing 12/22) and performing live at the Woodbridge Center Mall, NJ (12/11) and at Macy's Atlanta Lenox Mall (12/12).
Additionally, artists from the album have been covering media outlets locally and nationwide including Brandy on the TODAY Show (12/3) and The Chew (airing 12/15), and Alex Harris performing on WFLA's DAYTIME morning show (airing 12/7). On December 15th, many of the artists from the compilation will perform at a holiday concert/party at B.B. Kings in NY including B. Slade, Gabi Wilson, Justine Skye, Bridget Kelly, LIVRE', Alex and surprise guests.
The Bellamy Group