Brian Andres & Afro-Cuban Jazz Cartel to Release 3rd Album "This Could Be That" on Jan. 15th, 2016
by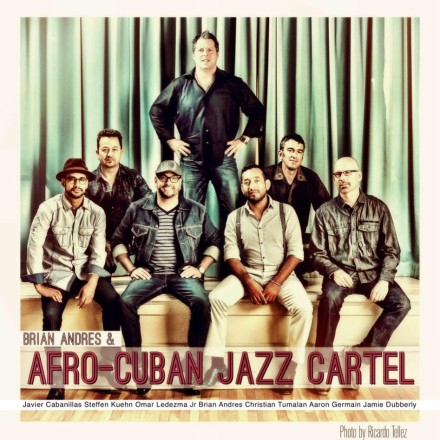 Afro-Cuban Jazz Cartel's third album "This Could Be That" is Available NOW on Amazon.
San Francisco's popular Afro-Cuban Jazz Cartel, led by drummer Brian Andres, has completed their third album, "This Could Be That, " with the majority of sessions recorded at Studio Trilogy with engineer Willie Samuels.
The album is the Afro-Cuban Jazz Cartel's third recording, scheduled for a January 15th, 2016 release. A continuation of the hard hitting, modern Latin Jazz sound they've become known for, it features special guests Alex Acuna, Venissa Santi, John Santos, Louie Romero, Michael Spiro, Calixto Oviedo, Jesus Florido and Brian's father, Mike Andres.

Click Pic Above to Pre-Order from Amazon!
"Studio Trilogy was recommended to me by producer Greg Landau, " explains bandleader Brian Andres. "He felt that I would benefit from more 'air' in this new album and thought recording live as much as possible would be best, as would having the right room sound. Thankfully, Studio Trilogy met all of those needs. From the initial communication with studio manager Cindy McSherry, to the actual lay out of the studio and its amenities, to the exceptional engineering by Willie Samuels and his crew, the experience was awesome."
The San Francisco Bay Area is renowned as an historic hotbed for Latin Jazz artists. From Cal Tjader to Armando Peraza, John Santos to Wayne Wallace, the Latin jazz tradition has thrived in the Bay Area, and it is from this tradition that The Afro-Cuban Jazz Cartel emerged. Lead by drummer Brian Andres, the group was formed to contribute its own mark to that storied history.
Featuring Grammy Award-winning musicians, as well as popular music educators, the ACJC repertoire consists of original compositions as well as dynamic original arrangements of classics from Cuba, Puerto Rico, Mexico and the United States. The group presents both dance and concert performances, as well as educational presentations such as lectures, workshops and instruction focused on the musical instrumentation, composition and arranging of the rich Afro-Cuban genre.
Released in 2007, the ACJC's first album, "Drummer's Speak, " established the solid reputation of the group. In 2013, the ACJC released its second recording, "San Francisco." Focusing on the composing, arranging and performing talent of the SF Bay Area Latin Jazz scene, the recording debuted on the CMJ Jazz Top 40 at number 39. Eventually climbing to number 23, it was met with critical acclaim while staying on the CDBaby Best Selling list for 4 months.
ABOUT STUDIO TRILOGY
Located in the creative heart of San Francisco, Studio Trilogy is a full-service recording facility that provides music recording and audio post-production services in a World Class recording environment. Designed by John Storyk of WSDG, Trilogy's 8800 square foot facility houses three state-of-the-art control rooms, music and voice recording studios, multiple lounges, and a lush garden/bbq area. An on-site 1200 sq.ft. luxury apartment with media lounge and chef's kitchen is also available.
Facebook: https://www.facebook.com/Brian-Andres-and-the-Afro-Cuban-Jazz-Cartel-139165689479323/
Source: Nestor