Saxophonist Grace Kelly to Release New Album "Trying To Figure It Out" on Feb. 19th, 2016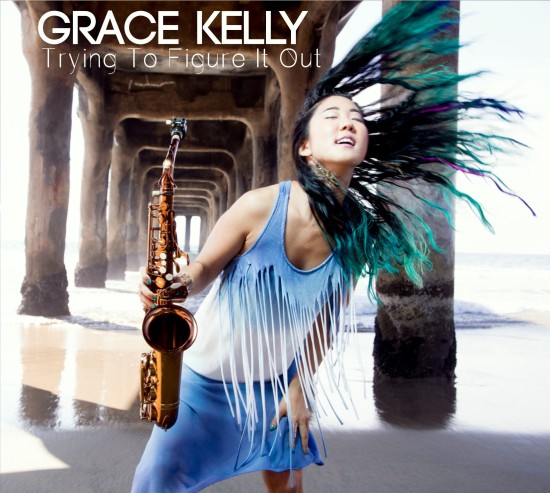 CRITICALLY-ACCLAIMED JAZZ ARTIST GRACE KELLY SET TO RELEASE "TRYING TO FIGURE IT OUT" FEBRUARY 19TH
CD Features Track From Upcoming "BOSCH" Television Series As Well As Frank Morgan Bio Pic "Sound Of Redemption"; Guest Artists Include Jonathan Batiste And Snarky Puppy's Michael League
Los Angeles, California – Saxophonist extraordinaire, vocalist and composer Grace Kelly will release her new CD, "Trying To Figure It Out," on February 19th. Although steeped in Jazz, the CD marks an adventure in sound for this 23-year old, exploring the world of Jazz & Beyond that takes the listener on a thought provoking and engaging musical journey. Starting from acoustic jazz and cinematic compositions driven by mood and sound effects, the album then moves to a genre-bending sound with contemporary production, groove, and songwriting – always mixed with improvisation. This new project reflects her evolutionary development as a musician and extraordinary range as a composer, arranger, songwriter, and bandleader expressing her vision for Jazz & Beyond. The release of "Trying To Figure It Out" will be accompanied by tour dates both domestically and internationally.
The release of "Trying To Figure It Out" will tie-in to the early 2016 premiere of the second season of the much-loved detective series "BOSCH" (based on the NY Times best-selling book series written by Michael Connelly, and the most watched series on Amazon Prime in 2015.) The opening track "Blues For Harry Bosch" was written for the Emmy nominated series in which Kelly will appear as herself; the jazz loving title character, an L.A. homicide detective, stops into Catalina Jazz Club in Hollywood to see her perform during the show's second season. Said Bosch author Michael Connelly, "When I hear Grace Kelly play I get inspired. Her music is infused with a relentless rhythm and energy – qualities I want in my own life. This album is a tour de force of her talent as composer, musician and bandleader and should be a mainstay in today's jazz scene." Another track on the CD is a remix of "Blues For Harry Bosch" that was produced by uber-popular spin-master, producer and Jazz/Electronica musician Mocean Worker.
Among the many artists and players guesting on the new 13-track CD are Snarky Puppy's Michael League ("He Shot A Man," "Magic") and The Late Show With Stephen Colbert's Musical Director and Band Leader, Jon Batiste. Batiste is featured on "Lemons Make Lemonade," which he recorded in one take in his dressing room following a taping of Colbert.
"Somewhere Over The Rainbow," another track on the CD, is featured in "Sound Of Redemption," the long-awaited bio pic about the late great alto saxophonist Frank Morgan with a tumultuous past. He spent three decades in and out of California's San Quentin Prison and was a mentor to Grace during the last few years of his life. In 2012 Grace performed at a Frank Morgan tribute concert at San Quentin as part of an all-star band featuring Ron Carter, Delfayo Marsalis, Mark Gross, Smitty Smith and George Cables. The experience inspired another track on the CD, "He Shot A Man," which Grace wrote after conversations with various inmates at San Quentin. "Sound Of Redemption" will premiere at IFC in New York City on December 2nd.
Highlights About Grace Kelly
Grace Kelly grew-up in household that loved and appreciated all genres of music and was inspired to play the saxophone at age 10 after hearing recordings by the great sax player Stan Getz. She recorded her first CD at age 12, and at 15 was invited to perform her composition "Every Road I Walked" with Keith Lockhart and the Boston Pops Orchestra. For the occasion she wrote her first full orchestral arrangement, adapting the ASCAP Foundation award-winning piece. She has gone on to perform over 600 concerts in 28 countries around the globe including such prestigious festivals and clubs as Newport Jazz, Montreal Jazz, Montreux Jazz, The Hollywood Bowl, Rose Hall at JALC, The Kennedy Center, Carnegie Hall, Boston Symphony Hall, Birdland, Bluenote, Ronnie Scotts, Paris' Duc des Lombard and more.
Grace has performed and/or recorded with Harry Connick Jr, Jamie Cullum, Lee Konitz, Phil Woods, Dave Brubeck, David Sanborn, Marcus Miller, James Cotton, Huey Lewis & The News, J Geils, Questlove, Esperanza Spalding, Jon Batiste and alongside Wynton Marsalis for the Obama Inauguration Pre-celebration Concert at the Kennedy Center – hosted by Marsalis and Sandra Day O'Conner. After performing with Wynton and the Jazz At Lincoln Jazz Orchestra in November, 2008 for 3 nights, Wynton requested Grace to perform with Dave Brubeck at the evening before the inauguration.
Grace was named Glamour Magazine's Top Ten College Women 2011/ 54th annual competition winner, has been named seven times ( 2009 – 2015 ) in the Downbeat Critics Poll as one of the Alto saxophone "Rising Stars" (youngest ever named to critics poll), was the subject of CNN.com's "Making Of A Prodigy", and is a five-time recipient of the ASCAP Foundation's Young Jazz Composers Award, amongst many other awards.
As an educator, Grace has taught workshops at her Alma Mater, the Berklee School Of Music, since 2012, and has also been active in numerous Jazz clinics at universities and festival-sponsored educational outreach events. Grace was part of the US State Department's International Speakers Tour as an "ambassador of jazz" to the people of Madagascar and Comoros Island, and also participated in outreach at a women and children's shelter (Rebecca's Well) in Soweto, South Africa.
Muse Media