NEW JAZZ RELEASE: Jason Miles & Ingrid Jensen | "Kind of New" (Available NOW)
by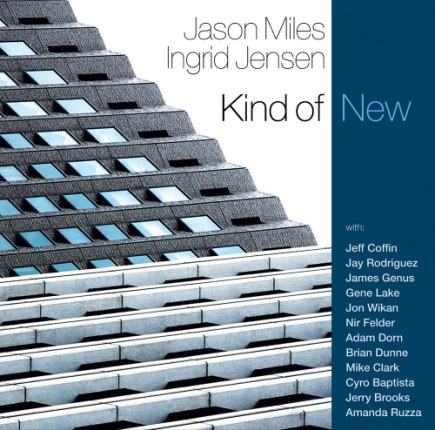 Jason Miles & Ingrid Jensen-Kind of New
Still Available
The Heart of The Groove
You don't hear fresh grooves and melodies much these days on the contemporary jazz scene, a vibrant culture that had its roots in the 1970's, with such artists as Miles Davis, Weather Report and The Crusaders and was also exemplified by the output of such labels as CTI Records. This seems a shame. Because in the hands of the right musicians, those vintage grooves, that driving beat and electric tempo can really soar. It makes you wonder why we haven't heard much from that musical neighborhood in some time.
Thankfully, this groove runs through the very heart of Kind of New, the debut collaboration featuring Jason Miles and Ingrid Jensen, out now on Whaling City Sound. You can feel the vibe from its very first notes.
Renowned producer, keyboardist and conceptualist Jason Miles' first-hand intimate experience working with Miles Davis informs this new collaboration, and indeed its title is a wink at the master from whom he learned so much. Initially hired for his mastery of synthesizer programming, Jason became an integral part of the groundbreaking 1986 album Tutu and its two follow-ups, Amandla and Music From Siesta. The Brooklyn native had become good friends with the legend in the '80s, and he absorbed all that his mentor imparted.
Miles Davis' work with Keith Jarrett however, when the latter was twenty-six years old, behind the Fender Rhodes in 1970-71, was a great inspiration to Jason and was a point of departure in the creation of Kind of New. Though he'd done over a dozen albums as a bandleader, and many more as a producer, including tributes to Weather Report, Ivan Lins (which netted Jason a Grammy) and others, nothing excited him the way Jarrett's Rhodes did on Miles' early '70s live work, as exemplified by the legendary Cellar Door Sessions. Jason says "I never got the Keith Jarrett connection and why Miles [Davis] thought he was so funky until I heard him killing on the Fender Rhodes on that 6-CD set." Jason wanted to revisit that instrument, because in this progressive setting it's been ignored for years, yet it was undeniably the impetus that drew so many younger people into jazz in the late 60's and early 70's.
Ingrid Jensen, a Berklee grad and NYC-based trumpeter, grew up in British Columbia, Canada with the brave sounds of Bitches Brew coursing through her soul. She recalls the fun she had with her rock band jamming over Bitches Brew tracks. Jason Miles had known Ingrid and has admired her great talent for many years when he invited her late one night in 2009 to sit in with his band Global Noize. She blew the roof off the place! It was then that he was convinced they needed to do something, to nurture a project together. Now they've concocted this truly progressive album, the culmination of their collective years of experience.
Faithful to their inspiration, the duo waste no time getting into the groove. You can hear it from the outset on "The Faction of Cool," which gets its lift from Jensen's husband, drummer Jon Wikan, and continues on funky electric tracks like "Super City," that feature exciting exchanges with baritone saxophonist Jay Rodriguez. On the deep grooving "Kat's Eye" you can hear how Miles' synth bass lines and Steve Wolf's drum programming propel Jensen's searing trumpet performance. Guitarist Nir Felder is also featured. Then there's a gorgeous dénouement in the form of the beautiful ballad "Shirley" (dedicated to Shirley Horn) that features the great rhythm section of bassist James Genus and Gene Lake on brushes.
The music moves and undeniably grooves. A quick listen to the pulsating pace of "Close to the Action" reveals a lockstep band with a penchant for some truly nasty grooving, evoking Tutu-era Miles Davis, featuring the solid performance of drummer Gene Lake. There are a few areas Miles and Jensen allow for a quick rest, a minor pause, as on the liquidy romantic Wayne Shorter composition "Sanctuary" (which was on Bitches Brew) and the atmospheric "Seeing Through the Rain" (a tune dedicated to Ferguson, Missouri), which features Jensen exploring some edgy melodicism along with Jeff Coffin's saxophone symphony.
But for the most part Kind of New pushes its way into your ears, your feet, for a truly engaging listen. Along with "Sanctuary," two additional tracks were recorded live at The Shape Shifter Lab in Brooklyn: "Ferrari," written by Jason about driving with Miles Davis down the Pacific Coast Highway, and which features an inspired electric piano performance; and "Street Vibe." Jason adds, "Ingrid and I also wanted to present ourselves in a live, spontaneous situation, to give the audience an example of what this band is about.
"When I first approached Ingrid about this and we started playing gigs," says Miles, "I said to her, 'Let's see if we can really grow this thing into something, for real.' And that's what we're trying to do." Kind of New is real, that's undeniable, and it's an exciting step in a new direction.
Jason Miles