UMe to Release DVD "Mr. Dynamite: The Rise of James Brown" on Nov. 6th, 2015
by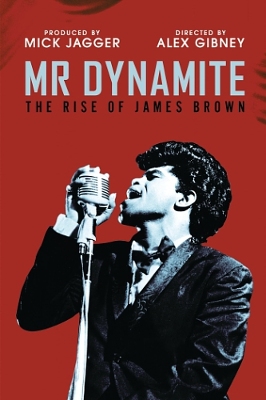 'Mr. Dynamite: The Rise Of James Brown' To Be Released On DVD And Blu-ray With Exclusive Bonus Features Award-Winning Documentary to be Released November 6 by UMe
LOS ANGELES, Oct. 6, 2015 /PRNewswire/ — Directed by Oscar® and Emmy® winner Alex Gibney and co-produced by Mick Jagger, Mr. Dynamite: The Rise Of James Brown digs into the career of one of music and culture's towering figures. On November 6, the Peabody Award-winning documentary film will be released worldwide by UMe on DVD and Blu-ray with exclusive bonus features, including feature-length roundtable commentary, extended interviews with original James Brown Revue members and others, the acclaimed music video for "It's A Man's Man's Man's World," and two classic James Brown Soul Train television performances, one of which is an unrehearsed blues romp with Brown's idols B.B. King and Bobby "Blue" Bland, which has not been seen since its original 1975 airing.
Using fresh interviews with James Brown band members and contemporaries, extraordinary historical interview footage, and rare archival performances of such Brown classics as "Papa's Got A Brand New Bag," "I Got You (I Feel Good)," "Out Of Sight," "Please Please Please," "Soul Power," "Sex Machine," "It's A Man's Man's Man's World," "Cold Sweat," and more, the feature-length documentary was made with the cooperation of the Brown Estate, which opened its archives for the first time.
Delving into politics, race relations during the explosive civil rights movement and the raw power behind several of his most famous tunes, Mr. Dynamite was honored with a 2014 Peabody Award, for what the Peabody panel called "its admiring but clear-eyed appraisal of a truly revolutionary musical figure and his legacies, his relationship to America and American culture, to funk, to hip hop, to racial politics, to American history and music history… It's a documentary you could almost dance to, so sure and steady is its pulse."
The Mr. Dynamite: The Rise Of James Brown DVD and Blu-ray packages include a 12-page booklet with an introductory essay by Mick Jagger, rare James Brown photos and detailed credits.
Mr. Dynamite: The Rise Of James Brown [DVD; Blu-ray]
Directed by Alex Gibney
Produced by Mick Jagger & Victoria Pearman, Peter Afterman and Blair Foster
Executive Producers: Alex Gibney, Dan Brooks, Mike Singer and Eric Weider
Co-Producer: Trevor Davidoski
Directors of Photography: Maryse Alberti, Antonio Rossi
Editors: Geeta Gandbhir, Maya Mumma
Feature film:
Total running time: 120 minutes
Blu-ray Edition – HD Video: 1080p, 16:9 Widescreen / Audio: DTS-HD Master Audio 5.1, Dolby TrueHD 5.1 and Stereo
Standard Definition DVD Edition – Video: 16:9 Anamorphic Widescreen / Audio: Dolby Digital 5.1 and Stereo
Subtitles: English, French, German, Italian, Spanish, Brazilian Portuguese
Bonus Features:
Feature-length roundtable commentary with Ahmir Questlove Thompson, bandleader of the legendary Roots crew; Christian McBride, bassist and bandleader; Alan Leeds, James Brown historian and former Brown tour director; and Harry Weinger, lead producer of Star Time and other James Brown reissues
27 minutes of additional interview clips from original James Brown Revue members Alfred "Pee Wee" Ellis, Fred Wesley, Bootsy Collins, Martha High, Maceo Parker, Melvin Parker, Jab'o Starks, Clyde Stubblefield and "Cape Man" Danny Ray, as well as Chuck D, Mr. Leeds, Mr. McBride, Rev. Al Sharpton, Greg Tate and Mr. Thompson.
James Brown and The J.B.'s live on Soul Train, from September 1974, performing an incendiary medley of "Cold Sweat/I Can't Stand Myself (When You Touch Me)/Papa's Got A Brand New Bag/The Payback" (7:42)
From deep in the Soul Train archive, James Brown in March 1975 interviewed by host Don Cornelius, then joining B.B. King and Bobby "Blue" Bland in an impromptu blues medley, "Goin' Down Slow/Gambler's Blues/It's My Own Fault/I'm Sorry" (7:30)
Acclaimed music video for "It's A Man's Man's Man's World," directed by Xavier Fauthoux, winner of the Saatchi & Saatchi James Brown Music Video Challenge (2:46)

SOURCE UMe