LISTEN TO NEW MUSIC! The Count Basie Orchestra Celebrates 80 Years with Release of Album "A Very Swingin' Basie Christmas!" | Coming Nov. 6th, 2015
by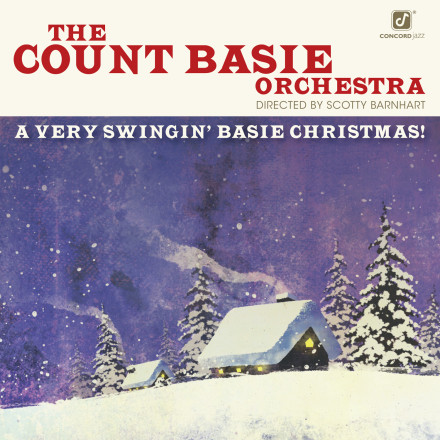 THE LEGENDARY COUNT BASIE ORCHESTRA CELEBRATES 80 YEARS WITH THEIR FIRST CHRISTMAS RECORDING
A Very Swingin' Basie Christmas! includes 11 holiday tracks featuring special guests Johnny Mathis, Ledisi, Ellis Marsalis, and Carmen Bradford.
LISTEN TO NEW TRACK "THE CHRISTMAS SONG" FEATURING LEDISI BELOW!!
Coinciding with celebrating its 80th anniversary, the legendary Count Basie Orchestra continues to make music history with the November 6th, 2015 release of A Very Swingin' Basie Christmas! on Concord Jazz. The first full-length, yuletide album in the expansive Basie discography, the album boasts classic holiday songs, rendered in quintessential Basie style, under the masterful direction of longtime Basie trumpeter Scotty Barnhart and produced by seven-time Grammy winner and former Basie drummer Gregg Field.
The disc also showcases such guest artists as legendary singer Johnny Mathis, award-winning R&B singer Ledisi, veteran jazz pianist Ellis Marsalis, and iconic tenor saxophonist Plas Johnson (famous for being the soloist on Henry Mancini's "The Pink Panther Theme"). The album also represents the return of the multi-Grammy winning Basie composer-arranger Sammy Nestico and the 2015 multi-Grammy winning arranger Gordon Goodwin. The results are blues-soaked, joy-filled holiday treats that will delight and warm the hearts of Basie die-hard fans and new fans alike!
"I think [Count Basie] would be proud if he heard this record," says Barnhart, who conceived the idea of focusing on Christmas music. When asked how he and the orchestra were able to channel the essence of Basie into the repertoire, Barnhart explains, "We have 80 years of history on our side."
Concord Music Group
(Music used by permission from The Concord Music Group)